Dang. Someone wants to buy Jasperwood, and for a goodly sum. So says the realtor uncle who found us this house in the first place. Someone wanted to buy the house in which we were living then, too. Can't I make up my own mind? Must I constantly be made to jump, or worse, to pack, because other people want my house? I'm livin' here, to paraphrase Ratso Rizzo. But. The price quoted made my eyes go wide as steering wheels, and I had to consider it. Went online to see what was available around here for the same amount of money, and was disappointed . . . except.
Except for the vacant lot – a vacant double lot - which could be built to your designs. Price, including house, was about the same as the supposedly offer. And:
Lake view.
I told my wife about it, and she sighed: this was the last thing she wanted to think about. (G)Nat heard the conversation, and expended 1.8 quarts of ocular fluid expressing her desire NOT TO MOVE. She was absolutely bereft. She had lived here all her life. I understood, but I mentioned that we might have a lake view – I DON'T WANT TO LOOK AT ANY STUPID OLD LAKE. I told her Daddy could build his dream theater in the basement, complete with comfy seats and a popcorn machine. WE CAN MAKE POPCORN IN THE MICROWAVE! I DON'T WANT TO MOVE! Okay, okay, nevermind.
After supper I drove over to the lot. I'd forgotten that a "double lot" in that part of town meant something the size of two king-sized beds. The Lake View part was accurate, if you used most of the space to build a telescope that was also capable of peering into the center of the galaxy. The proposed house would have left a four-inch lawn around the monster. Forget it.
Drove home and felt stupid for even thinking of moving. And also lucky.
I've been watching a movie a night lately, taking time out to peck away at the novel and other things. (People are going to either love this one or hate it, deeply, because it has a twist ending no one will ever see coming.) Watched "The Big Sleep" again – it's probably the third time, and it makes less sense every time I watch it. Not that it matters. When I was in my 20s you couldn't rent a movie; you had to wait for someone to rent the print and show it in a theater. The Varsity in Dinkytown ran "Casablanca "in November of '83 – every guy walked in a regular Minnesotan, and walked out smoking, grimacing, hunching his shoulders, tugging the brim of an imaginary fedora.
That was my first exposure to Bogart. Caught him at the top of his game, in other words. No preconceptions aside from the movie poster; no memories of other roles. Just – Bogart, big and white and wreathed in smoke and cynicism. Now I know much more – about the guy, the period, why the interiors looked the way they did, how the movie fit in with the other films of the period. It changes how you see them. After a while, the people seem . . . real. Which is to say, actors. Doesn't spoil anything, but you no longer feel as if you're watching a documentary from an age of unsurpassable cool.
I'd forgotten the opening credits. This would get the movie a hard R today:
Says it all, doesn't it? You know what these two are alllll about. If not, the trailer will remind you, with pointed nudge-nudge euphemisms:
The movie also has a trio of knockout women – grownups, all of them. (Carmen Sternwood is just a psycho child.) Dorothy Malone:
I love Bacall, but really, her character would just leave you for a rich greyhound fancier. The bookstore clerk would stick around. She'd burn the roast and correct your grammar, and do both with the same wry smile.
This is an extreme blowup of a picture from this week's Minneapolis update. Everything here is gone except for the building in the foreground. This is a new addition to the site, not an update. (Link.)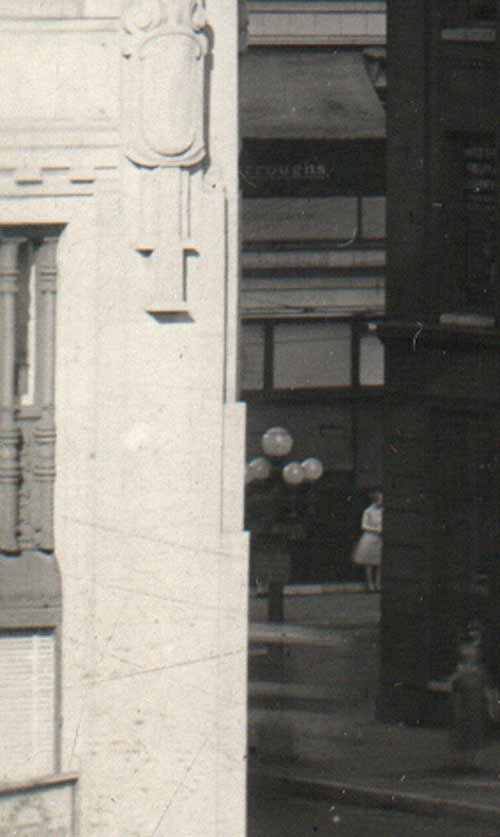 Today's ads from a 1938 Popular Mechanics: First a tiny ad from "Blue" Raye Burns. You can create original cartoons at home that you can SELL! Or NOT! Which is far more LIKELY! (Some samples of the Burns Method can be found here.) Below that, something that looks like a 19th century male chastity-enforcing device, like the Gar-n-teed Yarble Crimper;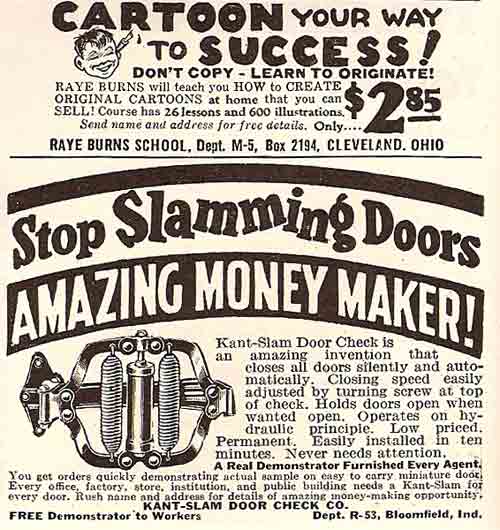 Or it's a hot-dog toaster or a phallus mummy-maker. If those are springs, imagine the pent-up energy; if it ever broke, the spring would shoot through a brick wall. Popular Mechanics also had the usual truss-and-denture ads, but some of them had a distinct early-century flavor.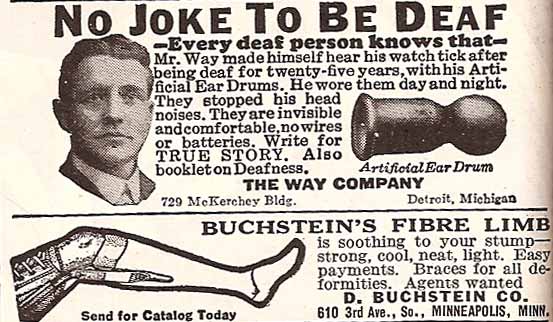 Soothing to your stump. Buchstein's fibre-limb stump soother. Accept no substitutes.
New Minneapolis, here. Blogging all day at buzz.mn. See you there!