Up. Coffee. Paper. Sausage. Write. File. Shower. Lunch. Cigar. Uno. Dust. Polish. Pepsi. Cook. Dogwalk. Coffee. Write. Shiraz. Write. File. Write. Bleat. Sleep.
That's today. That's tomorrow, too. Right now I am in that dark mood where it seems as if I will be doing everything I did today every day for the foreseeable future, and the option of taking an axe to the fusebox and fleeing to a Mexican isle for a week seems unlikely to present itself again. Ever. But in times like these it is important to remember the wisdom of Ted Baxter. He would look at the paragraph above, chide me for my attitude, and suggest I try a new approach:
Up! Coffee! Paper! Sausage! Write! File! Shower! Lunch! Cigar! Uno! Dust! Polish! Pepsi! Cook! Dogwalk! Coffee! Write! Shiraz! Write! File! Write! Bleat! Sleep!
There's something to be said for that.
If Monday hadn't been the Day of Two Presidents Indistinctly Referenced, I'd be a bit more cheery, since Mondays I go to the office, where I can see and talk to adults. As it is I've been home since last Friday, and I'm starting to twitch. Anyway, here's today's offerings, light as they are for this week of diminished bleatage. Remember: tomorrow has an extra-special surprise.
First,
Noir Clips from a minor thriller: The Hitch-hiker. I don't have many frame grabs, since most of the movie took place in the dark, or in a car, or in the desert, or in a car in the desert in the dark. The opening moments surely get your attention: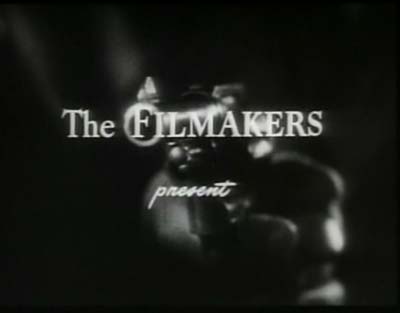 Well, they generally do, don't they? The filmmakers, in this case, included Ida Lupino, a rare female director in those days. Heck, in these days. The movie has the same basic set-up as "Collateral," which I saw this weekend. Much better movie. We all like Tom Cruise when he's evil. For some reason it's comforting to be able to really dislike him; it assuages the guilty feelings our envy produces. I first saw him in "Taps," a wretched movie about military school killbots who slaughter National Guardsman to curry favor with Reagan, or something like that. It had Timothy Hutton, the Alan Alda for the younger set. I think. Anyway, Tom Cruise was in it, and he played a gung-ho nutball who took his military school training a littttle too literally, and ended up emptying a machine gun out the window. We were all happy when he was repeatedly perforated; somehow this meant there was a chance America would wake up and stop supporting the El Salvador regime. At the very least we would pressure Duarte to institute reforms. Real ones, not the window-dressing reforms that just served to cover up the true nature of the regime. And do it now, before we're drafted, okay?
"The Hitch-hiker" began with one of those "this story is true" frames that neglect to tell you the hows and whens: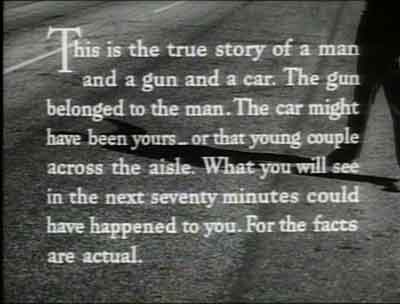 "For the facts are actual." Has the ring of classic American slang, no? "Them's actual facts, Jackson." The actual facts revolved around a guy who including hitchhiking and car-jacking in his crime spree. Who to cast for this soulless fiend? Of course: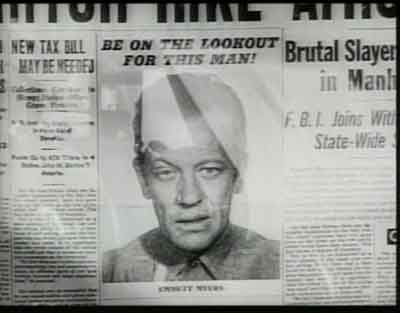 That, ladies and gentlemen, is a bad, bad man. The cocked eyebrow over the dead eye, the mouth a cynical and cruel as it is stupid, the flat gaze of someone who can't even muster the charm required to be a top-shelf sociopath. He is, of course, William Tallman, better known as Hamilton Burger, hapless adversary of Perry Mason.
Now, some links
accumulated over the course of the week:
A nice little gallery
of
signage typography.
Dutch kids
make a Matrix prequel
. You have to admire their dedication, don't you? Heck, if these tools had been around when I was a kid I probably would have shot a sequel to "The Omega Man" in Fargo. ("Before the Omega Man in LA, there was Psi Teen in North Dakota!") This doesn't mean we can't look at their work and laugh at them without warmth or mercy. The trailers should whet your curiousity.
I got a postcard
asking me to enter a contest. I actually want one of these things, but it wasn't the grand prize. I pass this along to see if you can spot the moment when the actor not only loses all his self-respect, but hopes his buddies
never see this
, because he'll be tagged with the line for the rest of his life. You can actually see the life go out of him after he says it, too.
More tomorrow; see you then. Oh, and there's a new Fence, as is always the case on Tuesday.
-------
Perm link:
here.