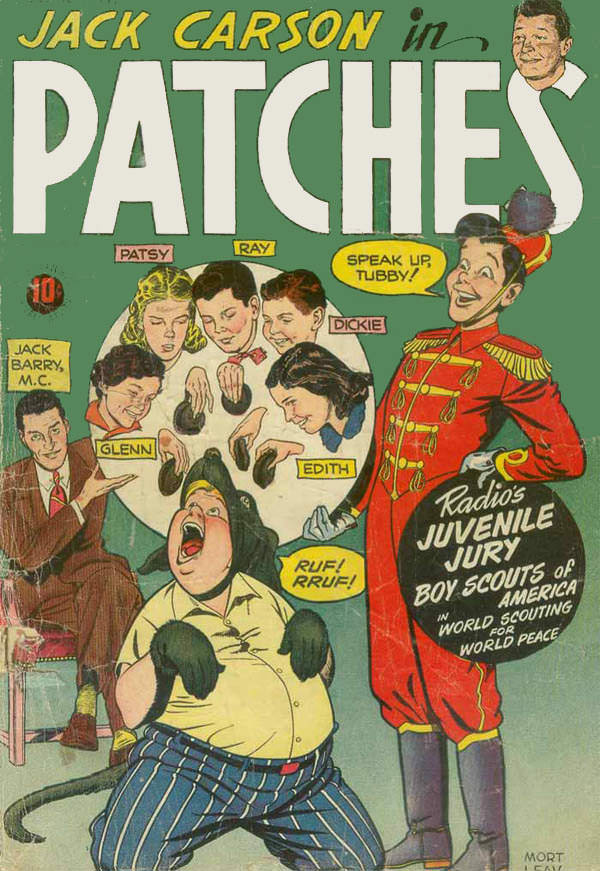 There's no end to the amount of sheer weirdness in this one. Start with Tubby, who looks like he is being eaten by a dog. No, he is a dog. Noted. He is looking up at hamburgers being offered by disembodied hands, each of which presumably belongs to this disembodied heads, each of which resides on a plane behind his head, since it's held by a fellow who stands behind Tubby. Yet Jack Barry, looking very Mephistophelean in a Madison-Avenue sense, is behind the fellow in the red costume by a yard or so, yet his hand is in front of the circular object.
Then there's Jack Carson in Patches, whatever the devil that means. Oh, right: it's the name of the comic. Not a movie or a radio show, but the character in the red uniform. The kids were part of the Juvenile Jury,  quiz show developed and moderated by Jack Barry. It ran from 1946 to 1951, then from 1952 to 1953. According to the invaluable Enyclopedia of Old Time Radio, Patsy was Patsy Walker; Dickie was Dickie Orlan. Glenn was Glenn Mark Arthurs. Tubby's real name was Fatso McHartstop.
No, not really. Tubby, like Patches, was a fictional character, known for his gluttony and dimness; Patches got him out of jams. . The Juvenile Jury appeared somewhere in the comic, to limited comic effect. Jack Carson contributed an essay on why it's bad to laugh at people for cruel purposes.
An awful comic. Those hamburger-dripping hands come to me in my nightmares, sometimes.