One day it's sunny and bitter and I'm grousing; the next it's moody and warmer, and I'm happy. Because you see something in this: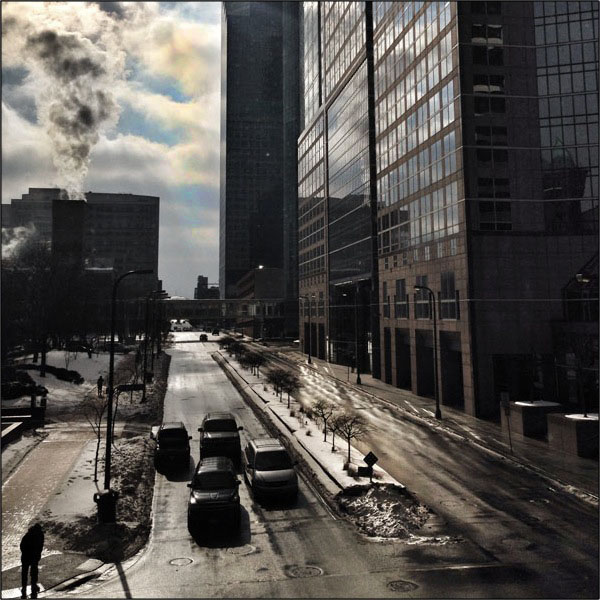 Trust me. It's the beginning of the end. There's just something about this that says it's safe to imagine the day when spring finally arrives. I'm not sure what, though - the quality of the light at that particular time, the bare streets, the lack of fresh snow. There's really nothing here that suggests winter is anything but a going concern with plenty of gusto in reserve, but that's how I feel.
I spent some quality web-and-Bleat work time tonight on something else, so this is thin. Picked up daughter from Confirmation and asked if she wanted to go to Starbucks. How could I say no to that, she said, which I rightly took as an affirmation of Starbucks, but still. We sat by the window and chatted about things, and then wandered over to Walgreens for Valentine's Day cards for Mom, despite a lemon-sucking New Republic writer's decree that the cards constitute an ecological travesty. Went to the toy aisle and made fun of the peculiar items; when I pressed the button on a plush Pac-Man, and it said wocka-woaka-wocka in accordance with its ancient forebears, a small boy ran up and took it out of my hands and started fumbling to find the button.
You should ask first before you take something, I said to him. Like a BB bouncing off the side of an elephant.
Nothing special, any of it, but as usual when it happens: highlight of the day. Especially since it included her favoriting the picture above on Instagram. Call it up, touch the picture. A little heart appears.
Last week when going through ads for Product Tuesday, I came across one of those ads record companies bought to tout a hundred albums. When the Stereo / HiFi craze began, everyone cashed in. It was the Hi-def of the time. So you had cash-ins like this:




Dennis Farnon wrote music for "Rocky & Bullwinkle," among other things. To my surprise - which itself is surprising; don't know why this would surprise me at all, really - the album exists on YouTube.
Prepare for the sweetest thing you may hear today. Marni Nixon:


Because I'm really padding the heck out of it today, we return to the new feature clamored for by none: a selective, unrepresentative look at places I don't know, with snap judgments assigned to a brief examination of blurry images.



Say hello to Terre Haute. Why? Because I was researching a bygone cafe, and as usual, started poling around downtown.
Now. When you see this, what sort of building do you think it'll be attached to?


Right: it's a theater! The Indiana, one of those pride-of-the-city palaces that no doubt had the usual rise and decline. The only part of the story that varies is whether it was refurbished at great expense; that appears to be the case.


Now, blunt unfortunate brick:


You can tell from the windows it was a substantial store; big window displauys you could walk around, and if you go in close I think you could walk around them. Mannikens striking dramatic poses, drapred with the latest.

I have conflicting ideas about this. It's a classic late 50s / early 60s building, with the characteristic marble and windows of the era. It's being removed.


Zoom in a bit, and hello: the old building emerges. There really doesn't seem to be much to preserve or rehab, and even if there was, it's not as if the downtown lacks small strutters from the era. The destruction of the mid-century look downtown continues - but in this case it seems needless.
Conflicting google views bring back a piece of history, caught before it's pried off the building.


Once I had the name, I could google around, and hello:
Originally three stories tall with a tower on the northwest corner of the roof, the building was constructed to house a bank owned by William Riley McKeen, a prominent citizen of Terre Haute in the late 1800s and early 1900s.

In addition to being a banker, McKeen was president of the Terre Haute & Indianapolis Railroad and one of the people instrumental in bringing Indiana State Normal School, which later would become Indiana State University, to the city.

The McKeen bank building was a landmark downtown for several decades, in part because of a statue of the Greek god Mercury high atop the structure. Local lore has it that some Terre Haute residents complained that the statue, which stood a little more than 5 feet in height, was naked (except for a small leaf and a helmet).
Can we find it? Yes we can! This exhaustive site devoted to Terre Haute postcards had a link to a book of old structures, and there it is.


If you note the arches on the ground floor: this is the other end of the building.


Wonder how many people pass it and realize it's the remnant of a three-story structure. Wonder if it'll be covered again for another 60 years.
Every era leaves its mark, and at a time when no one was building anything, the government stepped in to build Post Office and courthouses in the severe Depression Moderne style.


The most undervalued atyle of the 20th century.
This block looks like an iceberg that detached from some other urban core:


Classic bank. The middle building is much older; I wonder if the third floor was added to compete with the bank. Whatever the intention, it detracts from the bank. The building on the left could be its conjoined twin; the ugly metal facade was one of the hallmarks of urban renewal. A bright idea to make things look new.
They chose poorly.



Updates on the right - restaurant interiors! Also, See you around.