Oh for heaven's sake. Oh for heaven's SAKE.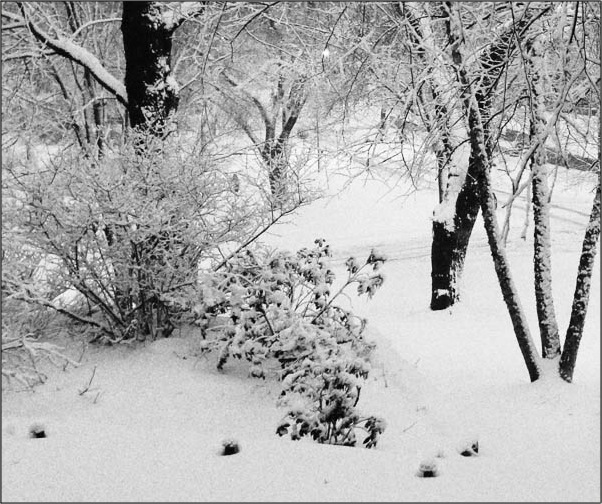 And that's about a third of what fell - and continues to fall, as of this writing. Last year was unseasonable: shorts and barefeet and grass, I believe, by this time. This year, I'm shoveling the driveway TWICE and my wife's car got stuck trying to go up the hill. The mood around town is somehow both depressed and murderous. Please do not say "but you live in Minnesota, what do you expect?" This April's snowfall will exceed the snowfall for the previous ten Aprils.
Combined.
In times like these you need comfort wherever you can get it. Since my wife wasn't going to be home for dinner, and daughter did not like anything I proposed making, and I wasn't exactly keen on any of the possibilities either, and since daughter suggested - with that little coy just-kidding tone kids use when they really hope you'll take them seriously - that we have breakfast for supper.
I thought this was a capital idea. I'd even use that box of emergency hash browns, because no one else would. Yes, a box. Like a grade-school milk container. Fill with water, wait, dump it on a hot griddle. I wrecked some eggs, added some cheese, nuked some bacon, and daughter made pancakes. All the basics. The Thanksgiving of Breakfasts, although to be a true ToB it would have a cinnamon roll. Pancakes do not qualify as the bread portion, because syrup is poured over them. If syrup is poured over an object, you are entitled to another bread portion which may have frosting, or jam. Except it's not frosting if it's a bread portion; it's icing.
It was all delicious and we felt much better. The dog got bacon. Things were quite festive, as they say in December. When it looks like this.
Then my wife came home and said "well, I made it home without an accident, but -"
"You're stuck in the driveway."
She nodded. I went outside and shoveled out the car. Last year on the 18th of April i was wearing shorts and went barefoot on new grass. Now I'm shoveling the driveway, which had about six inches of new snow. Got the car out. Sighed.
The sirens went off. They're testing the sirens today. Tornado sirens in a blizzard. I thought: this year is snakebit.
This is a bad year. I mean, I'm doing okay, but 2012 was a pretty good year. This year is just a mess all over the place, from the small things like weather and house contrusions to the death of an old friend to the general sense of nervous, aimless, uncertainty in the world beyond. It's like an orchestra whose members collectively lost the melody halfway through the first movement but everyone plays on, hoping it'll come together again.
Perhaps it's just me. Perhaps it's the weather. Perhaps it's the truth.
Yes, there's the big new update today. You have to read the entire page to get to it. Sorry. There's so much! So much! It's unbelieveable how much stuff there is.
Some Odds and Ends not posted the rest of the week:
About that hole opened up in the wall: I hate those guys.
From an ad for today's modern luxury trains, a 1937 bar car. I just get a pang right here when I think about missing things like this.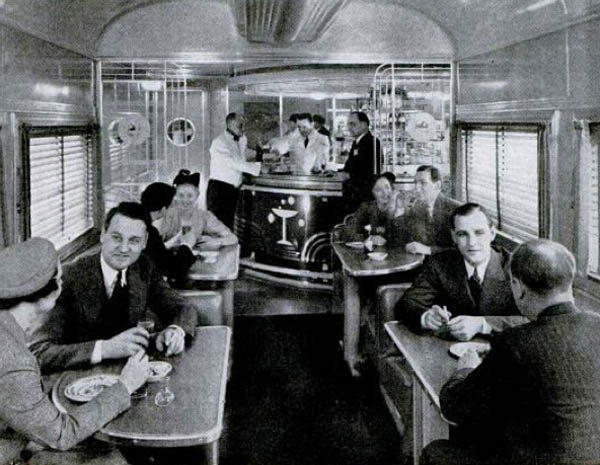 I don't miss train travel, though. Long, long, long. Getting up in the middle of the night to get out of the sleeper car, put up the bed, use the bathroom, then put the bed down and try to get back to sleep. But one overnight in one of these trains . . . Yes.
From a mid-50s Lineolum ad: it's a completely different world. For one thing, it's in color. But it's so much more abstract. Everything got abstract after the war.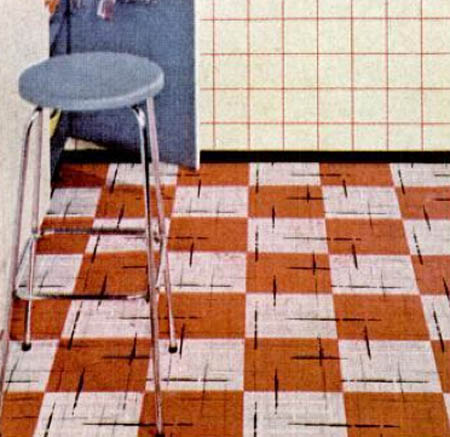 The new abstractions trumped the old streamlining, completely and utterly: it's as if the entire design ethos of the 30s was made not just irrelevant but childlike by the realities of war. Now they look like the symbols of a future that actually happened - perhaps because it did - and the post-war abstractions appeal not so much on their own merits, but because of the connotations we read into them.
Ah, but what was the style in between? What were the Forties like? I have a site up on the 20s and 30s, and there's the 70s site in Institute - all of which I'd pull together into something called the Decades Project or The 20th Century: the Definitive Collection of something pretentious like that. But three decades isn't enough. Need to do the Forties some time.
Oh! Wait! Hold on.

Yes, it's an old site, but it's been redone, resized, doubled, and folded into The Forties, a new site which will hold all the stuff I post about that particular decade. Right now it's just Patriotica and a bare-bones music site; the ADS goes to the preexisting Microfiche ads site, and Movies goes to B&W world. But more to come.
Link down at the bottom. But first: marvelous music.