The weekly feature that looks at old ads and logos, and tries to find some little scrap of history or knowledge that adds to our store of useless, inapplicable information. You'll never impress anyone with this stuff. You'll never win a trivia contest. But sometimes useless knowledge the most fun. Why must everything matter?
BRUCE
I don't know why you would buy Tuf-Lustre when you could buy the Self-Polishing type. And Tuf-Lustre sounds like a brand name for a Viagra-type pill that gives you deplorable manners.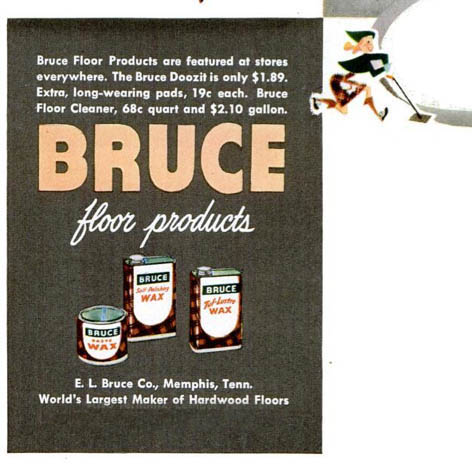 The E.L. Bruce company does not have a wikipedia page. It was based in Memphis, all right, but it also sold power and water to the Mississippi town of . . . Bruce. Which was named after the timber company of Robert Bruce. The E. L. Bruce company made hardwood floors, and was concerned about termites affecting the floors they made. Don't know why; once they've sold you the floor, I don't know how termites are their concern. At least that's how wikipedia puts it - perhaps they were worried about termites in the storage areas.
But, you say, there was no wikipedia page for Bruce. True, but there's one for the product they invented to kill termites: TERMINIX.
Why is the lady wearing tartan? Because "Bruce" is a Scottish name, and that meant Thrift, back before it meant skinny heroin addicts on the dole.
A&P COFFEE
You can't beat the expression of pride on the anthropomorphic bean-bag: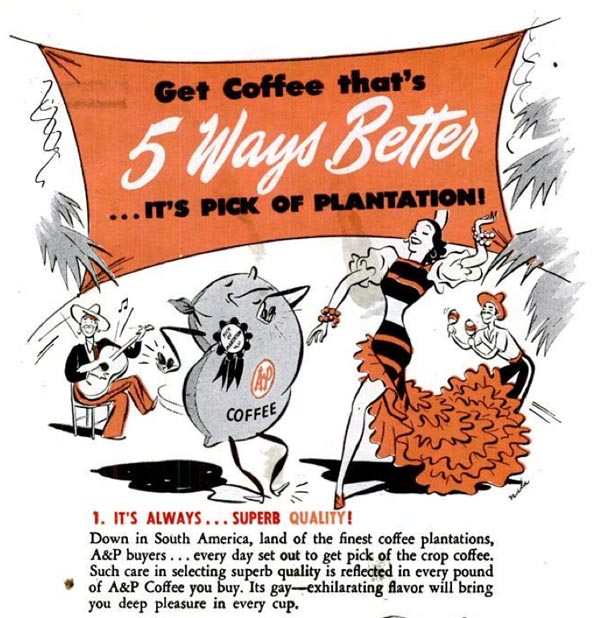 A&P also offered spaghetti, apparently in portions that would feed all the field hands: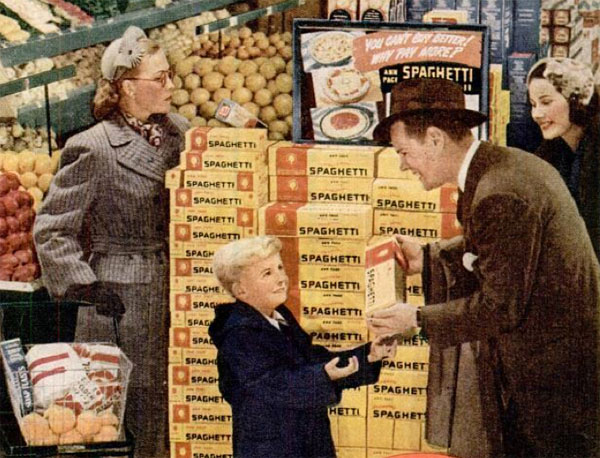 I love that picture. The boy looks unsure, though; perhaps he's the sonof the severe woman on the left, who has told him not to accept spaghetti from strange men, even if they have a female accomplice.
That's from 1945.
FUTURIZED!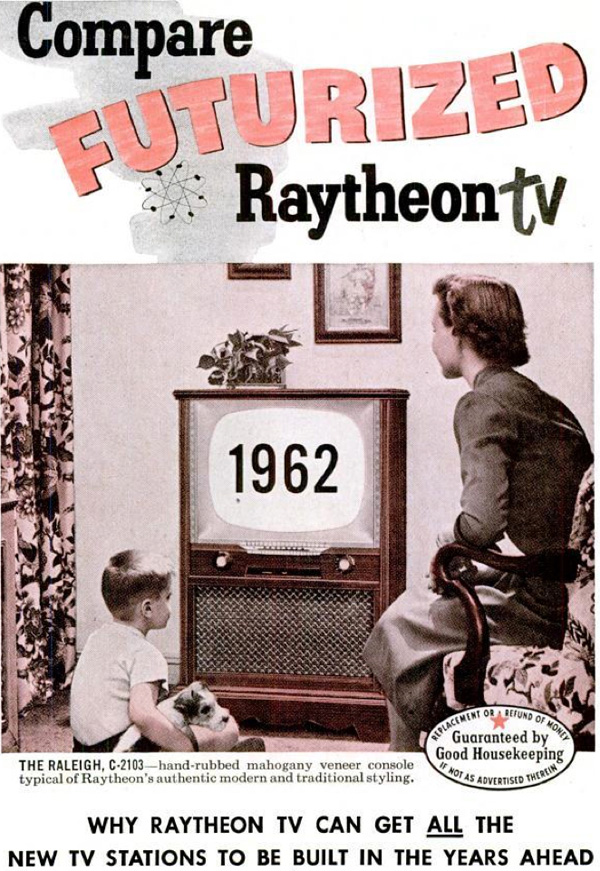 Was there such a thing as inauthentic modern styling?
Wikipedia has this about Raytheon's early years:
The company's first product was a gaseous (helium) rectifier that was based on Charles Smith's earlier astronomical research of the star Zeta Puppis.
Er. Okay. That's all they said. The rectifier changed current from AC to DC, so people could listen to radio without batteries. (It's complicated. Tubes are involved.) This led to the growth of radio, which was eventually killed off as a dramatic medium by TV! Which Raytheon made. Apple didn't even intra-company product line cannibalization, you know.
They made TVs for a while, and the Future-Proof models had UHF tuners. That would be channels 14 - 83. Now, gather 'round, children. Once upon a time your TV had a dial you turned with your hand. You had four stations, at most - the networks, plus some dinky Public TV station. When you turned the channel it resisted, but just a bit, and you landed on the next channel with a certain satisfying solidity. If you spun the channels too hard your parents objected, because it might wear something out.
And it did, eventually; the channel knob went over a metal rod with a flat indentation on one side. This fitted into a plastic sleeve that matched the shape of the rod - stop snickering in the back, now - and if you gave the knob too much of a yank - I said, stop that! - it loosened the plastic, or snapped the tiny plastic ridge that held in a metal small plate. So now you had to change the channel by tilting the knob up slightly and pushing in, but this only worked for a while. Eventually you used pliers.
UHF tuners were different; they clicked instead of chunked, and you could blow through them at great speed because no one cared if the knob broke. There was nothing on. It was the strangest thing, a haunting thing, a maddening thing: all those stations, all those empty stations. Waiting.
Anyway. Raytheon bought Amana, and used the name to roll out a new device it was sure people would like. And they did.
MARGARINE
A reminder that this stuff used to be controversial.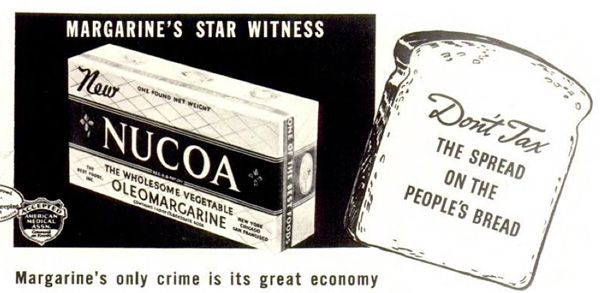 VAN CAMP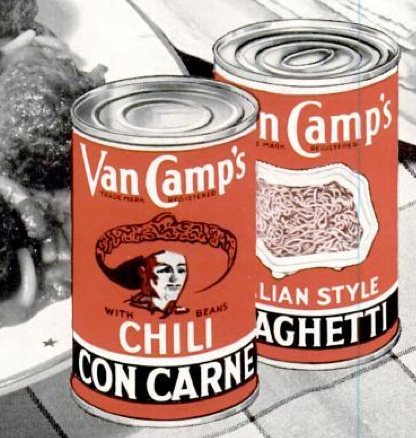 I think I've done these guys before - they invented modern Pork & Beans, more or less, and made Gatorade.

But this stuff just looks like it would be made of dog food. Chili in a can can be a frightening thing. About once a year I have a can of Hormel chili, because it's so awful and so good. With some pepper cheese, some jalapenos - man, you pay for days. It's not food, but it can double as it.
The way it comes out of the can - a long, shuddering slurrrp - ought to warn you off, but it never does.

WHITMAN

Poet, confectioner, unhinged sniper - the name is rich with tradition. Stephen Whitman was a 19-year old entrepreneur who set up a candy & fruit store on the Philidelphia waterfront - in 1842. That's an old brand, in other words. The sampler was introduced in 1912.
Some of these samplers did not meet the test of time.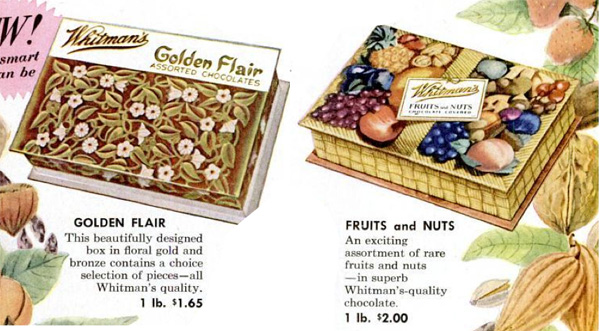 Fresh and Fussy?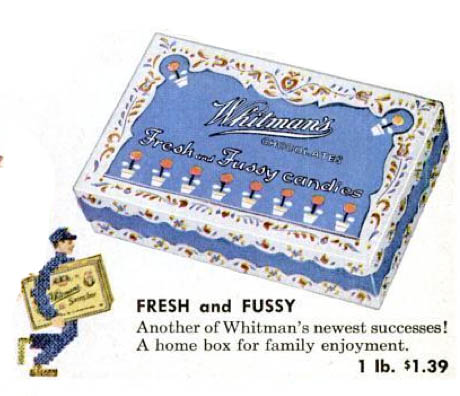 A compendium of old ads, with oddly dramatic music and questionable pacing:
Hey, I have one of those ads.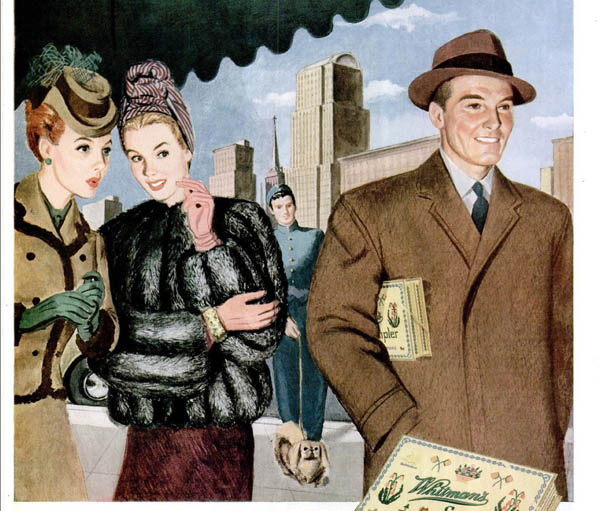 Those big-city girls don't impress easily, but a Whitman sampler? The guy must be loaded!
----