In case it snows today and ruins everything, here's what it looks like in the neighborhood now.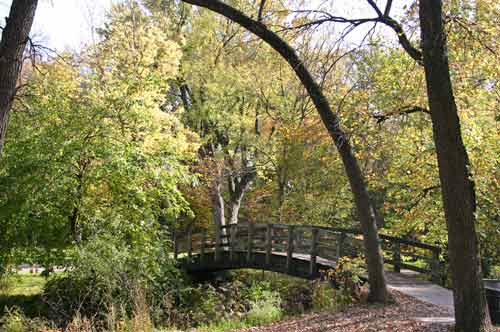 The quaint bridge over the creek down the hill. But Minneapolis isn't just bucolic sights - by gum, we got them tall skypokers too! Here's my favorite new building, a condo on the lip of the Mississippi river: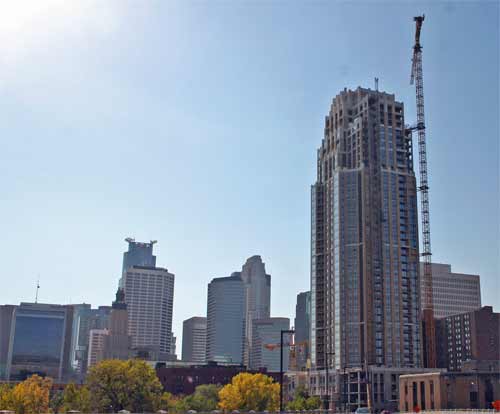 Both of these sights are within five minutes of where I live, which is why I live here. Snow be damned.
At some point his month I'll write the 300th Quirk. That's a year's work. The number matters because the actual length of the column is 300 words, and sometimes I bristle at the restrictionNot often, but it happens. The 300 word limit has its advantages; it teaches me to curtain my natural, inherent, dispositional tendency towards indulging my excessive and needless verbose proclivities, for one thing. I spend more time editing the column down than I spend writing it. True: I write it, then squeeze the hell out of it. What comes out as Proust goes out as Morse code. I could do 700 a day without effort, but ths s th mdrn wrld, nd nwspprs mst fnd wys 2 shrtn thngs. Fine; I can bleed all I want here.
But today's topic was children's TV shows – I'd written about it before, but it's a 1000 word subject, so I'm breaking it up into three pieces spaced over two months. Today I realized I can't get to the point I wished to make. It's a 225 word point at the least, and requires at least 100 words of preamble – and even then the compression would render it a hackneyed piece of teary dreck so bathetic it would get me bitchslapped by Mitch Albom. (With Bob Greene holding my arms so I can't fight back.) So the meat of the gist was removed and set aside. The piece ended up being better for the excision - quicker 'n' brisker. (Note: please don't write and tell me how much you hate the new shorter column. It's really depressing. The old column wasn't much longer, once you factored in the letters from other people I was required to include.) Anyway – the point I wanted to make wouldn't work in the paper, but it would work here, and it illuminates the difference between print and web.
In print I have few constant characters or themes, and that's by design; each column is supposed to stand alone. The Bleat is a serial, and a remarkably plotless one at that. But it has threads and currents and moods, characters and acronyms, tropes and neologisms. As with any ongoing project, it has its own unique contours. ("Unique," I know, is not synonymous with "Quality.") Any site that stays alive long enough and updates frequently produces the same effect. So I can say things here I can't say there. And such a thing is this:
They cancelled Rolie Polie Olie.
Some of you will know what this means, if only through a dim recollection of earlier remarks. It's been a constant in the last five years, less so the last year, but a presence in our lives nevertheless. The first Christmas at Jasperwood I gave Gnat a stuffed Spot. The other night I read her an Olie book before bed. She hasn't watched it in a while, but now and then she'll pop in the DVD. The other day a friend came over, and she chose an Olie movie to share, pointing out her favorite parts. It reminded me to TiVo the Halloween show, since we usually watch that. It's good. It's a perfect thing to watch after the trick or treating is done, and you're beat and ready for bed but want something to cap off the day. There's a quality to the night in those episodes – rich and velvety, almost palpable. It's a tradition, and Gnat was cheered when I said I'd record them.
That's when I discovered they're no longer playing.
Oh, yes; I'll live. So will she. One of the reasons she likes the shows is because I like them, and one of the reasons I like them is because she liked them. It was the sound of the house at 9 AM in the old days, back when she was a toddler with a bowl-cut. It's difficult to imagine there was a time when we didn't have conversations, and perhaps there wasn't; she started talking at an early age, and since I've never talked down to her there hasn't been a change in the way I address her. But of course time has come and gone; I'm alone for lunch now, and the days of picking her up in the tall chair and carrying her across the kitchen to put the Easy Mac into the microwave and push the buttons are two years gone. In a way I'm glad we had but one child; if you have another coming up, there's always the promise you can revisit the moment in another shape and form. (This comes back to bite you in the teen years, probably.) So whatever I miss I know I appreciated when it happened. I always knew: this was it.
This is always it, of course, but it's hard to live your life that way.
Anyway. She still has a soft spot for Olie, because Olie was part of being a little kid, and she remembers it well. She's concerned about style and fashion and Being Hip (which means camo-printed underwear, this month) and all the other peer-related details that bubble in the pressure-cooker of the modern grade school. Not excessively, thank God; she just restarted work on her big book, The Best Picnic Ever, despite its lack of commercial potential. She wrote a piano piece the other day, and was pleased to premier it before we began daily practice. Give her an hour and she'll construct elaborate social panoramas for the Barbies set to music. A normal little girl at six, cheerfully looking forward to seven . . . but occasionally recalling the distant eras of three and four.
I had to tell her that Olie wasn't on TV anymore. She was stunned. This hasn't happened, ever; in this Tivo multi-channel world, things don't end. You tire of them before they tire of the world. She thought for a second, then asked: "can you buy them online?"
I said that I could.
"Okay great!"
I bought the Halloween episodes; we'll watch them the night when we put up all the decorations. I told her I'd bought the episodes from Amazon.
OKAY GREAT she shouted from downstairs.
Ordinary night; she watched some Spongebob, we did the homework, read the National Geographic Kids magazine I bought her. She worked on her book. She pitched a fit when Mommy laid our her clothes for the next day: "THAT'S NOT MY STYLE. It's your style, it's not my style." She mentioned she might run away from home if she had to wear that shirt. She sobbed into my shirt when she considered the true meaning of running away from home and promised she never would. She wore her fairy nightgown to bed, and when I tucked her in I saw something clutched in her arms, someone who'd been sent to the bottom of the toy bin long ago.
Spot. Olie's dog.
----
New big Fargo addition and a Quirk. Three hundred words! More or less. The Fargo addition concerns old hotels. Give it a look; you'll learn a few things. Useless things, but those are the best kind.
| | | |
| --- | --- | --- |
| | | |
| | | |
| | | |
| | | |
| | | |