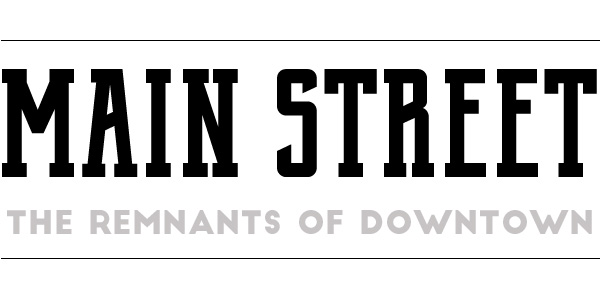 As Iowa Falls, so Falls Iowa. Wikipedia says "It was named from the falls on the Iowa River," so it's Iowa Falls on the Iowa River in Iowa. Any questions?
Five thousand souls, and as I keep saying: a lot of downtown for a population that size. But, as I keep saying, it was a commercial stop for people who lived out in the rural areas, so that explains the quantity of buildings downtown.
Angle parking! No trees or planters! This could be 1940, except for the signs and the cars.

A great comedy team; Ben would go on to plays, Jose branched out into a career as an astronaut.
ELLSWORTH
There's an Ellsworth Community College. Any relation? Yes:
It was founded as Ellsworth College in 1890 by Eugene S. Ellsworth. Originally a private business academy, it later became a four-year college, a music conservatory, and a public junior college before being absorbed into the Iowa Valley Community College District.
But who was he? There's a Carnegie library in town that bears his name; he donated the land.
A big wheel in Iowa Falls. It's these small-town big-wheels that intrigue you. I found an obit; businessman and civic leader who gave his all to his town.
All his asked, perhaps, is that you remembered the name from time to time.

FARRINGTON & TAYLOR
They built at the same time as Ellsworth, and it seems they strove to make their two projects work together.

I take it back: signs of downtown beautification.

Long gone, but there's no reason to pry up the name.

Those immense alleyway utility structures were once quite common, and you'll still find them here and there. Kept the main street free of wires.

A nice little composition that gets more balanced the more you contemplate it:

The old windows abide; nothing painted or boarded. But the wood over the front is a regrettable; perhaps there's still some nice colored glass beneath.

This may have shocked the locals. Well isn't that different.

I'm glad I decided to drop the 8 - 10 picture limit on this feature, because some small towns just have so much. Can't get a straight-on picture of this one:
Dedicated to the musical arts, of course:
And who might have popped for something like this?
Thank you kindly, sir.

It looks like a small defunct variety store:
. . . but we know better, don't we?
IOOFENSTRUTZ

I guess the law of the style says the front must face the main street, but somtimes it looks as if it's sucking in its gut and trying to look svelte:
A perfect example of an almost OUMB grafted on to the old Roman Temple.

Moderne as all get out: an old structure given a new Zigzag facade with a shiny black lower floor.

A fire or collapse reveals some ancient wallpaper:

A bygone demolition revealed a window from which no one had gazed for decades.

This one seems to have a contentious relationship with its role as a corner anchor: the turret recognizes the corner, and the lower floor might have had an angled door on the corner . . .
. . . but:
This seems to be the main entrance. Probably for the offices above. Now it looks like it was filled in with hamburger.