There are times you wonder whether anyone lives in these towns at all. There are times you wonder whether it's been empty for decades, and it's just a matter of waiting for everything to fall down. But then you think no, that was painted some time ago. Perhaps in this century.
Wikipedia: Borger is the largest city in Hutchinson County, Texas, United States. The population was 13,251 at the 2010 census. It was founded by Ace Borger, and dig this bio: "Borger began his career as a town promoter at the time of World War I. In 1915 Borger and his younger brother Lester Andrew, known as Pete Borger, sold land in Picher, Oklahoma, which was in the center of valuable lead and zinc deposits. In 1917 the Borgers partnered with noted oilman Tom Slick."
A job as a town promoter. An oilman named Slick.

Of course it was a gas station. You can see where the island was, even if you couldn't tell anything by its placement.
More from wikipedia:
Borger established a lumberyard in his namesake town, and opened its first bank as well. Often he took out full-page advertisements in area newspapers that promoted settlement in Borger and other oil-rich communities throughout West Texas and eastern New Mexico in which he had bought an interest. Mr. Borger also owned several wheat elevators in the area and also 19,000 acres of farmland in Hansford County.
He was doing all right.

Downtown bears the marks of an ill-considered and abandoned municipal improvement attempt. Let's build brick walls downtown! Add plants! People will stop going to Wal-Mart and shop downtown again!
Never worked.

You hate to say "just raze it, already," but this can't be good for civic morale.

More bio:
In 1929 Borger built a spacious two-story brick residence, the first such house in town. From the start he had set aside sites for building churches and schools. Visiting dignitaries were lavishly entertained in the Borger home, which Mrs. Borger decorated with fine antiques.


That sign must be 40 years old, at least.

COME TO HISTORIC DOWNTOWN AND SEE THE QUAINT GAZEBO AS IN DAYS OF YORE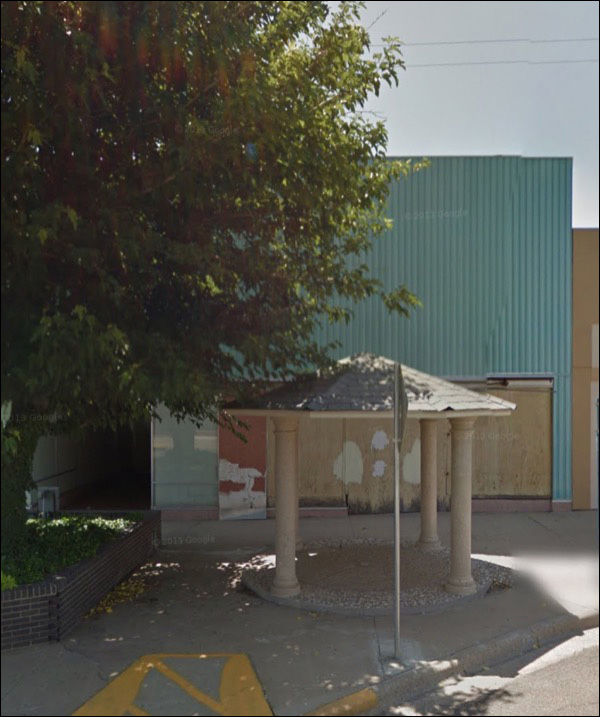 What are the chances that a business will ever occpy that space again?

Keep out! Do not enter! No Trespassing!
Mind you, there is some commercial activity downtown, and a few blocks seem to have some going concerns. But the overall impression -
Well, let's keep going, and see if there are any big surprises.

One of those modern renovations that looks like someone's put a blindfold around the building:
I'll place the sign at . . . 1967. Just a guess.

Wow:
It could have been a movie theater, wouldn't you say? Certainly not a bank.
Speaking of which:
Borger's overt generosity with friends and acquaintances caused hard feelings among certain folks, particularly county treasurer Arthur Huey. Huey's dislike for Borger intensified after the Borger State Bank (which Borger had established in June 1930 as president and his son Phillip as vice president) failed, causing a minor panic.

The elder Borger was later convicted of taking deposits while the bank was insolvent and received a two-year prison term, which he appealed.
That seems to be a sad end to a big life, but the story isn't over yet.

For 1926, that's pretty darn stark.
Whoever modernized the ground floor, they're gone. Could have been any old five and dime. Guarantee the patrons of that store in 1957 couldn't imagine yoga as its eventual purpose.

Don't believe this one's in use.
But once it was:
And then it sank and decayed and failed.

Remember Arthur Huey, who had a gripe against Big Ace Borger?
Arthur Huey was jailed for embezzlement and reportedly asked Borger to help bail him out. When Borger declined, Huey threatened his life. On August 31, 1934, Borger was getting his mail at the post office when Huey walked in with a Colt .45[, cursed and shot him five times. Huey then took Borger's own .44 pistol and fired four more times.

Bystander Lloyd Duncan, farm boss for the Magnolia Petroleum Company, was severely wounded in the attack and died five days later.

At Huey's trial, which was held in Canadian, Texas, Huey claimed that he acted in self-defense, arguing that Borger was instead out to kill him. The jury acquitted him. Three years later, however, Huey was sentenced to the state penitentiary for theft of county funds.
I'll bet some people still like to tell that story.
And then, as if imported from a prosperous big city, this:
Oh, there's more. From the town's own website:
Within a matter of months, oilmen, prospectors, roughnecks, panhandlers, fortune seekers, card sharks, bootleggers, prostitutes, and dope peddlers descended on Borger. "Booger Town," as it was nicknamed, became a refuge for criminals and fugitives from the law. Before long the town government was firmly in the hands of an organized crime syndicate led by Mayor Miller's shady associate, "Two-Gun Dick" Herwig. The center of this vice was Dixon (now Tenth) Street, notorious for its brothels, dance halls, gambling dens, slot machines, and speakeasies.
Two-Gun Dick. I swear, this is as Texas as it gets.