Auto Row, part 2.
Back for another look at an elegant street in the process of renovaton. It was once rich and ornate, devoted to a specific purpose. I hinted at it last week; Chicagoans probably knew right away. If you haven't figured out which industry this street, this ouught to do it.
| | | |
| --- | --- | --- |
| | | Wikipedia: "The Premier Motor Manufacturing Company was organized in 1903 in Indianapolis, Indiana. The company built automobiles with air-cooled engines." They ceased operations in 1926/ |
Yes, this was Automobile Row. Every town of a certain size had one downtown, and while I know next to nothing about the history of Chicago's urban core, aside from a certain fire, I could tell right away this was an Auto Row. The showroom windows, the driveways, the logos. Sure enough: Wikipedia says it's the Motor Row Historic District.
At its peak, as many as 116 different makes of automobiles were sold and repaired on Motor Row. Current-day marques that formerly had showrooms on Motor Row included Ford, Buick, Fiat, and Cadillac. Other marques with showrooms there that have since dissolved include Hudson, Locomobile, Marmon, and Pierce-Arrow.
P is for Packard:
Or perhaps some other brand that sprang up, struggled, and died. There were so many.

Something doesn't necessarily have to be pretty to be interesting.
The Twenties really was an come-on-come-all era for styles - which goes a long way towards explaining the stylistic uniformity of the 30s.

Oh, there's money around. Lots of it.
It's interesting to consider how the most modern thing in the world - automobiles, speed, travel, personal transportation for all who could raise the greenbacks - had to be presented in the trappings of the civilization;s most ancient decorative forms.
The structure was more modest than the details above might suggest.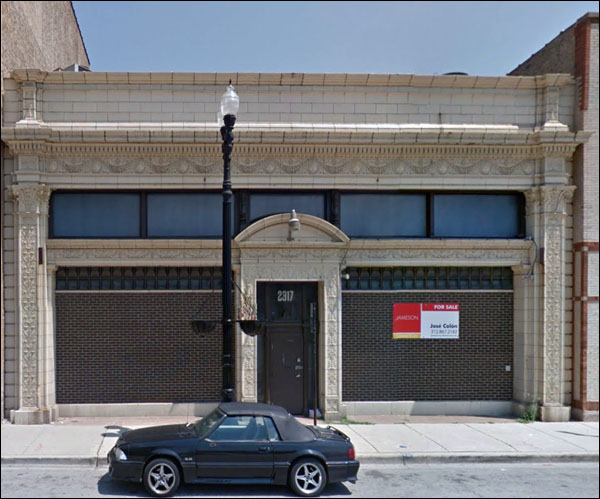 The area is being converted into clubs and bars; I expect this is a restaurant by now, or will be soon.

Not everything hails from the glory days.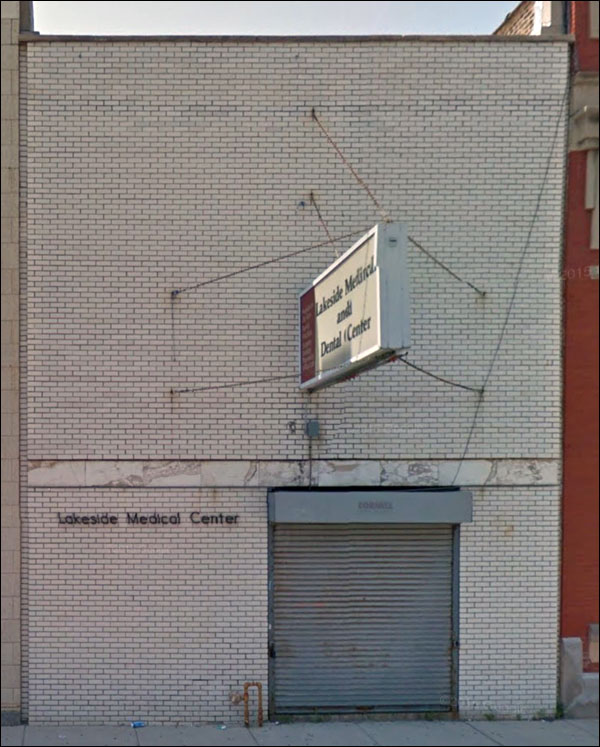 It's like a clinic that treats only the nastiest STDs.

I can't figure this out.
Unless the blank spaces are where the name once went, but it seems unlikely anyone would go to the trouble of taking it off. They just seemed to ignore the old lives of these buildings as time went on, and plaster a new identity on the lower floor.

This is somewhat haunting. Or haunted:


It looks like a church, but it's not churchy enough. It was the home of the Chicago Defender newspaper, and Wikipedia says they moved here in 1920. Obviously that's wrong. This building was buit in 1936 as the Illinois Automobile Club.
There were plans to turn it into a "Cheap Trick-themed nightclub." Didn't pan out, possibly because it was a Cheap-Trick themed nightclub. And I say that as a fan, too. There just aren't enough of us any more.
Now, in Japan, it would be a huge hit.

Who was the winner? Ford, of course. And they're still on the street, selling cars.
Everyone else is gone.
The Chicago Tribune's website has a special section from a Motor Row gala; it's here. Worth a look.