Another break from the quiet parade of old backwater empty streets. We go again to . . .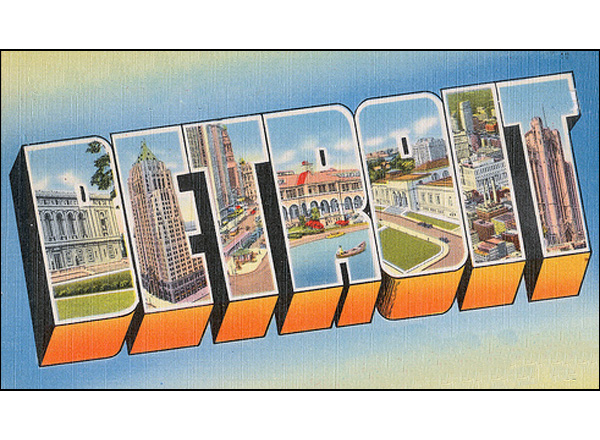 While poking around the destitute roads of Detroit, I came across this immensity.
From Detroit-ish:
The Mammoth Shopping Center was built in 1949 and was originally a Federal's Department Store. Federal's Department Store was started in Detroit, Michigan in 1929 and had several chains around Detroit. This Federal's Department Store was located at 15401 Grand River Ave, at the corner of Greenfield Road, in northwest Detroit. Federal's Department Store quickly became a popular location for Detroiters to go shopping for new outfits and wardrobes. It was located far enough from downtown and close enough to the city border, that people could come in from the suburbs and go shopping at Federal's as well.
Then they didn't come in any more.
It just sites there and decays. The skyway came from a 1990 removation to make it a low-budget store.
But that didn't work.
Hope, change, et cetera:

Across the street, the Tower Center Mall.
It has a Facebook page with entries from February, so it still seems open. But the Yellow Pages site says it's closed.
This might answer the question.

Thirties crispness always lends an urbane air to the street.
Or would, if the ground floor wasn't ruined by someone who thought "shade, yes, that'll revitalize the block. Shade."

More shade! As you're staggering sick down the street because someone said there was a doctor's office down there somewhere, you'll be grateful for the shade.

But little else.

Rather robust for a ghost sign:
Remember, this was all full of stores and shoppers once. Cars with their windows rolled down and music playing. This was the big city, the Motor City, and it would rule forever. Why wouldn't it?

The Time-machine function on Google Street view lets you see what the building was like a few years ago. Now:
Then. So someone redi the windows, opened it up as something, then closed it again.
I don't know why I love buildings like this, but I always have. The little classical details. The tidy dimensions. The apartments or offices upstairs. You can imagine any story you want starting right here.

Now:

Then. Once again, someone tried, but it didn't go anywhere.

And it probably never will.