No major botherations in Uptown today, but the news was focused on a leg, and nothing more, found behind the Uke Center. It was dead, wrapped in plastic, to quote Pete Martell. Other parts were found elsewhere, I understand. It seems to have moved everything else off the table in the local psyche, at least for the day.
I looked for details on the Strib homepage, but was sidetracked by this:
Oh, great. Clickbait chum-shite in our ad network. Well, let's see what it says.

"Applebee's opened its doors for the first time in 1980. It was welcomed with open arms by diners everywhere. However, over time, the restaurant chain has seen sales decline and not really pick back up. So far, Applebees has closed more than 120 of its locations, down to approximately 1,200 locations."

Barely scraping by, that one. Wait, there's more:

"Applebee's is planning on closing yet another 20 locations this year."

Highway to doom.
Also on the list: TACO BELL. Really. "In 2019, Taco Bell closed six locations, and while that does not seem like much, the chain spent years growing so this decline and shuttering of locations is a first for them and not a good sign."
Also on the list: Starbucks.
Not on the list: Five Guys.
Let us commemorate the Dads of Yore - specifically, this example from 1974.
He's a thrifty fellow because he's a Scot! Patholigically tight. Pains him to part with a shilling. Dies in a cold house with his wealth squirreled away in sacks behind the walls.
More of the Colorforms school of illustration:
I guess when your deadline is "ten minutes" you do what you can.
Go here, and look at this picture. It's Bushwick in the 70s, photographed by Meryl Meisler. There's an abandoned building, and the structure next door has been demolished. It reveals something fascination, something I never knew. I've stretched the picture to make the view straight-on.
Apartments were permanently decorated with wall paintings. This is like a view from a Pompeii excavation.
It's all gone now, replaced by regimented rows of public housing.
Finally, for no reason: some Friday Dog.
Slow and steady wins the race, I guess:
The weekly sweep.
WHAT finished him?
This is so easy you wonder if it could be something else. Solution is here.
For a few weeks we'll study the sounds and cliches of a long-running crime show. It concerned a District Attorney who spent most of his time out of the courtroom or office, fighting crime.
Created, written, and directed by former law student Ed Byron, the series was inspired by the early years of New York Governor Thomas E. Dewey.  It was Dewey's public war against racketeering which led to his election as governor. Phillips H. Lord, creator of Gang Busters, helped to develop the concept and coined the title. Byron lent an air of accuracy and immediacy to his scripts through close study of crime statistics, a library of criminology texts, following the newspapers, and even going around rough bars to gain tips, background, and color from crooks and police alike.
We'll start with a clip from the first episode - or at least the first one still surviving. It's 1939.
| | | |
| --- | --- | --- |
| | | |
| The what racket? | | |
| | | |
| | | The early opening. They'd use this for years. |
| | | |
Next week: hiring the cliches.

The popularity of this instrument has ever confounded me. I don't understand the appeal at all. Okay, one or two tunes have a certain grown-up swank. Any instrument can be redeemed. But an entire album of standards always sounded like grandpa stuff. Great-grandpa stuff.
From an earlier album.

Yes, that Carmen.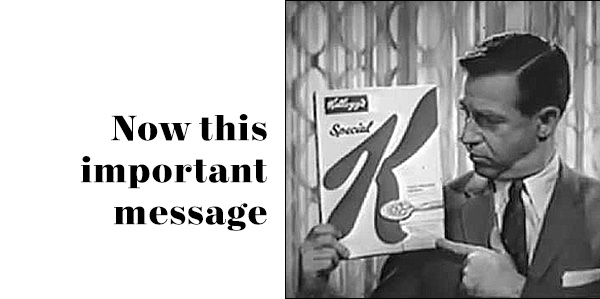 | | | |
| --- | --- | --- |
| | | |
| | | This word having been said, no additional phonemes are required. |
| | | |

That'll do! See you around.