The original sign was moved around and then sold to another town. This old sign that looks original is a reconstruction.

The hotel is black and grey and new. There's an inlaid design on the lobby floor that says Est. 1954. Well, something was established in 1954. I check in, wait for an elevator; when the doors open I see a car whose walls have a b&w panorama of some place mountainous, and the floor has tiles that say

HOME
MEANS
NEVADA

Or, if you want to read it the other way:

NEVADA
MEANS
HOME

Perhaps, if you are an American in the oldest and broadest sense, this has to be true. The desert, the unexplored regions, the camp by the creek, the hardscrabble town by the railroad - there's something romantic and raw and true about that sentiment. In the end we're all alone on a desert looking up at the snow-capped glory, right? And then we hear the eagle screech and surrender our soul to the great Blue Sky above -

ding! My floor.

The room is nice. I look out the window, and am surprised to find a river. Swollen and turbulent, falling over itself like a mob streaming out of town to escape calamity.

I'd looked around on Google Street View, and seen nothing but empty streets and gimcrack signage and gambling-house come-ons promising a banal recap of old rat-pack glories.

I could work on my speech, or I could go looking for Reno. An easy choice. Shall we take a stroll?

MAMMON REQUIRES YOUR AWE AND OBEDIENCE

Basque family style dining!

I thought at first - what a dump. But it's got high hopes, and it's doing something about it - at great public expense with lots of private investment and tax credits, I suspect. The mainstay of the place is gambling, but they don't want it. So I'm told. Gambling is downmarket and déclassé and attracts sad people. This isn't Vegas. It's like Vegas for people who can't be bothered, people who just want to sit and hit buttons. So I'm told.

Hence, a new future: tech! Of course. As anyone will tell you, Google is coming in. Amazon is coming in. Tesla is coming in. The Holy Trinity of the new economy. (Data farms for the first two, I suspect, and a factory for the car company.) My hotel, the Renaissance, does not have a casino. It has bocce ball. Another new hotel has a rock climbing wall instead of a casino. Because they think these are pastimes that will appeal to the young tech crowd.

This place has been closed for years. Slated for conversion to office, I think.

What's faded is often more interesting than what's new.

Not all the sockets have bulbs, which you could probably say about the residents as well. Whatever that means.

Must have been a wonder when it was brand new, as the man sung: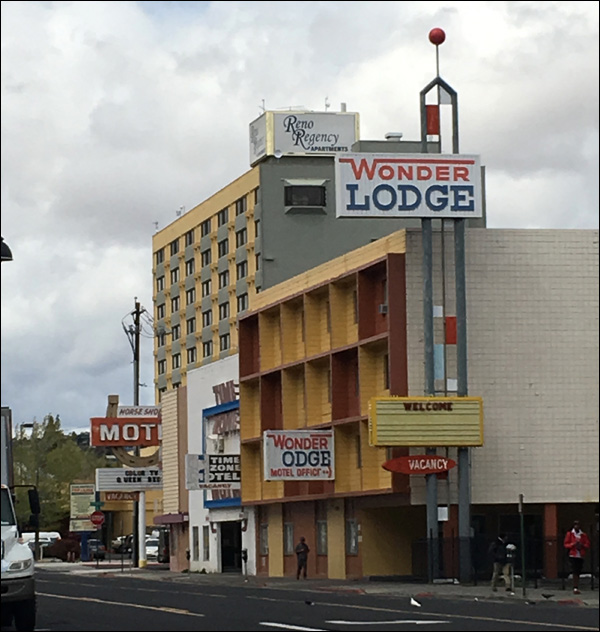 If the L fell off and hit someone I'll bet he spent a night trying to find a place at the casino where he could bet on an L.
It looks more fun than it is, but at least it's a view you could have seen many years ago:
Here's something of note. It's a small building with a late-40s curved awning.
From Reno Historical:
Standing in front of the Delucchi Building, built in 1948, it's hard to imagine that Lake Street was once the center of Reno's rich cultural heritage. You are steps away from the city's long-gone Chinatown and at the portal to a neighborhood once known for its Italian hotels, Spanish hotels, Basque hotels, Jewish clothing stores and Jewish pawnshops, Chinese laundries, and hole-in-the-wall restaurants of a dozen nationalities.
Look around today:
The river, on one side, is old and available.
But then you go a few more blocks, and there's this:
A brief river view; no sound, so please make rushing-water sounds to compensate.
At night, right by my hotel:
I came to love that river.
LATER
I wandered through the old casinos - a Wednesday, not the high point, I'm sure - and the rooms had no buzz, no lift, no thrill. I'm immune to the enticements of gaming, but I know when a room is fun. The Aria in Vegas was fun, and it was high-class and high-dollar. This is low-rent penny slots, and the town doesn't want it.
But I did find a machine that seemed worthy of my quarters, so I put in some money - and won!
One free game on the Indiana Jones pinball table!
I should back up and explain what I'm doing here, no?
That's tomorrow.