There was a time in America when the appetite for elaborately staged spectacles on hardened H20 was large enough to support THREE touring companies. Everyone's heard of the Ice Capades; that's the brand that survived until 1995, when it quit for good, done in by the Internet. (Really! Why go to a show when you could see so many web pages about dancing on ice?) The Ice Follies were the first, founded in 1937, and it was folded into the third big player, Holiday on Ice, in 1979.
I have three programs, purchased for their unintentional summation of 70s aesthetic crimes. Nothing, and I mean nothing, says 70s like these programs. We'll begin with 1971.
But just so we know what the baseline for good program covers might be, here's 1963's cover, an image whose postures and symbolism may even have escaped the artist's eyes: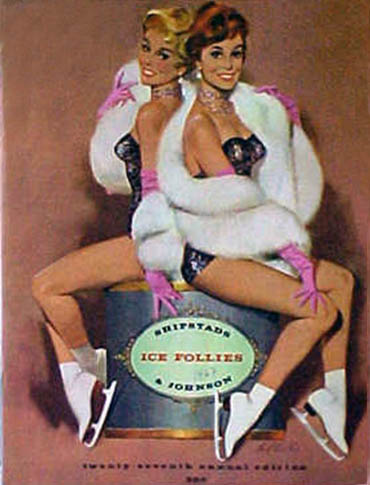 Prepare to see how steep the fall really was.