I sent this image to a friend, one of those "where I am at the moment" things you text, and he described it as a cold metropolis. Hmm. I suppose. It wasn't that cold. Hard to think of this place as a metropolis, though.
How many buildings can you see? The answer is five. Is there sky visible? Yes.
We have this image of Old Small Town America, with its Main Street shops, familiar merchants, its less-hectic pace. Willoughby, next stop. Of course they don't have any of our conveniences or advances. What did the shops have, anyway? Corset stays, horehound whips. Lamp grease, or something. Still, we'd like to spend an afternoon wandering up and down Main, stopping in, saying hello, seeing what's come in from The City, gossiping a bit.
Well.
Took a long skyway walk the other day, just to see if there was anything I hadn't seen in a while. There was; there always is. I stopped by the Coin Store to lean over the glass counter and talk to Billk. He used to have a store in the Northstar Building. Moved years ago to a much larger store, full of amazing currency. I need only say this: when I sold some of my father's silver dollars, he was the only guy I needed to see. You know you're going to get a good price, and you also know that he knows you know he has to make a profit. Not saying he'd shave off his cut; I wouldn't expect that. And I don't think he would think I would expect him to shave off his cut.
A square deal, in other words.
I hadn't been back since the shutdown, and it was good to catch up. To just to do the normal thing and shoot the breeze. The skyway is our Main Street, in a way. Pull up a seat, dip into the cracker barrel, warm your hands, sit a spell. We joked about the collection of paper money he sold me many years back, the foundation of Curious Lucre (which returns next year, btw) and how it has to be worth at least four dollars now. We discussed the new trend towards plastic currency, which doesn't fold right, and seems too slippery - but it's good for humid climates, some of those South American bills he sold me are probably still damp. (They are.)
Three customers came in, two in bright-yellow construction jackets. When I left there was a knot of 15 workers attired thus, men and women, probably from the RBC project up the street, probably waiting for sandwiches at a place called "Dagwood's." I'll bet at least half of them know why it's called that.
I wound through the old Federal Reserve, and got a look at the RBC from a slightly different perspective. Over to 100 Washington, a big dull block designed by Yamasaki. It's not an attractive building. The interior spaces are vast, and have the feel of a 60s skyscraper lobby.
This space was intentionally left blank, as they say, before the great Lobby Seating Revolution.
From the stairs, let us pause and consider whether the green and beige stones work together into a harmonious whole:
Then I hooked through the mysterious Federal Reserve building - at least that was the original intention; seems to be a Wells Fargo operations center now, whatever that means. This skyway is simply for passing through, and has a bleak and sad mood of the middle of the second half of the 20th century.
The suspended ceiling. The 1986 Airport Carpet. The exposed column, which looks as if they thought "hey, they'll think it's a modernist decoration."
When I finished my walk I went to Lobby Pizza for my reward. There was a fellow picking up some slices; he looked familiar, but not so much that I could place him. Then the manager bade him farewell, and I thought he said Boss, but maybe he didn't.
I asked: did you just call him Abazz?
"Yeah," he said, and I ran after the guy and called out ABAZZ. He turned.
His face brightened and he said "my friend." Both of us had, by instinct, put our hand over our heart. It has been 21 years. He was the head chef at a restaurant downtown, a master chef. Immigrated from Persia. I asked where he was cooking, and he says he has a new place opening soon, "and I will let all of you know," he said, pointing behind him to the newspaper's portion of the complex.
It was short and merry and delightful, and I can't wait for another plate of his sea bass. Two decades.
By all means everyone work at home! It's not like you're missing anything
From the lawn of the second Federal Reserve Building.
And the Thrivent apartments continue to block our view of the company HQ.
Next year we're going to do something different, because A) I really want to shake up this site and do new things! and B) nothing tall is going up, unless they get cracking on the Firehouse project.
A new bracelet? We simply have to show the policeman! He'll be fascinated!
So much for the show. He really wanted to see if. Guy's going to get a phonebook in the kidneys for this.
Solution here.
Another from the "Thirteenth Juror" suite, reminding us that the music cues didn't have to be good as long as they were effective.
Was that a cough?

Obviously, a transition cue that takes us into . . . childhood? Some sort of candy-colored innocence.
| | | |
| --- | --- | --- |
| Now, this month's Tell-Tale Horn, the sound that aways preceded the crash. It's from the early 60s. One of the longest screeches on record. | | |

Nothing comes up on this guy - except for this album.
| | | |
| --- | --- | --- |
| | | |
| | | 1963. Everyone was just mad about a piano style from seventy years ago. |
| | | |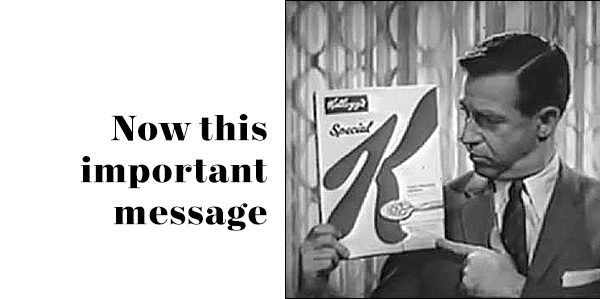 | | | |
| --- | --- | --- |
| | | |
| | | From 1945: a real day-brightener, this one. |
| | | |

| | | |
| --- | --- | --- |
| | | |
| | | That'll do; thanks for the visits. I wasn't entirely happy with the week's efforts, but next week is going to be AWESOME. Really! |
| | | |