You thought I was exaggerating the quantity of leaves, did you.
It's the last pick-up. The last time the city will take your yard waste. Many boulevards around here are filled with bags, but I think I have the record. When the city stops picking up yard waste, it feels like one of those signals: you're on your own. Air-support will no longer be provided. Patrols have stopped. Non-essential personnel have evacuated the base.
So. I went to Best Buy to sort out the stove situation. The guy who sold me the item has been there a long time, knows his equipment, has always been straight about the merits and demerits of various products. The opposite of a hard sell. He leans back and lets you convince yourself. Has the general emotional tenor of Gibraltar. As we tried to find a different oven that would arrive before Christmas so we could have, you know, CHRISTMAS DINNER, he noted that they've been hit by erratic and unpredictable inventory problems, and they're short-staffed. Can't get anyone to come in and work.
We were all masked and communicating through a plexiglas shield, because that's the norm again. Just like that.
A high-level manager was supposed to call me today and discuss the situation. As it stands now, they are willing to install a stove in December, then remove it when the stove I ordered last month arrives, refund the price for the first stove, and charge nothing for the swap. Which seems nuts but okay. I did not get a call, so I phoned the store.
Ha ha ha, I know, I know. Such charming naivety. You can't call the store. Oh, there's a local number, but it goes to the national call-center.
See, if you have a local operator, you have to hire someone to sit in a room and answer the phone, and A) that costs money, and B) there's no one who will take the job. You might get peculiar calls from people with stupid questions.
"Does your CD department have Holger Czukay in a Can?"
Sir, we no longer have -
"Then you'd better let him out before he suffocates!" Click
Ring
"Yeah I'm calling to see if you have John Wick 4 on 4K disk"
"Let me check the website for you."
"What? I could've done that myself. What's the point of even calling" Click'
RING
"Yes, can I speak to someone in VCR repair?"
"I'm sorry, we no longer repair those devices. I can put you in touch with a company that does."
"That's an outrage. I bought it from you. You have to fix it."
And so on. You could solve this by setting up a phone tree that sent stupid questions to a voice-mail box. Just say "If you believe your question or issue is of utmost importance and demands immediate answers or satisfaction, press 4." That's where they'd all go.
If you're wondering, yes, I got a card from the salesman. It went to a default recording that said the box was not set up.
But now I'm on the national line. After sitting on hold for ten minutes, listening to music that was trying to be Christmas music without being Christmas music (all the jaunty tempos and familiar instrumentation, but without jingle bells. They activate the jingle bells at 12:01 AM the day after Thanksgiving) I got an operator who didn't quite understand what I wanted.
"The phone number for the appliance department at the Richfield store?"
"Yes."
"I'm sorry, but we don't have phone numbers for the individual stores."
The national call center for Best Buy does not have numbers for the various departments.
Uh-huh.
"But that's what I called," I said. "The local number. And it went here. I know they have phones. I've seen them answer them."
"I can try to get your through to someone in the appliance division, who might be able to get you an email, and if you send them an email they will call you back."
Sigh. "Okay."
I was transferred into another limbo of pseudo-Christmas music, and after ten minutes I gave up.
It is easier to drive to the store and talk to someone directly.
This shot, which belongs in a promotional pamphlet thank you very much, shows how the backpack rests on the lower floors.
The lower floors are oriented at an angle to the street, and curve away, creating a disconnect between the street level and the backpack. I need to study this more before I dislike it as much as I suspect.
One year ago:
I took out the one remaining crane to give you this finished perspective.
Rare appearance by a well-dressed short person who looks like a minaturized version of all the other guilty guys:
What an oddly empty room.
Solution here.
| | | |
| --- | --- | --- |
| | | |
| We return to Mort Glickman's score for "The Thirteenth Juror," and I think Mort ought have been relieved people were talking over this. | | |
| | | |

He didn't have to buy a fake moustache. He already had it.


| | | |
| --- | --- | --- |
| | | |
| | | Nice David Lynch connection there. |
| | | |
Was he some Mantovani type? No:
Federico Moreno Torroba (3 March 1891 – 12 September 1982) was a Spanish composer, conductor, and theatrical impresario. He is especially remembered for his important contributions to the classical guitar repertoire, becoming one of the leading twentieth-century composers for the instrument.
Interesting way to sell him.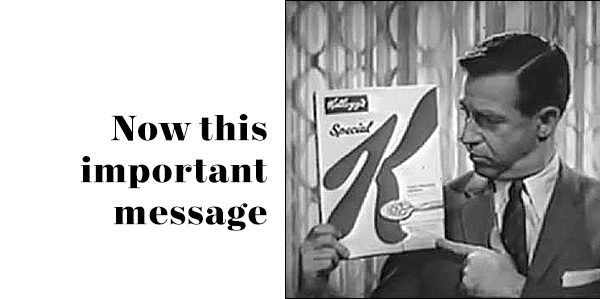 | | | |
| --- | --- | --- |
| | | |
| | | 1970: Here's her name and location, if you want to start running a scam on her |
| | | |

| | | |
| --- | --- | --- |
| | | |
| | | Another week in can. Back on Monday - for a slightly shorter run. Have a fine weekend, and thanks for your visit. |
| | | |