All Arizona Bleat Banners this week, as you can tell.
Having just come back from a trip, I am now on vacation. I need a five-day release from columnizing. It's not that I can't do columns; of course I can. I just would prefer not to for a while. I miss three columns a year out of 104. Might be four this year. Damn, I'm losing it.
But there will be this! Speaking of the trip, I didn't note anything about leaving. That was sparky. We got to the airport with lots of time, of course, because everyone listened to me for a change. No idea why. The new Phoenix terminal is nice, but has no sense of place. The terminal we used to use had the local hues, murals, mosaics, a sense of Arizona. This one belongs to the up-in-the-air class. All white. High ceilings. Luxury stores.
There was a burger joint, but it wasn't open. We rounded the corner to the main boarding area. There was a coffee shop, but it was closed. There was a nice restaurant where I've eaten before, but it was closed. Three in the afternoon. The Panera was open. The dreaded "Mexican" restaurant with its ghastly nachos was open. The Shake Shake was closed, but there was someone behind the counter. I asked if they'd be open today.
"No, sorry," said the guy. "Half my night crew isn't coming in."
I said I understood. Because we do, now, don't we?
Except we don't.
When we sat down at the Dreaded Mexican Restaurant I realized something odd: we were missing a bag. My wife had my carry-on. I did not have any bag.
Huh.
Well. I bade them to sit and order, and said I'd go back. Where could it be? Possibly in the recombobulation area. I went there. No bag. Of course, there wouldn't be; it was the fabled UNATTENDED BAGGAGE, which was no doubt now being subjected to tests for fertilizer residue. I found a helpful TSA agent, explained my problem. Left a bag in this area, I think, within the last 20 minutes. He asked me to identify it.
"It's black," I said, which was stupid, I suppose; they're all black - and added "with horizontal ridges and the name of the manufacturer, four letters, black on silver."
Well, that did it. He nodded and took me to another counter and gave me the bag. I still can't tell you what those four letters are, but I know that they're there. Daughter bought the thing in Brazil. Somehow we have it.
We ate the bad nachos and the good tacos and got on the plane. I fell asleep during the ascent, listening to Eno ambient. A nice forty minutes. When the drink cart came by I asked for two cups of coffee, black. The flight attendant gave me two cups of hot water and two packets of coffee in tea bags.
It's come to this.
I asked the FA: is this permanent?
WHAT? He said. Because we were both wearing masks and the engines complicated the conversation. I heard something about something being broken.
Any other time, it would be just that: coffee maker's busted. Fine, I understand. But all of these little things seem cumulative. Doesn't mean they mean anything.
Went shopping tonight. Provisions.
The cooking oil section.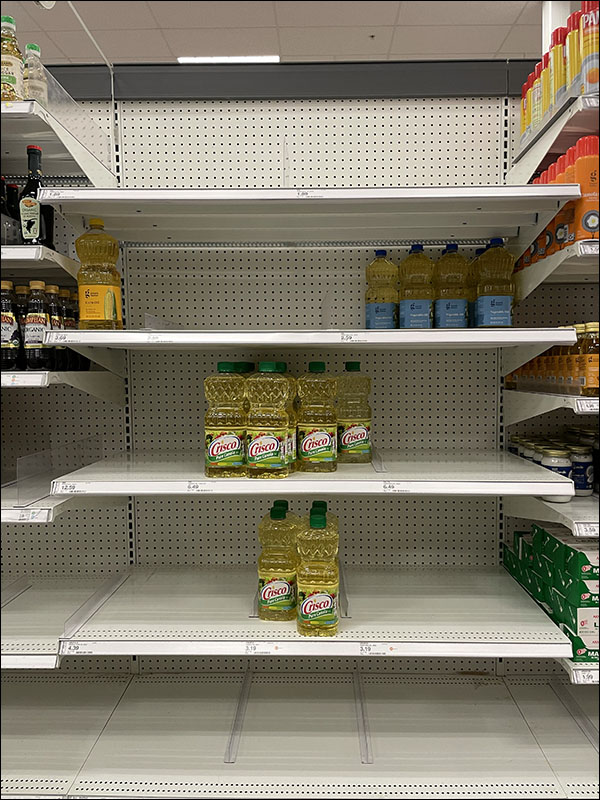 There's incremental prep going on, I think. Just in case. As if we're all waiting for the words to be spoken.
Brandon has fallen.
(KIDDING. Imprecise reference.)
Anyway. We'll return with full Bleatage next week, with all the bells and whistles. But I like a lean Bleat from time to time.
It's 1929.
What? Didn't we do this last week? Yes. This entire month will be given over to a week of the paper.


So the Borger crisis is still top of the page. They have three top of the fold. Interesting to see how the top opens to connect the headline with the story. Can't do it with the middle one.
Got this in a thumbnail description of a piece on water conditions in Texas: "Clarence Gilmore became a commissioner, created a crisis of over-drilling ... Rapid extraction of oil in East Texas led to salt water contamination …"
As for the water:
The Brazos River Authority was established in 1929 by the Texas legislature as a public agency of the state of Texas. The 1929 act, a pioneering step in the history of water-resource management, marked the first time anywhere in the United States that development and management of the water resources of an entire major river basin had been entrusted to a single public agency organized for that purpose.

I have no idea why they ran this on the front page. Perhaps everyone had already heard about his speech four day before.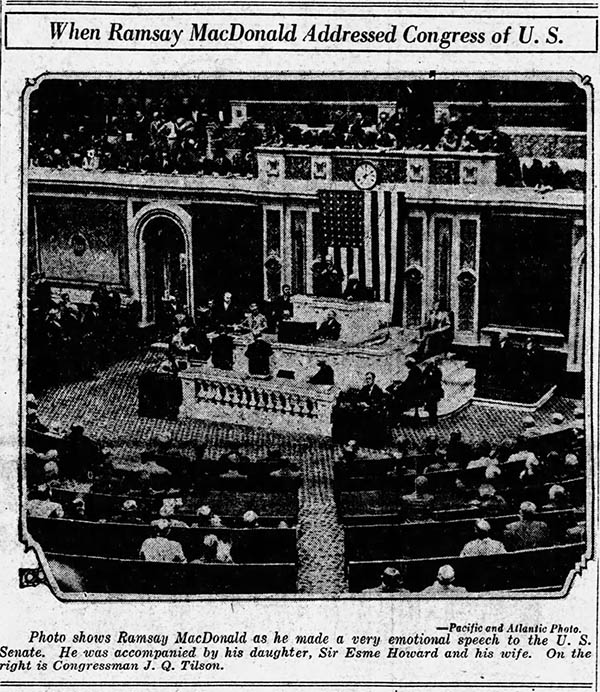 Ah yes, his daughter, Sir Esme Howard.

The boom years brought many a large hostel.

Wikipedia: The hotel was constructed in 1929 and operated for over 50 years before it sat vacant for nearly 20 years.

Not the loveliest of structures, but check out the upper floors.

| | | |
| --- | --- | --- |
| | | |
| | | I can't find much else. I'm guessing he swung for it. |
| | | |

As we noted last week, it wasn't that triumphant, was it? Almost six months.



Walter Woolf King (2 November 1899 – 24 October

In 1936, King was host of the Flying Red Horse Tavern on CBS radio.

King began his film career in musicals but quickly moved into supporting roles. He is probably best remembered today for his villainous roles in two films starring the Marx Brothers: A Night at the Opera (1935) and Go West (1940). He also appeared with Laurel & Hardy in Swiss Miss (1938). King made several appearances on radio and later became an actors agent. During the 1950s and 1960s, he was seen in several often uncredited bit parts and smaller roles in television and films. In the first episode of "The Munsters" he is credited for his role as George Washington.
Flying Red Horse Tavern, I suspect, was sponsored by Mobil.

| | | |
| --- | --- | --- |
| | | |
| | | I didn't know Lindy had been to Cozumel. Wonder what it was like back then. |
| | | |

What in the wide world of sports is going on here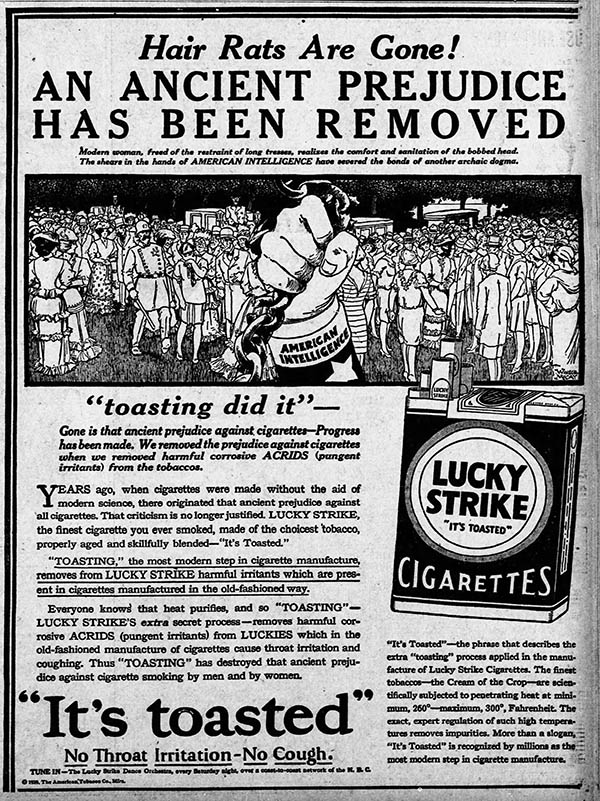 "The shears in the hands of AMERICAN INTELLIGENCE have severed the bonds of another archaic dogma"! Just like Luckies have removed ACRIDS, which had caused an another ancient prejudice!
The past, as they say, is a different country.

It's interesting to think that people once lived in quiet cities, and noticed when things changed.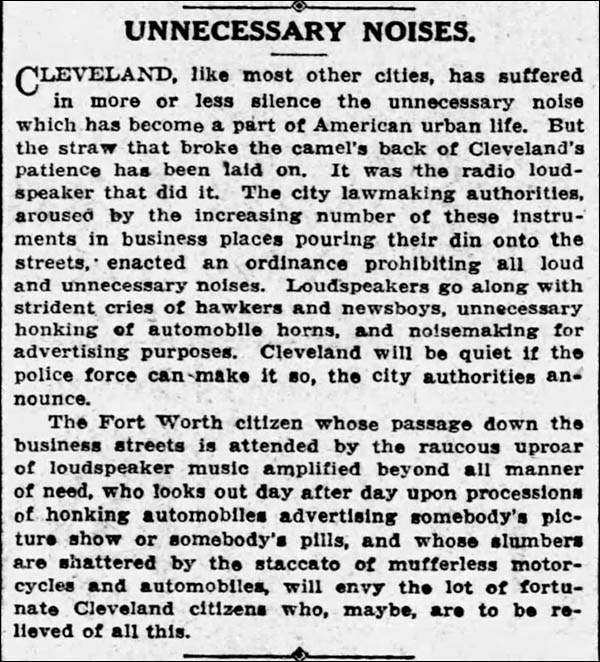 Note how no movie set in the 20s or 30s ever has loudspeakers outside of stores playing music and hawking ads.

Finally, our old friend Webby with a five-panel wind-up to a one-panel punch.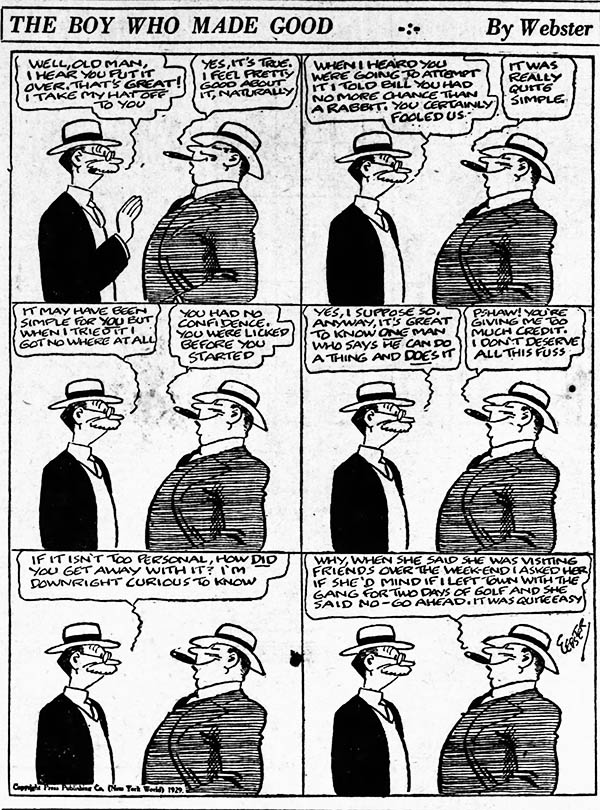 Long way to go for that one.

That will have to do. Head back to the 50s now, if you like. We begin the huge section on cars, starting with Accessories.

I know, I know. More thrilling words have rarely been written.