And why is there nothing at the top of the page today? Because Mother-in-Law invited seven people over to dinner on the spur of the moment, and I have spent the last five hours running around either preparing for the event, cooking, then serving, then cleaning up after the event. I wasn't able to participate, but it seems as if everyone had a good time.
As a reminder, comments-problem update on Fridays. I think I have it figured out.
It's 1915.
We discussed this last week, and since I'm short a batch for this month, I've cobbled this together at the last moment. It's worth the revisit.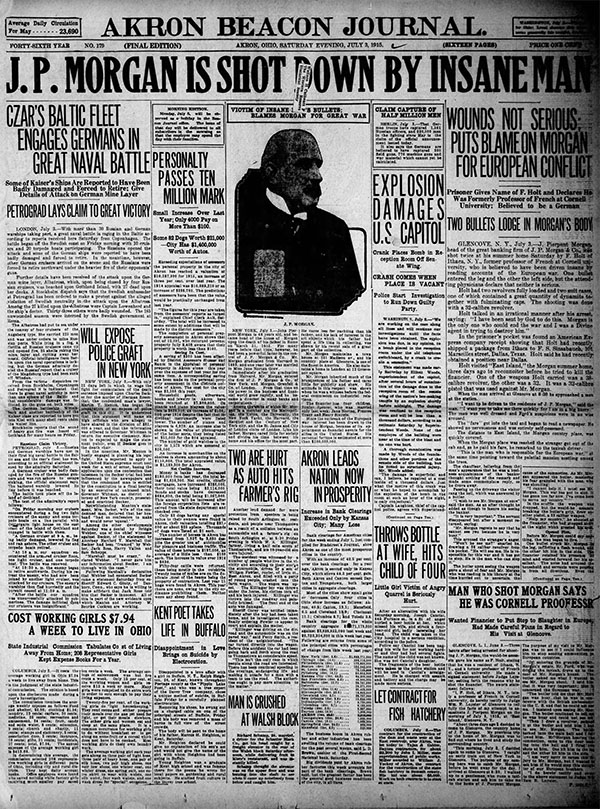 That'd Morgan Jr., by the way, shot by a German agent who probably had a head full of loose screws, as we discussed.
WOUNDS NOT SERIOUS, PUTS BLAME ON MORGAN FOR EUROPEAN CONFLICT is a jumbled way of putting it, but I suppose everyone got the idea.

Go Tsar! Smash Hun!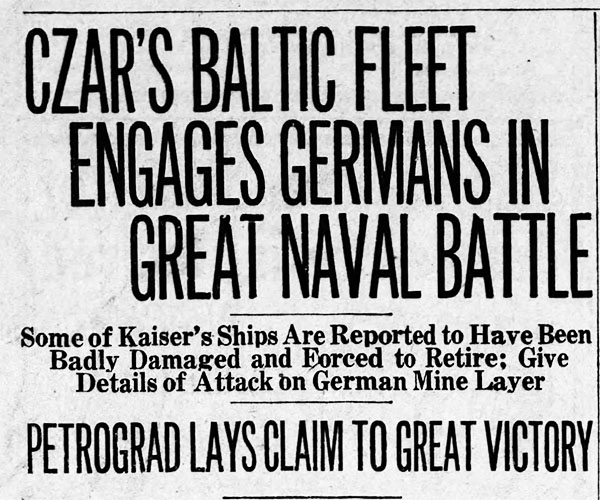 Wikipedia:
The Battle of the Gulf of Riga was a World War I naval operation of the German High Seas Fleet against the Russian Baltic Fleet in the Gulf of Riga in the Baltic Sea in August 1915. The operation's objective was to destroy the Russian naval forces in the Gulf in preparation for landing German troops to facilitate the fall of Riga in the later stages of the Central Powers' offensive on the Eastern Front in 1915.

The German fleet, however, failed to achieve its objective and was forced to return to its bases; Riga remained in Russian hands until it fell to the German Army on 1 September 1917.
What a miserable time.

Well, enough of the outside world - let's see how the home front's doing.
A sad story, and they gave it a lot of play.

There's no such address anymore.

Seems apt it would happen on Furnace Street.

Everyone's worst nightmare.

Gah, what a thing to happen. And what a thing to discover.

Wait, how do they know that's what he thought?

| | | |
| --- | --- | --- |
| | | |
| | | Elsewhere in the happy merry world of bottle-throwing and decapitation: |
| | | |
I found one of his poems in a local history.
In the early part of the present century, Ralph B.
Heighton, of Pippin Lake showed considerable prom-
ise as a poet. His poems appeared in a number of
publications. One of them is given below:


When the summer shine is shinin'

And good friends you'd like to meet,

Why not just come up to our house
And I'll set you out a treat.

When the corn is nice and milky
And we've butter by the gob,

Say, you just come up to our house,
And chaw sweet corn off the cob.

Even if you have store teeth,
You can do a fair, good job,

Let the butter run and drizzle

While you chaw corn off the cob.

You go up by fours achawin',
Slitherin' back by threes, nabob.

Let the juice and butter drizzle,
Chawin' sweet corn off the cob.

If you're perlite, slick and dainty
And a fraid you'll be a slob,

Wal, don't come up to our house
To chaw sweet corn off the cob.

You must hold it by two gadgets?

I can hold mine in my paws,
You must nip so still and dainty,

I like mine in juicy chaws.

Then I'll go zippin' up by four rows,

And the butter on I'll daub,
There's nothin' I like better than

Chawin' sweet corn off the cob.
This is possibly the first time anyone has read his work - or thought about him at all - for decades. Perhaps a century. And you were there! Actually, you are here. But it'll be you were there soon enough.

| | | |
| --- | --- | --- |
| | | |
| | | TWO HOURS OF HAIRPULLING |
| | | |

It's the Ginger Snaps clown, drawn in a style that seems advanced for the time: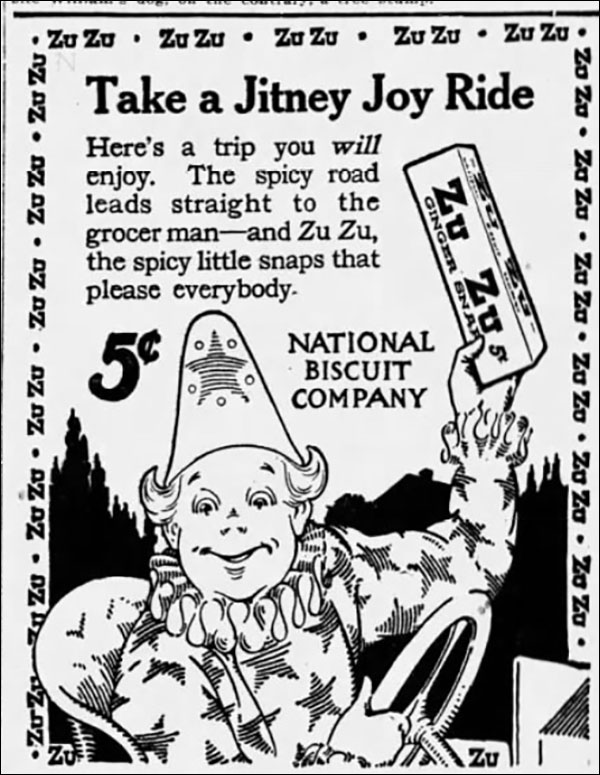 From his Wikipedia page:
In the movie It´s A Wonderful Life by Frank Capra, one of George Bailey's daughters is named Zu Zu after these cookies. Near the end of the film, when her dad rushes up the stairs and Zuzu greets him, he replies "Zuzu, my little ginger snap!"

It might sound foreign, but it's 100% all-American!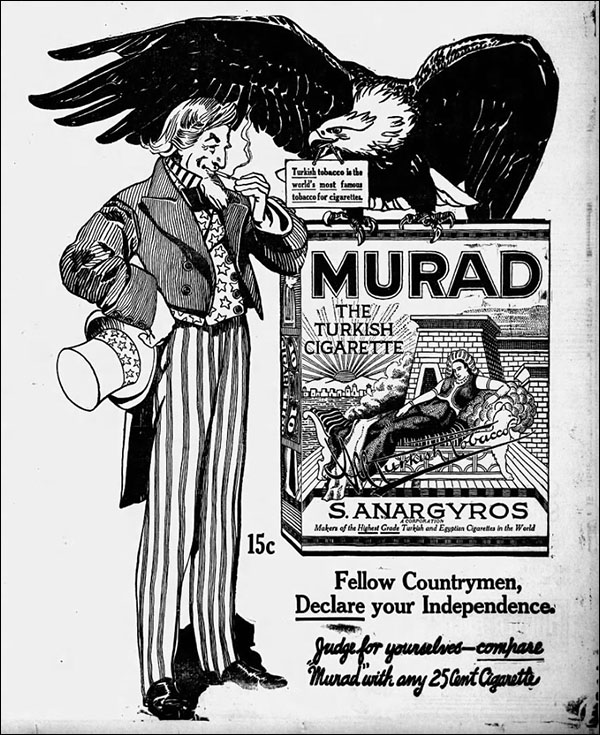 Actually, it was; Lorillard had bought the brand from S. Anargyros in 1911. The move to Virginia tobacco was already underway, however, and the Turkish blends would be less and less popular.
Independence from what, though?

That'll do. See you tomorrow. End of the 50s Miscellanous Appliance Ads section, and I don't say that often. But you where there when I did.