That would be the airport ramp.
The usual details before leaving. Last sweep of the room, weigh the bag. Hmm: the scale says the bag is LO pounds. The readout is capable of showing four digits, but cannot muster a W. I opened it up, expecting to see an AAA battery -
Or should I say a Triple A battery? When you say "Triple A," people think of the car association. When you write AAA battery people know what you mean. It's all context. But no one says "An A - A - A Battery," do they?
No, I did not have this conversation at the time. No time to waste! The plane leaves in 2 hours and 45 minutes! It did not need a AAA. It needed a flat car-key-fob battery. (I'd say "a hearing aid battery" but that would only be for a Ferenghi.) I found one, because I always have batteries, until I don't, and slipped it in. Forty-eight pounds. Nice job.
Off we went. Parked, dragged the bags, checked it in, then . . . no place to sit. There aren't any coffee shops outside of the security area. So we stood and talked about delightful inconsequential matters with the old enthusiasm, running along the same wavelength, until . . . well, the line's starting to thicken up. Best go, now.
Took one last picture as she went into the crowd.
Oh, she'll be back.
But not like this, I think. Not again.
THEN in-laws arrived from Chicago, AND mother-in-law is here from AZ, AND French brother-in-law came over, and we had hamburgers and corn that was on the cob until it wasn't, and watermelon, and key lime pie. A full house smothers old echoes.
Well, what have we in the Folder of Detritus Folder?
One of those SHOCKING HISTORICAL PHOTO sites. THE CAMERA CAPTURED MORE THAN THEY THOUGHT! No, sorry, it's NOSTALGIC PICTURES THAT WILL GIVE YOU THE FEELS
Ohhkay. And?
Finest furs, donned. You don't don your secondary furs to the grocery store.
1947: the world was just recovering from . . . the Second World War? Yes and no; more precise to say they were recovering from the life of the Second World War.
So, time to celebrate! Truly.
Note: same copy on this site.
I'm always interested in what the "About" pages say. No doubt someone has a passion for things internetty.
Hmmmmmm.
So yes, there it is, again
There hasn't been enclosed space on that corner for 30+ years. Once it was the corner of a hotel; then it was air; now it's a solid space again.
The weekly sweep:
I'm going to bore you with this pit for weeks, but at least you'll have the deep satisfaction of knowing you were there at the start:
Same here.
A look at the Larking, which made a bad choice in the brick department. If you ask me.
I THINK THE SOLUTION HAS SOMETHING TO DO WITH TIME
They make this deal a lot. To hell with leniency, I just want to know where I erred!
Solution here.
| | | |
| --- | --- | --- |
| | | |
| More of "The Defense Rests." Here's the ploddingly noirish theme. | | |
| | | |
| | | Ah, we're using that suite of cues again, aren't we. |
| | | |
| | | Ah, I see we're also using a different suite. |
| | | |
| | | What a strange cue. Music for cock-eyed funny-drunk transitions! |
| | | |

High-ceiling rumpus rooms were all the rage:
| | | |
| --- | --- | --- |
| | | |
| | | Undated album, and no one seems to know what year it was released. Odd. |
| | | |
Well, the band was on Coral in the late Fifties, so I'd say '57 or '58.
Parents! Use this album to save your children from rock and roll!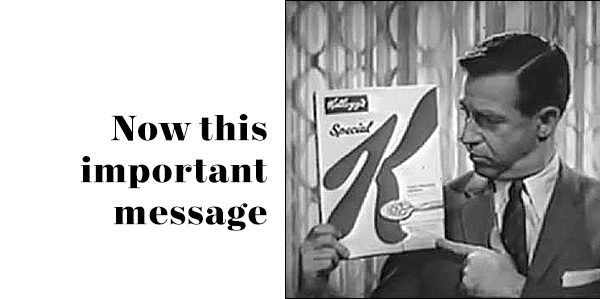 That'll do. See you around.