I finished a ten-episode "cold case" podcast today and was dismayed at the lack of words like "arrest" or "jury" or "conviction" or, oh, something like "a richly satisfying conclusion to a story that had remained unresolved for so many decades." I will never listen to one of these again. (That is a lie; I started the second season.)
Perhaps this is endemic to the "cold case" genre, but I'd like to believe that one or two plucky podcasters with a passion for unsolved cases - it's always a passion - would be able to find out what the cops couldn't! After all, they have ominous music playing as they investigate, and the cops were probably listening to Buck Owens.
I think the entire true crime podcast genre should be retitled "Look at these Fargin' Mooks Who Think They Can Get Away With It, Can You Believe It?" The apotheosis will be an unsolved cold case committed by someone who listened to every episode of "Dateline" and built up a remarkable catalogue of things you should not do after you have committed a murder. You'd be surprised how cops react when you say you bleached the interior of your trunk the day after someone went missing. "Uh, my dog, my dog, exploded."
Well, here we are at the end of the week again. Dead smack in the middle of summer. It's taking its time, this one, and I appreciat that. Daughter goes back to Boston next week, and . . . sigh, I guess, but I can't complain. The last few days she's been taking pictures for a class project, and I was in one of them. I had to wear a mask.
"Because the assignment is about the pandemic?"
No. Because BU requires everyone to have masks in all the things they do. Yes, it's stupid, but it's the rule, and you're docked if you don't.
This . . . is insane. I wonder how much of her generation has incorporated "it's stupid, but it's the rule" into their world view, the way they regard the Authorities. In the old days of sci-fi movies, there's always a scene in which someone says "I'll alert the authorities," and it's intended to bring in the smart, capable people with superior abilities and resources, people with a chain of command made up of individuals focused on their tasks and specialties. Now it's a recipe for muddled failure.
"I'll alert the authorities!"
"What, are you nuts? They'll make everyone go to a lecture about power dynamics and put a letter in your file about how you othered the Martians."
By the way, she's doing graphics for a student movie. It's scary! I remember the days of student films. It's lots of fun. Everyone who goes to college should work on a film, work in a restaurant, and produce a daily newspaper. Everything else is optional.
Well, what have we in the ol' Detritus Folder, stuff I set aside and never got around to talking about? Another clipping from the old papers, taken for some reason that escapes me now:
"Also a story of farm life." I get the impression that all of her novels were stories of farm life.
Martha Ostenso worked as a social worker in New York; she and Durkin were active in the literary circles of the time. Ostenso's best-known novel, Wild Geese, was published in 1925. A book, about a young schoolteacher sent to teach in rural Manitoba, was hailed by critics as a landmark in Canadian realism; it won the 1925 Dodd, Mead and Company Best Novel of the Year Award. It made her a well-known and best-selling author. A film version of Wild Geese was made in 1927.

Ostenso and Durking later moved to Minnesota. Many of her novels were based on Minnesota farm life; most incorporate elements of romance and melodrama. Ostenso portrays the lives of rural immigrants with dignity.  Although none of her later novels ever reached the acclaim Wild Geese attracted, most continued to explore a similar theme: the relationship between men and women and the land they work. 
Alas:
Martha Ostenso and Durkin lived for a time in Hollywood, California, where they had friends among the movie stars of the 1930s and 40s. 

The film industry lifestyle impacted Ostenso's and Durkin's health, as well as their productivity and the quality of their work. In 1963, the couple moved to Seattle, Washington, to be near Durkin's sons. Shortly after the move, Ostenso died from cirrhosis of the liver, the result of years of heavy drinking.
Something I learned from a Bleat reader that absolutely made my day:
It's from The Venture Brothers, one of my favorite shows. I didn't know it at the time, but that suit . . . is from the Dorcus Collection.
It's on the show's wiki so it's CANON. The amusing thing is that the show's creator, James Urbaniak, followed Daughter on Twitter, but not me.
This has subsequently been rectified.
Some context to show how the RBC fits in with its unimaginative neighbors.
It's something of a jumble, this part of town. Urban renewal nuke-and-pave plans often end up with oddly situated buildings alone in empty plazaz.
The weekly sweep:
I noticed some new pits on the downtown walk:
It's the other haf of the Thrivent lot. I thought it was going to be landscaped, a nice open space downtown. Guess not:
More housing. A few blocks later, the tell-tale sign of a lot being prepped:
What a dull sight, no? It looks like this from above:
A few old buildings left on Washington. Well:
More housing! Also, a new fire station. Stolid and unstylish, but better than a lot.
High praise, I know.
Remember the new tower by Southdale? The three-story outdoor atrium at the top? It's mostly done, at least on the outside:
All of the above is recent. Empty sky and empty lots before.
This must be hard for Lance. She looks so much like Lori.
A rare visit to the all-women death house! Solution here.
| | | |
| --- | --- | --- |
| | | |
| "Why - it's a lady lawyer? Is such a thing even legal?" | | |
| | | |
| | | The leaden acting seems to require leaden cues. |
| | | |
| | | Oh ho, our old friend from X-Minus One! |
| | | |
| | | Yes, they're using the same-a old-a cues as-a the other show. |
| | | |
| | | And yet I've never heard this cue before. |
| | | |

Dogs, guns, Sue Rainey.
| | | |
| --- | --- | --- |
| | | |
| | | For a while, the "Happiness is" line was ubiquitous. |
| | | |
Wikipedia: "Raelene Claire Claussen, known professionally as Sue Raney (born June 18, 1939, McPherson, Kansas) is an American jazz singer. Raney was signed by Capitol Records in 1957 at age 17. That same year, she recorded her debut album, When Your Lover Has Gone, produced by Nelson Riddle."
That's a good start in life.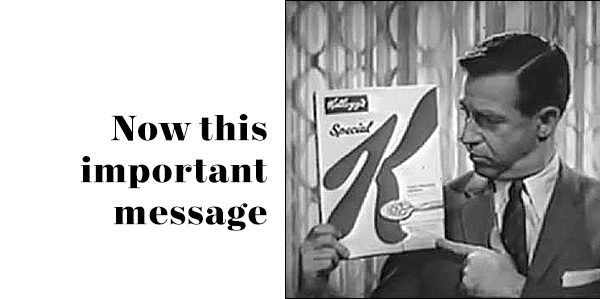 | | | |
| --- | --- | --- |
| | | |
| | | 1960s: the merits of a Four-Way |
| | | |

That'll do! See you around.