The beginning of the new beginning, perhaps:
Does that look normal? It does.
They took all the wood down. The moment they could. The moment it was safe.
Now it's time for all of it to come down, some say. All of it, everywhere.
Ah, but is it safe? Is it really too soon? Shouldn't we wait until the society is innoculated against the problems that created the unrest in the first place? Taking down the boards - why, that's like pretending it's all okay now, when it's obviously not. Not yet.
Unmasking the buildings is like saying we should go back to "normal." But the old normal was bad. We've learned that now. Even if it might be "safe" to take down the wood, it sends the wrong signal to others. If we all keep the wood-masks up, it's a reminder that we're still all in this together, and have our duties and responsibilties.
Anyway. I was standing outside the building today talking to a security officer who was had his bomb-sniffing dog outside for a rest. Beautiful dog. His handler was about nine feet tall. Two NBC guys standing outside, chatting.
A SKY reporter came up and asked the security officer if he'd like to talk on camera about the police, racism, and George Floyd.
"Sorry," said the security guard.
The SKY reporter asked the rest of us if we'd like to say something.
"I'm media," I said.
"Same here," said one of the NBC guys. The SKY reporter nodded and walked away.
"No one here but us vultures!" I said.
Something of a chill after I said that. Oh well.
The final push, now.
Each week my neck strains a little more to get all the way up.
A rare - and kinky! - garter-related murder.
NEVER RAZZ A MAN ABOUT DORIS.
Solution is here.
Let us be reminded that Suspense was a source of endlessly variable music cues.
I don't know why I clipped this one. Could be the strange impressionistic sound that was different from 99% of the rest of radio's cues.

This reminded me of a Star Trek cue.

ARE YOU TENSE YET

(no)

"What mood should I be trying to set here?"

"Nervousness over the size of a retail establishment."

Not vinyl. But it was vinyl once! Now it's color-coded.
From the Amazon page:

Reviewed in India on February 10, 2016
I can't find anything about this guy. Perhaps it was just a generic name for this type of music. "Eh, just play half an hour of rogerprice while they eat."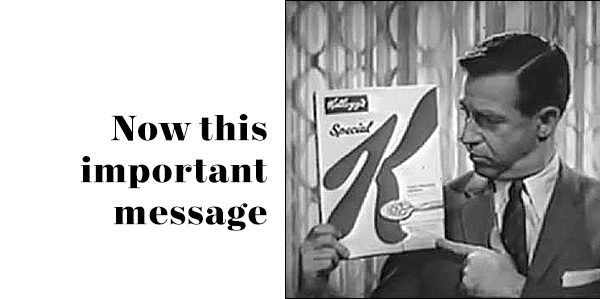 Since I did Suspense, why not go with the ad campaign most associated with the show?

No, not Roma wines.

That'll do! Criminey, what a week. Back at it on Monday. Have a fine interlude.