Above is what it looks like from the inside.

The enwoodening of downtown continues. I wonder what spurred some of the buildings to finally board up. Perhaps it's just a matter of demand, and they had to wait in line.

The Ameriprise, next to my building, was enclosed on Wednesday.

The high-buck luxury residential units at the end of the Mall, pride of downtown when they went up:

I'm glad it's ugly. Ugly isn't normal.

The library has been refortified:

Apparently they presume that the mob would attack the library. Why would they think that?

They nailed up the boards to the new Dollar Store - and while it sounds depressing to have a Dollar Store downtown, it's . . . upscale! I guess. Also boarded up.

This is the newly renovated Andrus, a venerable structure that has seen its ups and downs but was never presumptively protected from window-smashing mobs.

Up the Mall to the Target store. The main atrium has been reconfigured to channel traffic from two side doors instead of the main ones. It's awful.

Look at that. It's like descending into a pit where rotating blades mince everyone and drag the pieces over a drainage grate.

Side entrance:

The store is a frequent site of unrest, if my scanner-feed Twitter accounts are any indication.

Heavy presence.

A word just occurred to me, a word that's been floating around the edges but just popped into sight, embossed. How it feels. How all of this feels.

Permanent.

Sorry for the lack of bouyant cheer, but my mood these days is occasionally sympathetic to the figures above.

I'm not a fan of the showy designs that hang slabs over empty air and expect us to marvel. WHY WHATEVER COULD BE HOLDING IT UP

Yes, that boxy part is just . . . there.

Bad guy's followed by a moonshadow:

Did the sun go nova, and that's the reflected light they see?

Solution is here.

Part two of the cues of the late-radio Western classic, Have Gun, Will Travel.
| | | |
| --- | --- | --- |
| | | |
| Again, the two notes. HAVE GUN. Odd it's used her for someone who's not Paladin, though. | | |
| | | |
| | | Oh that's a completely convincing crescendo |
| | | |
| | | Note how he always starts with that bass chord as a foundation. |
| | | |
| | | The Whippin' Burden? Anyway, again: TWO NOTES. Sort of. |
| | | |
| | | Annnnd the wistful close with a note of hard-earned triumph. At least there's resolution, and our hero can move on. |
| | | |

I'm not sure how they arrived at that exact figure. Could be false advertising. Maybe they only spent 874K in reseaarch. Let's sue them!
| | | |
| --- | --- | --- |
| | | |
| | | We have the stentorian assertion of the New Christy Minstrels, who replaced the Venerable yet Tired Christy Minstrels, that one evening is preferred by all. |
| | | |
=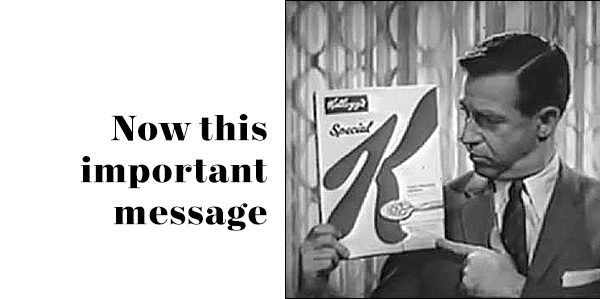 | | | |
| --- | --- | --- |
| | | |
| | | 1960s: oh yes not an olifactory reminder of filth and urine at all |
| | | |

That'll do! See you around.