Well, here we are again, wondering if the weekend was earned. Can't say. The best part about being a writer is the writing; the worst part about being a writer is the writing. Also: the worst part about being a writer is not writing, and the best part about being a writer is not writing.
It's the time in between the work that feels slack and guilty. I had a tremendous head of steam at the start of the week; it dissipated, and I feel bad. If I had been a layabout at the start of the week but going warp 9.9 now, I'd be peacock-pleased.
On the way to the office today I noticed a billboard. It gave me pause.
I think my initial confusion was due to the incoherence, and my eventual confusion due to the incompetence.
Set aside the WISH and GRANT in different sizes. They must have thought "well, it's all in Neutra, so it'll hold together." All in Neutra except the $22,000, which looks like crap.
Why the bubblegum? To undercut the "refined," perhaps, and let you know they're really just regular folk. Fun folk, in fact!
Here's the original ad. A bit better, but not by much. Eventually I realized why WISH is bigger: it stands for Workforce Initiative Subsidy for Homeownership. Whatever. It's a mess of an ad.
When I first saw it, I tried to fit the words together, and the brain rebelled: WISH HOMEBUYER GRANT looks like something that appears familiar but has a slippery meaning your brain can't get, but should. I had the same experience yesterday in Target, when I thought my entire brain had been scrambled and I would never understand the written word again.
Max Azria is a "Los Angeles fashion pioneer," I have learned. I suppose if you're very very brand conscious this . . . this thing of a name makes sense, or at least fires up enough neurons to bring up brand associations and emotions. But man. No.
Something that caught my eye this week during the encasing of my city.
In our lobby are many pieces by Dale Chihuly.
Back out a bit . . .
Before all this happened, anyone could walk into the lobby and look at the art. Now:
Small delicate pieces of beauty, buried deep behind the protective barriers.
The other officers go on trial this summer. I expect the barriers will be up until the fall.
However that gets defined.
The view of the RBC across the street, in the window of the old Federal Reserve.
Still touching up the entrance.
The weekly sweep.
The Larking, different view, with neighbors.
Those wooden poles have got to go.
If I don't make a point to walk over to a building, I miss the entire construction sequence. I think I've given you a half-dozen shots of this recently-completed tower, one, six blocks from the Larking:
Why photograph the Larking, and not this one? Because the Larking is close to where I park my car. All you need to know about journalism, right there.
The low-slung apartment complex on the edge of downtown: it uses color to make it look like a collection of buildings, instead of one monolithic block.
Finally . . . the Eleven, on the other edge of downtown.
This area was abandoned when I got to down, and lay fallow for decades.
There's a lot going on, as you can see. Now we just need the people to come back.
Wonder if ol' Duff Johnson ran the elevator in a downtown office building, and thought "I've got a good one for Lance!"
But - but I took a photo and developed it right away and gave it to you and everything and you still blame me? The look on his face in the 4th panel, compared to the stern certainly of the 3rd panel, is quite gratifying.
Solution here.
More Have Gun Will Travel cues.
| | | |
| --- | --- | --- |
| | | |
| Reworking the two-note / two-note "Have Gun" motif. | | |
| | | |
| | | |
| --- | --- | --- |
| | | |
| | | It sounds like Irwin Allen sci-fi TV cues, doesn't it? |
| | | |
| | | I mean, this is more Land of the Giants than a Western, no? |
| | | |
| | | Once I start thinking in those terms, it's hard to hear otherwise. |
| | | |
| | | But every show ended with this theme, intended to sum up the civilized pleasures of San Francisco. |
| | | |
It's a lovely little thing, and you know it's Western music. You just do.

The Miracle Surface, I suspect, still scratched. Easily.
| | | |
| --- | --- | --- |
| | | |
| | | They could only collect enough for one flower? |
| | | |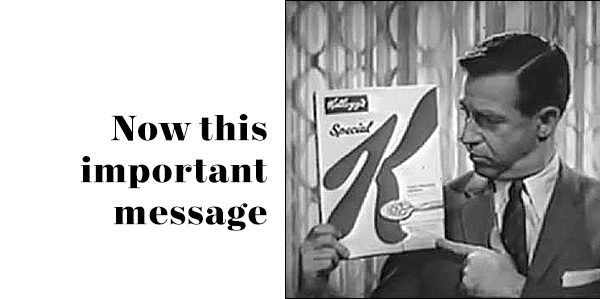 | | | |
| --- | --- | --- |
| | | |
| | | This is a fascinating ad. Have you ever thought about the relationship between personal freedom and coal, and how we should be ever alert? Not just here, but in CANADA as well. |
| | | |

Well, that was a lot. Hope you enjoyed your visits this week! See you Monday, for a new array of similarities.