The Enwoodening of Minneapolis continues, blocks away from the Courthouse. I took a brisk walk around downtown and was surprised to see how buildings that didn't board up during the riots are sporting a plywood makeover now.
This is the old Western Union building. It's been renovated as a hotel. It hasn't opened yet.
The oh-so-inviting Federal Reserve building. (One of them. It's something of a mystery to outsiders.)
I used to wonder if there was any way to make this building worse. I obviously suffered from a lack of imagination.
It's an act of submission. It cedes, in advance, the streets to people who want to break and burn.
Otherwise a gorgeous day. The first week of April and we've had two thunderstorms. My mind has made the shift a month in advance, which means I'm asking for it, I suppose. But no more stepping over the encrusted snow after I park; no more heading into the first skyway-accessible building to avoid the crow's-beak wind. Something clicks, something changes. Two weeks ago: heading home from downtown, listening to some old radio show, as ever.
Today: sunroof open, Brian Setzer blasting. I'm at the Blue Cafe, rocking' my life away.
| | |
| --- | --- |
| | |
| | |
| | |
Bought two items at Traders Joe tonight. The clerk took the basket while I stood on my sticker like a good boy; as soon as the items were beeped, I proceeded to the counter where you pay. He bade me to step back until he was done bagging. I stepped back. There being two items, he was done as soon as I got back on my sticker. Whereupon I proceeded forward.
"I assure you I am not exuding a cloud of coronavirus," I joked.
"I assure you am not concerned," he said.
Yet of course we had both complied.
Last Sunday we had an Easter Brunch conversation with someone who is a reasonable fellow, well-educated, professional class, cultured, all that. Great guy, capital fellow. (I love to call Socialists "capital fellows.") I was making some remarks that could be construed as heretical, depending on how devout one was. Yes COVID is serious, NO it's not a "Contagion"-level nightmare, YES everyone should take precautions, NO you should not be bleaching your grocery-store purchases, YES masks are useful for various reasons that range from scientific to psychological, NO mask mandates are not predictors of a state's situation, YES lockdowns work if no one leaves the house for six months, NO that's not worth the social and economic cost, and in the end, the charts often look the same no matter what you do, for all sorts of reasons.
That's what I've taken away from the last year. The contention came when I was talking about the changes to which we've become accustomed, and how most of the changes are not good for society. He didn't agree, and thought the new precautions were Sensible.
Let me take two examples. The economic effect on downtown was regrettable, but personally speaking, it was nice not to commute. (He works in the burbs.) I don't think we're morally obligated to commute for the sake of keeping the core of a city alive, but I feel as if it's been a tertiary concern, and inertia kept everyone from going back. No one saw the damage; no one gave it much thought. It's not as if the buildings went away, after all. An empty building still looks nice when the light hits it right at sunset. Just ask Detroit.
It was sad, but life was easier now.
And easy is better, right? You want to pull up all the articles about the importance of density and how it's great that people are moving back to the city, the new theaters and restaurants, the street renovations, how it all combined to create something in which we could all be proud. That was just tossed away in a few months. Didn't really matter? Wasn't all that important?
The second point was the interesting one. The marks on the floor and the plastic shields. He was comfortable with them remaining, for Public Health. Yeah - but we're going to get past this. Yes, but there will be others. People will not get the Cold and the Flu.
I noted that the decals on the floor at Traders Joe are an example of Safety Theater. We have to leaaaan way over to hand them the basket, maintaining the Scientifically Approved Six Feet Distance. He agreed, because this is good, so we don't spread the virus.
Except that the six feet rule isn't based on anything solid, and now it's three feet. He did not agree. It stands to reason that six feet is better than three feet. Okay - but nine feet is better than six feet. Not going in the store at all is even safer.
Ah, but everything is a trade-off -
Exactly. But it's not a fair trade-off. Anyway. After my purchases have been rung up, I can approach the counter. Then I am safe, because the plastic barrier protects us masked people from exchanging the virus which we probably don't have. I have to stick my hand through a hole in the plastic to pay. At Home Depot the clerks are incased in a fargin' booth, like waxwork dummies. This is wrong. This makes fear of contagion the eternal default for all social interactions in a business.
It was fine, he said, because it kept people from getting sick. Does it, though? And if they did? Well, he knew a guy who was perfectly healthy, in shape, he got it, and couldn't breathe. Yes. That happens. But what is the overall social effect of plastic barriers and cages and signs that request we face the wall when we get in the elevator?
Eventually, none. We become accustomed to any diminution.
It's easier. Besides, you get tired of objecting to people who don't care and have no say in the matter. You wonder if people 50 hears hence will look at the old world, with its open counters and lack of barriers, and tut-tut at the barbarity - or give a small sigh. An open world, it was. In so many ways.
It's 1920. Not the most peaceable or settled time. Post-pandemic, with domestic strife.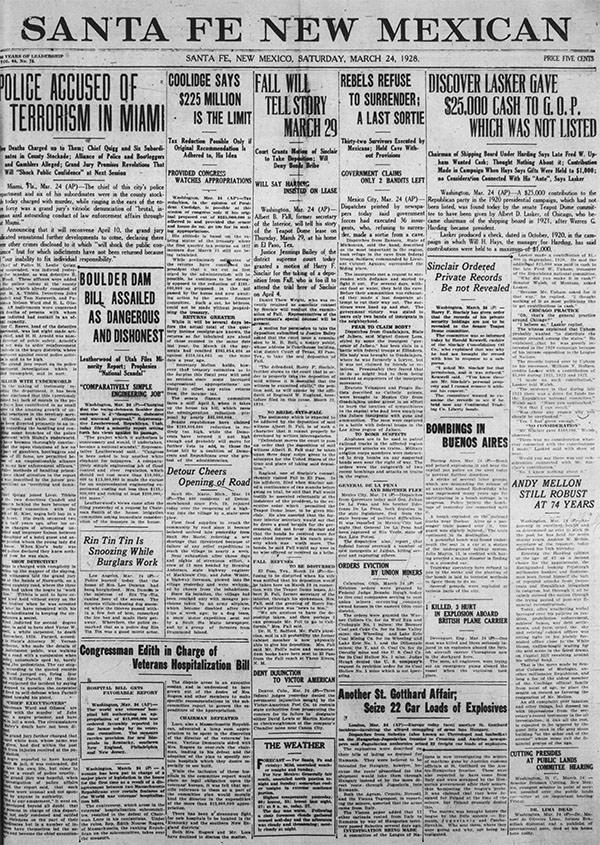 Quigg in the pokey: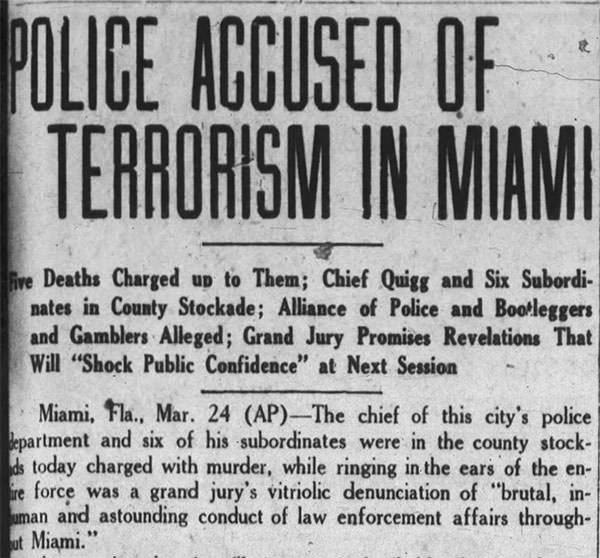 A search for Quigg turns up some interesting details.
1925:
A Miami PD officer, L.M. Johnson, working the traffic detail downtown, fired four shots from his pistol at two jaywalkers on Flagler Street today. One shot hit bystander, Mrs. Myers, in the neck, seriously wounding her. She was rushed to Jackson Hospital for treatment.

A crowd of witnesses immediately converged on the police station protesting the officer's action

Chief Quigg suspended the officer immediately and later fired him, after an investigation.
Good Lord, he shot a jaywalking woman in the neck?
Anyway, Quigg was arrested for murder, but later acquitted.
On May 24, 1928, Chief Quigg was dismissed by City Manager Snow, for Neglect of Duty and for the good of the services. The action was based on the Grand Jury report. The Manager read to the commission one line of the report; "Quigg is wholly unfit for the office, under him the Police Department has become cruel and because a "militant, tyrannical group that follows standards foreign".
But! According to his wife's obit. Quigg "was police chief from 1921 to 1928 and again from 1937 to 1945. He served six years as commissioner. He retired as Dinner Key yacht and dock coordinator at age 87."
He was also a Kluxer.

Is that another demand? This paper's awfully pushy.

| | | |
| --- | --- | --- |
| | | Faith in law enforcement took blow after blow. |

If you're wondering, he was the original RT2.
Rin Tin Tin (often hyphenated as Rin-Tin-Tin; September 1918 – August 10, 1932) was a male German Shepherd who was an international star in motion pictures. He was rescued from a World War I battlefield by an American soldier, Lee Duncan, who nicknamed him "Rinty".

Duncan trained Rin Tin Tin and obtained silent film work for the dog. Rin Tin Tin was an immediate box-office success and went on to appear in 27 Hollywood films, gaining worldwide fame. Along with the earlier canine film star Strongheart, Rin Tin Tin was responsible for greatly increasing the popularity of German Shepherd dogs as family pets.

The immense profitability of his films contributed to the success of Warner Bros. studios and helped advance the career of Darryl F. Zanuck from screenwriter to producer and studio executive.
A dog did that.

I don't know, seems like it might be worth a try today: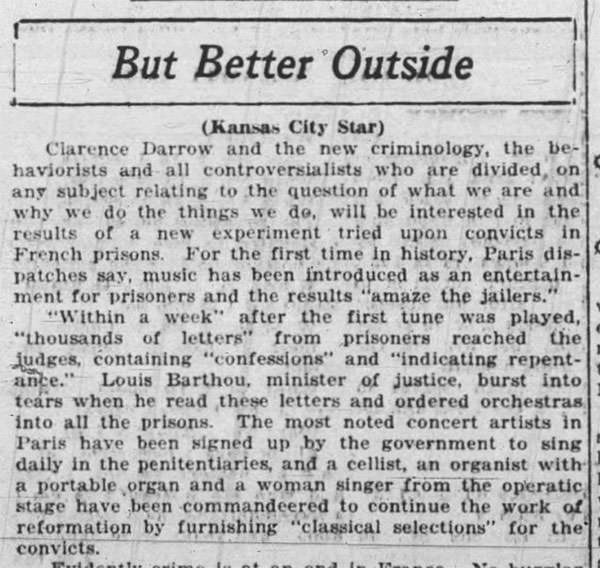 From the editorial page, a strong position on Boiled Shirts:


Are shirts the source of the "hard-boiled" cliche about cold cruel temperments, not eggs?

Oh no
Oh no Julius you don't want to do this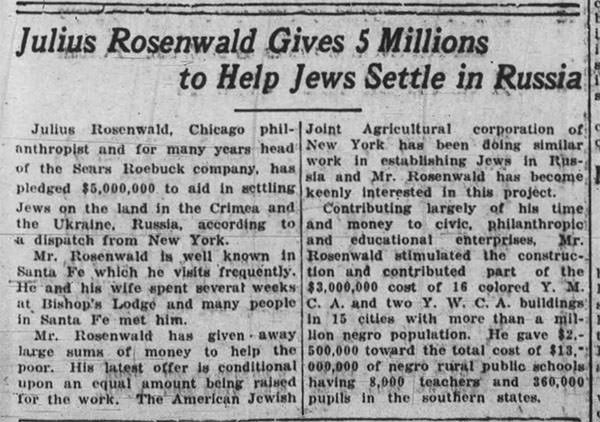 Julius Rosenwald (August 12, 1862 – January 6, 1932) was an American businessman and philanthropist. He is best known as a part-owner and leader of Sears, Roebuck and Company, and for establishing the Rosenwald Fund, which donated millions in matching funds to support the education of African American children in the rural South, as well as other philanthropic causes in the first half of the 20th century. In 1919 he was appointed to the Chicago Commission on Race Relations. He was also the principal founder and backer for the Museum of Science and Industry in Chicago, to which he gave more than $5 million and served as president from 1927 to 1932.
One of his projects:
Rosenwald commissioned one of Chicago's largest philanthropic housing developments: the Michigan Boulevard Garden Apartments, at 47th St. and Michigan Ave. The Michigan Boulevard Garden Apartments was one of the first American housing developments to mix residential, commercial and social uses and still stands.

The complex was built in 1929 by Julius Rosenwald and his nephew, architect Ernest Grunsfeld (who also designed the Adler Planetarium, at the behest of Rosenwald's brother-in-law, Max Adler). Covering a square block, the buildings enclosed an enormous central landscaped courtyard. Rosenwald planned the development of 421 units to provide sound housing for African Americans and to relieve the tremendous overcrowding due to Chicago's pervasive racial segregation. The development also included 14 stores along the 47th Street side of the property, four of which were occupied by black-owned businesses, and a nursery school.
It fell on hard times.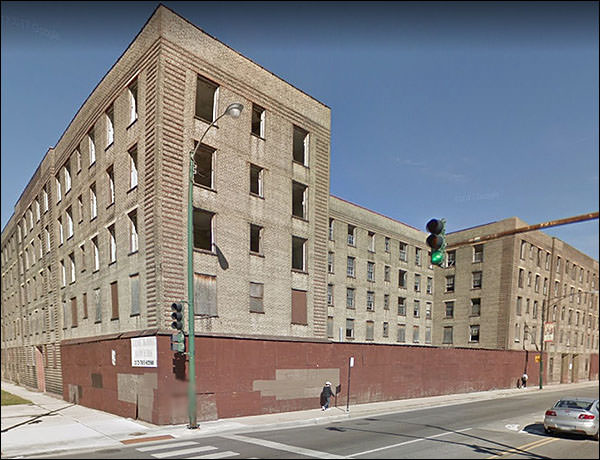 But it's better today.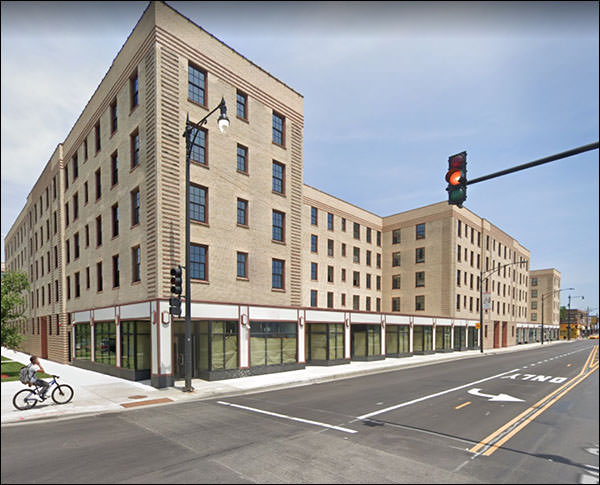 Thank you, Mr. R.

Finally, showing at the Paris: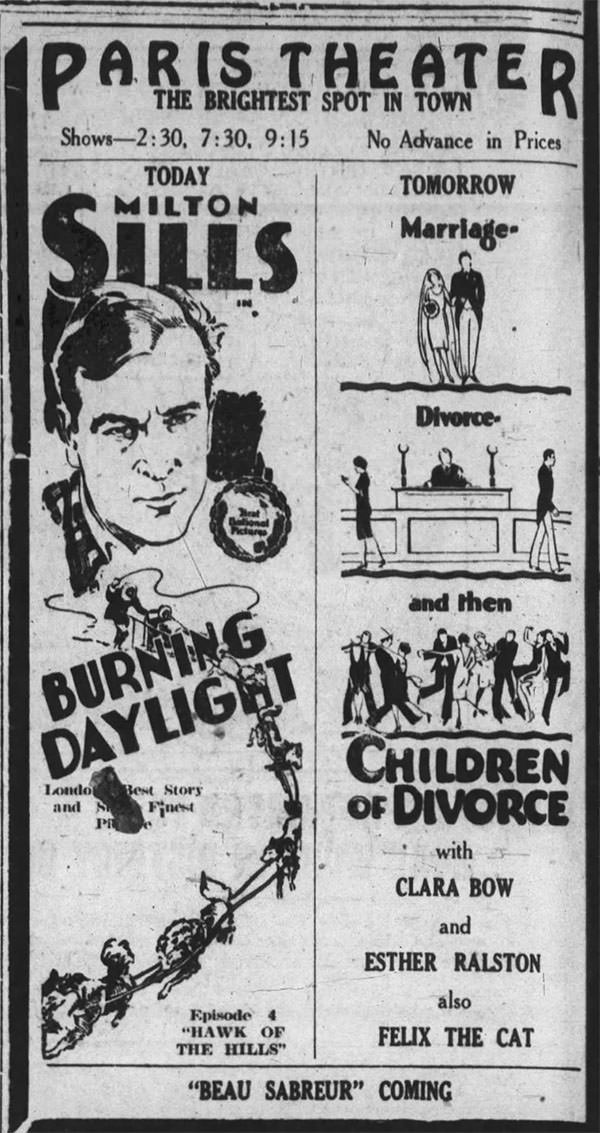 Then "And Now" looks fun, especially if you're hanging out with Clara Bow and Felix the Cat.
It was actually a grim number, and it also had Gary Cooper.
Restored. Check out these excerpts: it just pops to life.

That'll do; see you around. This week the Decades Project shifts to the Forties, where we'll take a trip to Chicago. I've been ripping the holy heck out of this site, so there may be some bumps along the way.
Your patience, as ever, is appreciated.