Listen to the wooden man, Judy
Listen to him
He is our God now
Another unearned Friday. Sometimes you think it's your just reward, and sometimes you think you haven't accomplished nearly enough. Frustration all around the house about stalled projects. The contractor is fine. It's getting the proper tile. I should probably make a column out of this, because it's so preposterous. The previous owner, who renovated Jasperwood, did something that was either cheap, stupid, or both in the bathroom. Let's just say that moisture, over the course of two decades, has caused the tile on the floor to "tent." A new word I learned. Some pieces came out. Called a grout guy. He said "this is big, I oughtn't do it, but I know a guy."
He warned me that the guy was busy. And so he was! Called him twice and he never called back. So I found another, and she was prompt, friendly, industrious, and Ukrainian, so there you go. Only problem was matching the tile under the radiator.
Couldn't you just take it out?
Yes, but that would be a thousand dollars.
<docbrown voice> ONE POINT TWO JIGAWATTS! </docbrown voice>
Why? WHY? Just unscrew the . . . things there, and move it three feet. No, we'd have to drain the entire system, then move it, then reattach, then refill the entire system.
I don't know about that, but on the other hand, I literally do not know about that. She wouldn't be doing the work. Said that's what experience told her a plumber would charge.
So we have to match the tile, except no one carries it. Oh, they make hex tiles that are one inch, but they don't make 3/4ths. The guy at the tile store looked at the sample, and I thought he was going to give me a pistol to shoot myself with. It would be easier for all and save time.
Okay, now I know I'm getting a column out of it, so I'll stop. The rest of the story has to do with shopping for tile online, which is a fresh kettle of misery.
Then there was the thief. I ordered a product online. They did not come. The email that confirmed the order said the shipping info would be sent promptly. It was not. I called the company. All of their customer service reps were busy; please say your name at the sound of the beep, and someone will be with you shortly.
This I did. After being on hold for two minutes, the recording said they were all still busy, so leave a name and number and they would call me back. They did not call me back. I repeated the procedure, thinking now they want your name to know if they should pick up. Same thing.
I thought I'd ordered from these guys before. Apparently not, or I wouldn't have. If that makes sense. Googled; lo, behold, six 1-star ratings from the BBB for just this sort of BS. The unanswered emails, the phone that's never picked up by a person. The curious thing is that the emails all bore the name of the guy who owns the place, and he's got a big LinkedIn profile, so he has to be on the up and up! Right? I mean, he's on LinkedIn!
Thisd being the modern world, I called up the transaction on the card's app, hit DISPUTE, was instantly transfered to someone who clickety-clicked and hey presto, refund while they dispute the charge.
Things are probably going badly for Alan the Online Sales Professional, I think. He gets an order, puts it out of his mind: oh, here I go again, now I'm going to have to find the product and ship it. Bartender? Another. I really ought to take that website down. But someone of them don't dispute the charge. If they do it'll take ninety days. Screw it. Serves them right for not doing their research.
On top of this, about 12 spam calls a day, some of which I have to pick up because I have the contractor, the tile people, the squirrel fence people, and the lawn people all calling with bids, or setting up an appointment, and I don't want everything to go to voicemail. Even though a call is from out of state, well, some of the squirrel catchers are from Florida or elsewhere, and kept their numbers.
As much as we detest the phone spammers - and I'm all for a Tomahawk into their palatial homes - let us reserve a small portion of our ire for the people who record the messages, because they know exactly what they're doing. Oh it was just a job I got from the temp agency, I had no idea! Uh huh. You knew.
Interesting how they use synthetic voices for the ones where they say the Marshalls of the Social Security Service are coming to arrest you. Almost as if they couldn't get anyone to read that one. C'mon, man, I need the work, but I'm not doing this. It's low.
As with last week, some context for the RBC Gateway.
It's about 2/3rds of the way up,
The weekly sweep:
It was 8 degrees when I took this - a whole nine degrees warmer than last week!
A man simply cannot relax with his best girl without this crap happening
Ever thought you may be OVERREACTING Lance
Solution is here.
The last of the Frontier Gentleman cues, with a payoff. Unless you know it already.
| | | |
| --- | --- | --- |
| | | |
| Generic late-stage "Western" music. | | |
| | | |
| | | Couldn't be set anywhere but the West. |
| | | |
| | | I guess it's a "time passing" cue, but it's like Time Tunnel meets Lost in Space. |
| | | |
| | | Believe it or not, it wasn't the same every week. The composer wrote a lot of cues. |
| | | |
| | | And speaking of the composer . . . |
| | | |
He was in his late 20s at the time.

| | | |
| --- | --- | --- |
| | | |
| | | "The big bands . . . revitalized . . . with love." I wonder if both old and young were equally unmoved. |
| | | |
He was, by the way, the orchestral leader and musical director for The Carol Burnett Show.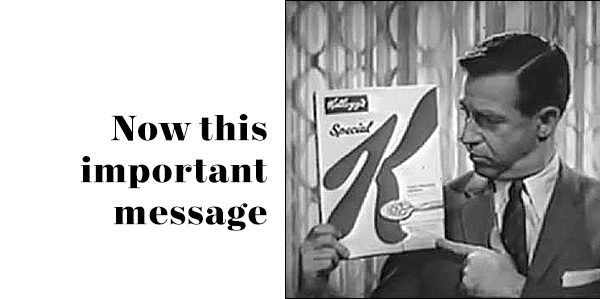 | | | |
| --- | --- | --- |
| | | |
| | | It's 1979. As if you can't tell. |
| | | |
This was a last-ditch effort. It had a year left.
 It was billed as "The world's first indoor amusement park", and it was intended to draw visitors all year round, rain or shine. It opened to great fanfare and over 15,000 visitors on June 17, 1975, with an enormous building that housed major rides, such as three roller coasters and a Ferris wheel, as well as a turn-of-the-century-themed shopping mall with design reminiscent of the architecture of Louis Sullivan, such as his work for the 1893 World's Columbian Exposition in Chicago. However, only six months after opening, the complex ran into financial troubles due to construction cost overruns. The opening of a competing amusement park in Chicago's north suburbs (known today as Six Flags Great America) hurt attendance, and the lack of large anchor stores failed to draw enough local and repeat shoppers. Despite management changes, the center continued to lose money. By 1978, the mall began closing on Mondays and Tuesdays, and in early 1980 the entire amusement park shut down and the rides were sold, only five years after opening.

That'll do! Thanks for your visits this week. See you around.