Another relic of my morale-boosting exploration of downtown. This is City Center. You might think "well, downtown retail is hard; no surprise they can't fill all the storefronts."
There's a 50-story office tower attached. It's not as if there wasn't anyone around. Until, of course, there wasn't anyone around.
Well, it was a good week, all in all. Less productive than I would have liked, but the weather improved, and something in the heart says "not today." I contracted for some house repairs that need to be done, and while it's not an improvement - it's just like buying tires - at least we did it, instead of letting it slide.
Do you know what it costs to get squirrels out of your attic and seal up the holes? A lot. But we'll get to that next week.
The skyway to the building where the Chauvin trial will take place: it's closed now.
You can't see it in this picture, but the windows have been obscured by opaque plastic. Same inside the adjoining building:
Why? To prevent someone from looking down on the plaza, and perhaps directing events?
Question is, will it ever come down? Because that's what we have to ask these days when walls go up and windows are clouded over. For public safety, of course.
Another thing I noticed this week, right by my building:
At some point recently they pried the logo off the entrance and shut down the hotel.
The hotel had laid off the staff earlier, a temporary measure while all the curves were flattened. This is the building where the food court and shopping area has emptied out completely, except for the lone fellow selling good Vienna hot dogs. At the time of its construction, it was regarded as a modern boon to Minneapolis with a roof garden for visitors:
The newspaper had a big ad section devoted to praising the completion of the complex. I'd love to get my hand on the originals; I've only the crude black-and-white versions.
I'm pretty sure this was the Museum we discussed last month - the strange and quirky place that emptied out without notice.
It was the IDS of the day, a new style of urbanism. Ultra-modern in every way.
The cafeteria had two levels, and a piano player. However much you may be nostalgic for this - and I am, of course - remember that the first thing your modern sensibilties would notice would be the smell of cigarette smoke.
It cost $25 million to build.
The office portion is still rented, but of course there's no one there at the moment.
Next year, perhaps.
Or not.
Another entry from the ancient book in the newspaper library, uncracked for years, never consulted.
Meet Andrew P. Erickson.
He died before the book was published, on the last day of 1900 AD. From his bio:

In 1868 he left Sweden for America. Homesteaded in Douglas county in 1869. He lost no time in building a small shack, and the following year a lot house was built. In 1876-7 he erected, near the log building which still stands, a commodious modern dwelling, pleasantly situated on rising ground in a natural park and grove. A fine belt of timber slopes to the beautiful lake, and the farm has a mile of frontage on this sheet of water.
When he died he owned 530 acres. There's a street near Lake Geneva called "Erickson Heritage." Of course it's his land. A nice neighborhood of houses, now.
He was a man of exceptionall ygood judgment, conservativen in business and sound in counsel. his advice was ssought in public and private affairs, and he had a wide influence. He was a lover of home and family.
Held many local ffices, including "Path-master." Six children, five of which survived. Sounds as if he was joined by other family members from the old country, eventually. Perhaps they waited to see how Andrew would do.
Andrew did all right. Let us briefly summon him back to our world.
Our fleeting look at the holes through which the tenants will pass.
More interesting from some angles than others.
The weekly sweep:
The Larking plods upwards. When will it top off?
Tiny loves a dilly murder:
Good police work, as usual, but Lance has this habit of turning his back on people he's just convinced of murder.
He also likes to change into a lighter-colored suit during an investigation.
I think the reproduction may hurt us with this mystery. Or not! Solution is here.
The Fifties were the golden age of the radio Western - as well as the western theme.
| | | |
| --- | --- | --- |
| | | |
| A nice wistful theme, and apparently a bit tricky: listen for an obvious frak. Makes you wince a bit. | | |
| | | |
It's rare, but sometimes we have versions of the show with different actors. We have the auditions.
| | | |
| --- | --- | --- |
| | | |
| | | I love Dehner, but I do wonder what the show wouldn've been like if they'd gone with Ben. |
| | | |
| | | Dehner's read on the riverboat ride . . . |
| | | |
| | | And his competition's. |

| | | |
| --- | --- | --- |
| | | |
| Now, this week's Tell-Tale Horn, the sound that aways preceded the crash. | | |
| | | |
Can't recall the show; it absolutely does not matter.

It's basically a Spotify playlist, right?
| | | |
| --- | --- | --- |
| | | |
| | | More from the "Music to Paint Your Room By" compilation. |
| | | |
Wiki: 'Carmen Cavallaro (May 6, 1913 – October 12, 1989) was an American pianist. He established himself as one of the most accomplished and admired light music pianists of his generation."
Also, stating what should be obvious by now: "Cavallaro developed a piano-playing style of glittering and rippling arpeggios to augment his melody, which was often arranged in thick and lush triple- and quadruple-octave chords."
That he did.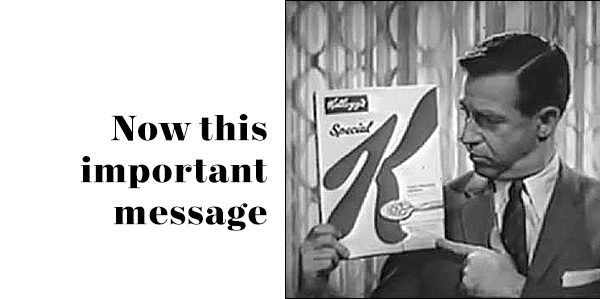 | | | |
| --- | --- | --- |
| | | |
| | | Network ad that ran during Frontier Gentleman. Don't worry, we'll get to this duo soon enough. |
| | | |

Well, that was a lot. Hope you enjoyed your visits this week! See you Monday, for a new array of similarities.
Oh - it's a bonus helping of Menu cards today. Five instead of three.