Many fun things today, despite the image above. Yes, this week's banners were another crop of downtown emptiness. The place above used to be the Banana Republic store in the IDS Center. The biggest atrium downtown, the crossroads. Kaput. I remember documenting the retail carnage after the 2008 crash, although that was mostly at Southdale. This is 10X worse.
But. Let's find somethings to amuse us at the end of this rote February week.
This was an email I got the other day.

You know, I think a little research might have spared them some time, as well as made them look like they had a faint glimmer of what they're doing.

What, us, a newspaper, offering advertising? I don't know let me look into that
There were snarky tweets about the demolition of Trump Atlantic City, a tired old shuttered casino in a battered, mismanaged, ugly, town. (Our postcard portfolio of AC in its better days can be found here.) One of the tweets had a picture of the Tower when it was proposed, and I'm ambivalent about this.
It's an early 80s building, but you can see the 70s influences persist. The way it dominates the Boardwalk is grotesque; it's almost like a giant floor sweeper designed to suck people in, not lure them. But it also looks like something from a 1976 TV movie set in The Future, and for that I have a small amount of affection. You could drive a Syd Mead car up to this place, I think.
Everything else on the Boardwalk is ugly, except for the Revel, which was quite lovely and instantly broke.
Here's the demo. The second take shows the ridiculous reddish portral they added to the front, like it was a big IHOP or something.
I have a new pastime, born of loneliness and abandonment. But aren't they all? At the office, where there is no one, I wander around once a week just to go to places that otherwise would have no visitors, except for the woman who comes by and spritzes the plants. The library, for example. The wall of magazines is from last year. The papers in the reading rack are from peak pre-shutdown panic. But in the boxes by the windows are some old books, and one of them is a compendium of biographies of notable Minnesotans.
I'm going to give you one on Fridays, to add to all the usual Friday things. Meet John Bergvist.
At the time the book was published, he was a prosperous bricklayer. Here's some of his story, from the good old days.
It's not exactly a straight shot from Brainerd to Moorhead via Alex, friends. And it's not exactly "the end of a long journey, arriving at an outpost of civilization" when you wind up at a shack in Moorhead, which isn't even Moorhead yet.
Smith sold his land in 1870 to the railroads, which platted it, sold lots, and called it "Moorhead."
Anyway, here's the fun part: running the pictures through FaceApp to see if we can lighten the mood a bit.
I mean, he had to have smiled, once. Let's try another. I don't have a name for this fellow, since I snapped it before I considered doing this project.
Works better for this chap, I think.
As with last week, some context for the RBC Gateway.
The service core just popped up two floors.
The weekly sweep:
It was 8 degrees when I took this - a whole nine degrees warmer than last week!
Oh this always works.
It's . . . it's the fences! The fences are going in the wrong direction!
Solution is here.
Why do horror-story tellers laugh and snicker so much? Does it have to do with their perverse enjoyment of relating horrible things?
| | | |
| --- | --- | --- |
| | | |
| How the Hermit knew all those stories of human malfeasance when he was, you know, a hermit, I can't explain. | | |
| | | |
| | | This is entirely typical. Wind, dogs, explicitly detailed action in the usual strange old manor. |
| | | |
| | | After the commercial he he he he he! Of course, this influenced the EC comics crew; they probably grew up on this stuff. |
Wikipedia: "'The Hermit's Cave' was a syndicated radio horror series. The syndication was done via scripts, so that stations could broadcast the program with their own casts."
Supposedly they made 800 of these.

Did I have the wrong song last week? Perhaps. Well, this is correct.
| | | |
| --- | --- | --- |
| | | |
| | | Here's your trivia question: what does this 1949 concert have to do with the movie "Fantastic Voyage"? |
| | | |
No, it has nothing to do with the cover artist, Sid Maurer.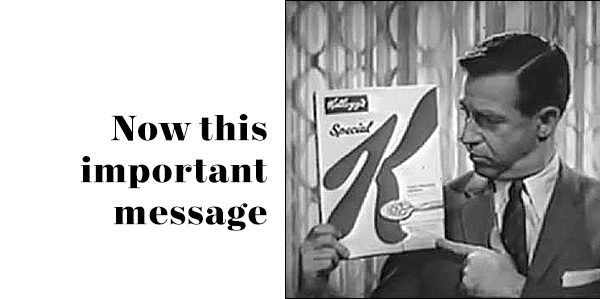 | | | |
| --- | --- | --- |
| | | |
| | | Bran, because your butt is discordant. |
| | | |

That'll do! Thanks for your visits this week. See you around.