That's the last of this week's banners from the forlorn empty spaces of downtown. This Estes-shot was taken in the 333 Building, looking in at the empty restaurant space.
You're always glad to hear from your child, but the pleasure is immediately swallowed by concern: if they're calling, something's wrong.
She seemed fine: smiling! Waving! Lousy FaceTime connection, though. She played the camera around the room, and I thought ah ha, it's the apartment the girls are going to get next year. A nice reassurance that it's a quality place. Appliances look rather standard, nice light fixtures, grey faux-distressed wood floor.
"It's your new apartment!"
"Nnnoooooooo. So."
And then it hit me. She'd told us about this place. About the walk of shame students endured. From dorm to van, van to the building, then walking inside with a suitcase and a pillow.
She was in quarantine.
One of her roommates had tested positive - how, why, a mystery to everyone, she was scrupulously cautious - and now all six had to go to the Quarantine Tower, an eight-story block dedicated entirely to segregating those who'd had contact with a positive case.
The college provided supplies - canned chili, lots of Uncle Ben's Microwavable Rice, a gallons of Gatorade and water, many packets of dehydrated soup. Actual meals would be delivered every other day. Someone would leave the box, knock, and RUN AWAY.
She will be there for ten days.
There's no coffee maker.
Later she found eight packets of instant coffee, and I assume they will supply more, if the request is made. She seems in good spirits, but the desk chair is bad and the sheets are scratchy.
It's going to be a long ten days, but she's a writer, and it's not the worst thing that could happen. Her main concern I understand completely: what to do with the cursed vacant hours of 3 to 7? I will be sending her some daily radio shows from my library so she can acquaint herself with bygone culture.
Still. Yikes. Poor kid. From college to returning home to living in the basement to missing a semester to returning to school, to this.
So far, test is negative. Not worried. But man. This damned bug. This miserable, wretched, never-ending scrape on the soul.
Every week I walk to the site, weather be damned. Looks nice here but the wind was cruel. I can only imagine what it's like to work up there.
The weekly sweep:
And, at the risk of boring you dead, the continuing saga of the Larking. <montypythonvoice> The Larking. </montypythonvoice>
"Strado." No doubt Strado Various.
Solution is here.
When a network show goes out, it leaves some space for local ads.
Sometimes they put in informative PSAs in case the local station couldn't sell the spot.

There are about three of these.

Damned odd, if you ask me.
Now, the Tell-Tale Horn. It's a car-crash sound effect that was over-used for a long time. It always preceded, by a quarter-second, the horrible crash. You might already have heard it in your hand.

This time it's from one of the minor mystery shows. Does it matter which? It does not.

Here's some art that makes perfect sense! Or not. Doesn't matter. It's the new era of album design. Time to shatter some paradigms.
| | | |
| --- | --- | --- |
| | | |
| | | Every actor had to try his hand at the romantic crooner game. You might wonder whether Sanders' rep in the movies - charming, amoral roue - would transfer. |
| | | |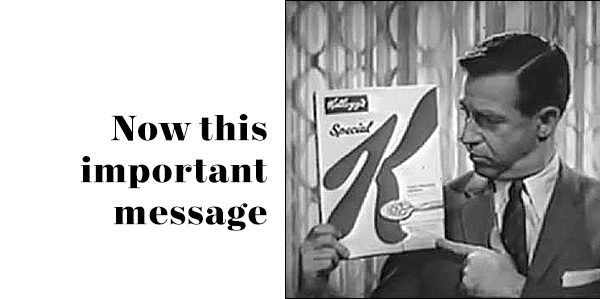 | | | |
| --- | --- | --- |
| | | |
| | | Those horrible flakes. No, not cereal. |
| | | |

Well, that will do - I hope you enjoyed our time together, and learned a few things. We'll pick it up again on Monday. Have a fine weekend.