The painting mania continues. The tunnel to the garage had gotten smudged and dirty and tinged with black grot, so I got some grot-killer and buckets of anti-grot paint and huzzah:


That's a bad shot. A wide-angle turns out not to work here, and makes it look as if you squeeze into the house walking crabwise. Or it's some sort of giantess cheesecake, now that I look at it again.
The good thing about the task: Not the greatest care was taken with the concrete, as you see, and the previous owners' paint jobs left splotches on the steps, as if they hadn't taped at all. It certainly looks better, and I felt a sense of accomplishment again.
Now I'm walking around with a brush, staring at things - you want some of this? Huh? But I know better.
Today is the start of the 80s site.
NOOOOoooo! you say.
Why such a cry of distress?
You've already posted stuff there! Ergo it's not the start!
That seems a bit overwrought. You okay? The proper response would be "cool; I assume it's been redesigned as part of this Decades Project thing you keep talking about." You'd be right.
The 80s, for me, were a mixed bag, because being in one's 20s finds you all over the road, in the ditch, on the roof, living the basement, living in a house. So why do I have such regard for it? Perhaps because I retcon my own life all the time; partly because I can make a distinction between personal experience and what happened; partly because I love the way women looked in the 80s; partly because I love the music.
It's a really interesting era. Naturally, I am celebrating it with cigarette ads and ketchup commercials. But there's more than that. There's -
Noooooo you say
NOW WHAT
You never finished the Green Stamp Book Art addition from the 60s portion of the Decades Project
You're right! Okay, the last few pages are here.
It's 1925.
Is that headline above the masthead intended to be a command?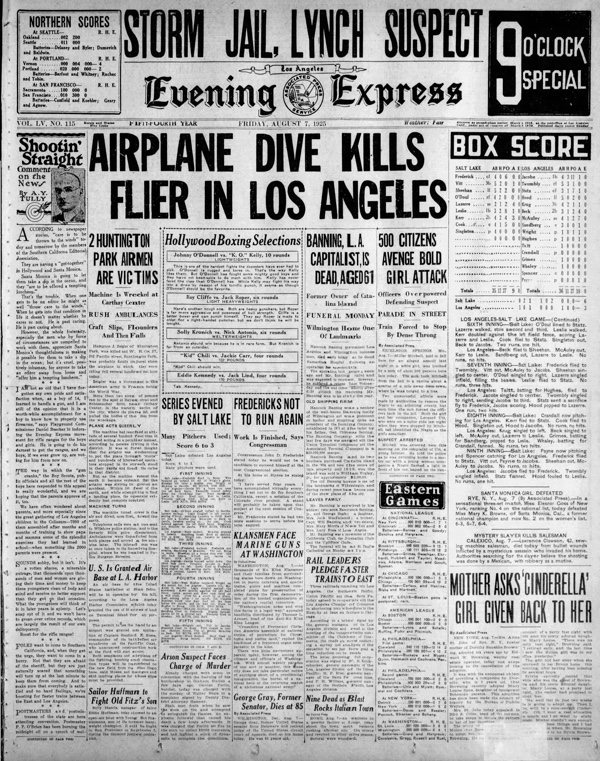 Girl Attack."

"Avenge."
On Thursday evening August 6, 1925, twenty-one-year-old Leonard Utt and his teenage girlfriend, Maud Holt, attended a social event at Excelsior Springs, Missouri. About midnight, as Leonard was driving the girl to her home near Lawson, several miles north of Excelsior Springs, a black man waved the couple down, knocked Utt senseless, and tried to sexually assault Maud but was scared off by her screams and flailing.

The assailant fled toward Excelsior Springs, and when a black man was found asleep in a vacant house in Excelsior Springs early the next morning, Utt identified him as the attacker. The suspect was taken to the city jail, where he was identified as Walter Mitchell (aka Miller Mitchell), a thirty-three-year-old black man originally from Meridian, Mississippi.
The whole story is here.

This happened . . . a lot.




Hampton J. Zeigler was killed and and W. R. Coe, 27, "probably fatally injured," when the plane "in which they were riding" fell out of the sky. Spectators thought the pilot was trying to do some stunts. Not the case. Mechanical failure, perhaps. Went down nose first.

He seems like a barrel of joy.

Scant bio info available, but it seems he was the news editor, so he knew of what he spoke.

People weren't as fully-formed as they are today.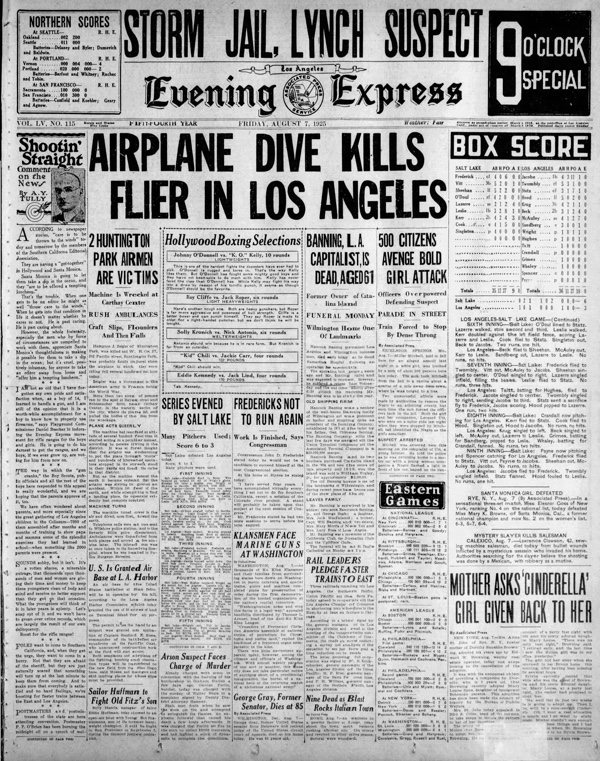 If you ever see the photos in the morgue, they're full of white-out and pencil additions. It was permitted; it was expected.

A reasonably popular feature, I guess.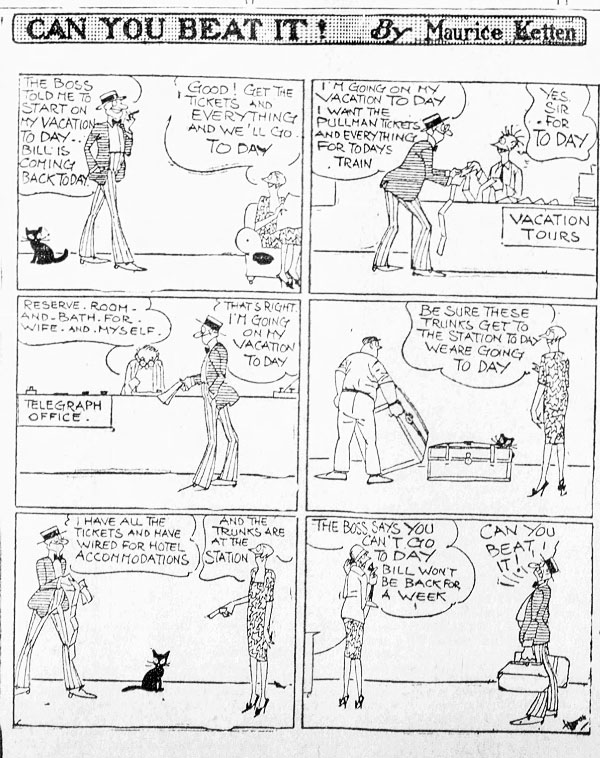 CAN YOU INDEED BEAT IT
He had a few other rotating titles, so I suspect he was another daily panel artist, cranking them out.

Again, scant bio; that's how it turns out if you've no one to care for you when the internet comes along. Looks to be one of those fellows who turned it out by the yard: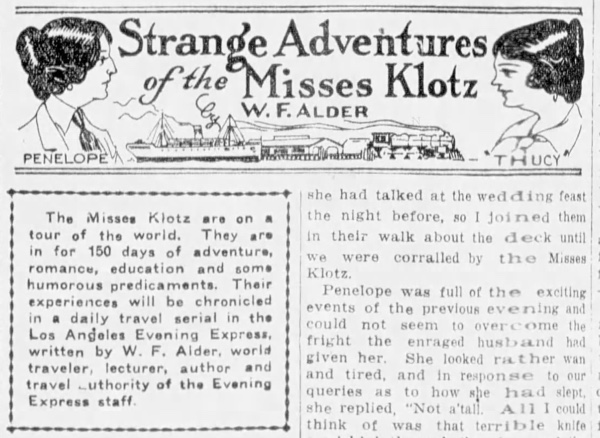 He wrote millions of words, I'd guess, and not a single one is cited or recalled today.
Thucy Klotz?

Finally: a big piece of Los Angeles mid-20s grocery store information.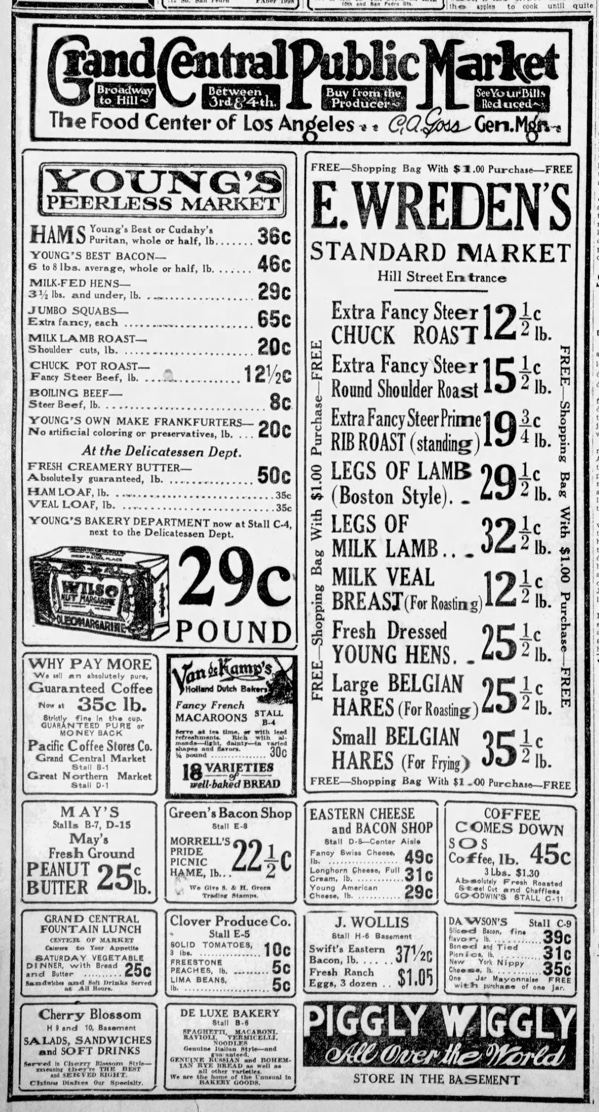 Getcher fresh Large Belgian Roasting Hares:
Piggly Wiggly All Over the World and in the Basement!
The Grand Central Public Market still exists, of course. History here.


That will do. Now we begin the final unrolling of the penultimate piece of the Decades Project.
As much as I liked the old version of the 80s site, the new one is much more cliched. We're starting out with 80s commercials, and they'll run the rest of the year. Unless I change my mind and dump them all at once and say to hell with the bandwidth.
Believe me, these get fantastic. Not this week, but eventually.