I got a haircut today. The last time I went in was March 6th. Looking back, it was an odd time - a lot of people were thinking about the Wuhan Virus, but no one was really doing anything differently. Everyone went to restaurants, sat in chairs while strangers hovered about, BREATHING.
This time was different. One one-half a person can enter the salon at a time. You have to carve yourself down the middle, send that part in, then after it's been shorn, the other half can go in. Everyone waits outside separated by a distance of thirty miles. Upon entering the store, your stylist will set herself on fire, then perform the action using manipulatable robot hands.
Well, almost. The limit was two people at a time. There are stickers on the sidewalk to tell you where to stand, if there's a line. The first thing you do upon entering is perform ritual ablutions with the hand sanitizer, then you have a muffled conversation behind masks.
I suppose it's good for people who want to be left alone and don't want to talk; ready-made excuse. I find it difficult to sit there with someone snipping away and not talk. It seems unnatural not to have any interchange.
That was the highlight of the day, perhaps, because it was otherwise a standard ration for the times - ordinary placid stuff punctuated by madness piped in from elsewhere, or manifesting itself in unexpected ways. After dropping off daughter at Target I headed south on France, doing 40 MPH with the rest of the traffic. It's a four lane, and I was in the middle-right lane behind a car, also doing 40ish. I heard honking behind me.
Well, can't be me that's causing it. The car in front of me moved over a lane, and I drove forward - HONK HONK HONK
Now I see a big white SUV on my bumper, honking. Am I on fire? The vehicle swerves to the left, pulls along side, and I look - it's a young fellow waving his arms madly at me, mouth expressing some opinions I could guess. He swerves in front of me, guns it - I see this is a brand-new Cadillac Escalade - then he gets up to traffic ahead, HONKS, HONKS, swerves left, guns it, cuts around one car, cuts off another to the right, and speeds off France. I was going the same way, and saw the vehicle park in the lot for a big-box retail complex.
Which has a Staples, a Michael's Crafts, and a Cost Plus World Market.
I wanted to park and see which one he visited, because someone in their 20s driving an Escalade in a reckless fashion seems unlikely to need copier paper, fabric glue, or wicker chairs.
| | | |
| --- | --- | --- |
| | | |
| | | |
| | | |
I watched "Doctor Sleep," which was not nearly the movie I thought it would be. And by that I mean "a bad movie." Creating a sequel is an impossible task. I knew the gist of the pith from the book, which I stopped reading because it was a dull sludge. Knowing nothing about the third act, I was surprised to see they were going back to the Overlook, and felt a twinge of sympathy for the soundtrack composer: he had to summon those broad bassy notes without duplicating them. The same challenge the director must have felt.
Anyway, this is not about that, but about this: it has been 40 years since "The Shining." The gala parties we see in the flashbacks and nightmares and hallucinations took place 50+ years ago. Close enough. If you made "The Shining" today, Jack Torrence would stride into the Gold Room to the sounds of disco, and everyone would be wearing tan suits and sport fuzzy hair and coke chains.
It would not have the same bygone frisson. Why? Because that era has never left us, in parody or reruns. Time froze it, and did not consume it - whereas the 20s were permanently exiled on the other side of the Wall after the Crash.
But that wall is different than the one that arose between the postwar era and the Turbulent Sixties ™, the divide between the grown-up culture of the 50s and early 60s and the Youth Culture that rose to swamp the old institutions. It wasn't total; there were still filaments that connected you to the previous era, threaded through a chink in the bricks.
The bad times begin when the filaments are broken on purpose. Snipped casually with brief contempt, because this is way overdue. The past is another country, and we've revoked everyone's passports.
Anyway. They nailed the entrance-to-the-Gold Room shot in "Doctor Sleep," because they had to; it's the only thing in the movie that gave me chills, and only then because it refered to something far superior.
It's 1920.
It's a French name, so it will make you beautiful and desired by all and sophisticated:
Tissue cream? Don't know.
Mary Gordon? I can answer that one.
Described as "the Sarah Bernhardt of opera", Garden was an exceptional actress as well as a talented singer. She was particularly admired for her nuanced performances which employed interesting uses of vocal color. Possessing a beautiful lyric voice that had a wide vocal range and considerable amount of flexibility, Garden first arose to success in Paris during the first decade of the 20th century.

She became the leading soprano at the Opéra-Comique; notably portraying roles in several world premieres, including Mélisande in Claude Debussy's Pelléas et Mélisande (1902). She worked closely with Jules Massenet, in whose operas she excelled. Massenet notably wrote the title role in his opera Chérubin (1905) for her.

In 1907, Oscar Hammerstein convinced Garden to join the Manhattan Opera House in New York where she became an immediate success.
This perfume site says: "Selecting Mary Garden as their celebrity was a smart move for Rigaud as they worked to expand their business in the United States and Canada. Garden was respectable but not too highbrow and thus had an appeal to middle class women."

"I see by the (periodical)" was a phrase that's fallen from favor.
No one says it anymore. Try it some time. "I see by the Twitter . . . "

erfumed with 26 flowers! TWENTY SIX, no more no less, a blend never before achieved by human hands etc

Jonteel, as a little research revealed, was the house brand for United Drug, and was made domestically in response to WW1's effect on French exports.

Thanks to this scientific Corn Ender, many people go an entire decade cornless.
You don't hear people complain about corns any more, do you? "I see by the AMA Journal that corn occurance is down."

"Affords instant relief for large joints"
"Hides irregularities of foot form"
"Worn in any show; no larger size required"
WHAT IS IT

They loved that frilly fizzy post-Second Empire post-Pompeii-discovery classical stuff. It was classy!
As for Irene:
Vernon and Irene Castle were a husband-and-wife team of ballroom dancers and dance teachers who appeared on Broadway and in silent films in the early 20th century. They are credited with reviving the popularity of modern dancing.
That's quite a claim.

And society thanks you, madam.
They got sued by the government. Apparently you could hurt yourself with the Mahler Method if you didn't do it correctly, so down came the ban hammer in 1940.

How often could you get it cold, that's what I'd like to know.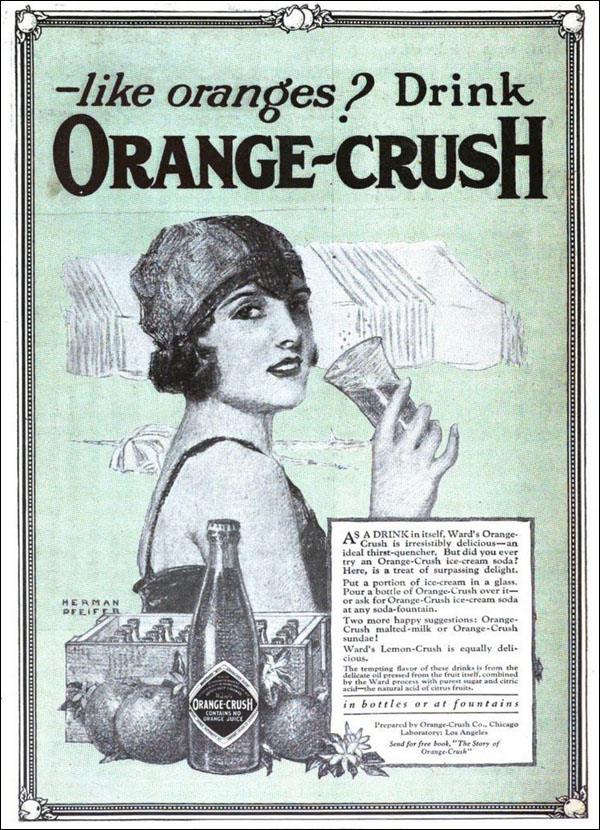 When did people begin to assume that your sodas would always be cold?

That'll do; see you around.