CALIFORNIA, THE CONCLUSION
Woke after eight solid hours of sleep in which I did not, judging from my position upon regaining consciousness, move. It was marvelous. Then I had acceptable room coffee and a banana, reminded that three are some hotel rooms you like to wake up in, and there's this one.
It has a window, but no, I'm not pulling back the curtains, because there are workmen outside tearing apart a room. So you wake and stay in a dark cave, trying to pull yourself into a useable form for the day.
Hey, how about a shower to wake up?
Rejected shower from the PanAm moon suttle from 2001, perhaps. All I could think about was the amount of hosed-off crud that gets in those grooves.
The shower controls were something of a mystery; it is too too obvious to use letters like H or C to indicate which direction the handle should be turned. I suppose it's always the same way, but we don't quite know for certain which direction it is, do we?
Okay, off to the coffee shop to file a column and start forming up the speech.
By the way, this is next door: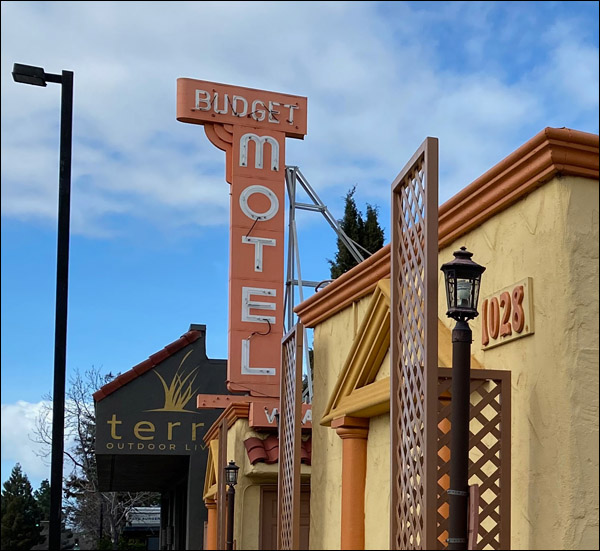 Enjoy a stroll to Peets! See how long it takes you.


LATER At Peet's, now firmly established as "home base" for my series of adventures, to paraphrase a Jimmy Corrigan interstitial remark. It has the best coffee I've ever had from a chain, besides Nero. I'm always interested in how these brands set themselves apart. Nero has the overstuffed vintage old-world look. Comfy and civilized with a patina of time over everything. Caribou was the Lodge Up North, until it wasn't; don't know what it is now, except hipster lettering and bad burnt coffee. Starbucks is all over the road.
This Peets place isn't spectacular. Big workplace for the bariste, floor to ceiling windows. Brown wood, black metal, sixties globe light fixtures. In the era and slightly out of it and somehow slightly ahead, because those old things are going be hip again, you know?
Musical choice at 10 AM is Don't Let Me Down by Eric Burdon, because of course we have to listen to this music for frickin-ever.
There are lots of greybeard geeks and nerds and techies of the old school around here, but probably second-gen. The guys who came after the guys who wrote code on rotating drums. One was holding court yesterday with two friends from the same era, and they're still Rebel Culturists in their imagination; the hats, the skull-and-crossbone logo cap, the whole 70s attire and attitude. Hard to describe. I knew tons of these guys back in college, down at the Valli. Unkempt beards, really smart, annoying laughs, LotR and Star Trek and Monty Python references, questionable hygiene, permanent dopey smiles, no girlfriends EXCEPT maybe for the alpha of the pack, who had a nerdy girlfriend. Eventually they lived together but never married.
You know the type. This place is crawling with 'em, and who knows how much they're worth.
LATER
Okay, not a play, but the sentiment is the same, inasmuch as it is sincere and sarcastic.
Leaving in a few hours. My work here is done! My planet needs me! Etc. Walking to Peets this morning I finally put into words something that's been griping me for a long time. Couldn't really decide how I felt about California. I know it's absurd to say "I have a single, distinct opinion about this vast, diverse state," but I do, and it's indifference.
There are many places that interest me, and California just isn't one of them. I suppose that's my fault. Perhaps I am indifferent to its fates, which seem self-inflicted. But I think it has more to do with the inability of Actual California to measure up to Imagined California in my head, because I've seen too many old movies, and that world is gone.
There is a Slavic-lookjng fellow with close-cropped hair and a very anal-retentive style of behavior - elaborately wiping off the table with precise gestures, moving in a way that suggests he's either high as bleep or so self conscious he has designed his movements to indicate careful precision. Now he is shelling nuts and dropping them in a plastic cup at a regular intervals and it is driving me nuts. It's one of those situations where someday, somewhere, someone is just going to belt him in the chops and he won't know why.
LATER At the airport. It's aa nice airport. I had some time so I put on appropriate music and sat in a couch and read for a while, and looked at the art.
The art:
Okay.
Supposedly there are other galleries on the Third Level, but there doesn't seem to be any way to get up there, except to get on the tram. That's fine. The art above is so dense I think it will give me the mininum daily requirement of art.
And . . . that's it! Three days, some nice meals, an enjoyable event, and plane ride #4. Will I get a cold like I did after plane ride #2? Quite possibly. The Uber driver had a horrible snorgy cold and was sneezing, which makes me wonder if I'm getting a head start on the cold you usually get in the airplane. Having just had a cold, don't I get a little grace period?
(reality: "no")
I don't know; the guy Lance accuses looks like he's literally been framed:
Solution is here.
| | | |
| --- | --- | --- |
| | | |
| Let's go back to the radio roots of the show we saw on Monday. Really makes no sense. Jailbreak! Stop! Crime Doctor! Then it's Johnny the Cigarette Imp on a Donkey! Live audience! | | |
| | | |
| | | Another show open. Wait - Johnny presents him? |
| | | |
| | | Ninety-seven years of these things? As you can tell, we're short on cues. |
| | | More of the sappiness. |
| | | |
| | | |
The show has little to make it stand out, but man, was it popular.

I love the Schnozzola, but this has "diminished career circumstances" written all over it. Has the sound of a "Goodfellas" scene, doesn't it?
It goes on like this for quite a while. Two tracks on the album, front and back.

| | | |
| --- | --- | --- |
| | | |
| | | Another ad from Crime Doctor brings the week to a close. |
| | | |

Thanks for stopping by! Have a grand weekend, and we'll be back next week for exactly more of the same.