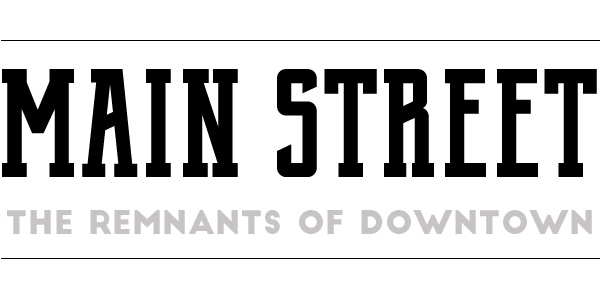 Surprise! It's the town we got to know a bit during the Clippings feature yesterday. To bring you back up to speed, let's go to Wikipedia for the usual prosaic self:
"Gatesville is a city in and the county seat of Coryell County, Texas, United States. The population was 15,751 at the 2010 census. The city has five of the eight prisons and state jails for women operated by the Texas Department of Criminal Justice."
Gatesville, indeed.
Okay, let's begin. A rare example of a town that has quite a few then / now comparisons.
How rare? I've no idea, I just said that to make it sound interesting.
Day care? I don't know. When downtowns empty out the window are often used for happy slogans about the wonderful place it is; this looks like "Together we can make Gatesville Beautiful." Suggesting it isn't.
2011: we'll match any price from those guys at Northside.

The downtown's arrayed around a courtyard. Some context:
There seemed to be a general agreement that no one would go high on this side.

Peculiar facade. Don't know if the stars are to hold the walls together - they fasten to the end of metal rods - or if because, well, Texas. Could be both!
Sic transit, etc

In this case, stars because it's Texas.
That store's been empty a long, long time.

"Freedom" isn't the first word that comes to mind.
Whether it's two buildings yoked by one awning, I can't say, but I doubt it; the windows are different. The one on the corner is an elderly resident, that's for sure; at least the top floor has some dignity.

Here comes the future, surveying the ruins of the past:

That favorite late 60s / 70s touch, the Overwhelming Mansard with variegated brick. Looked sufficiently up-to-date for a while, but no one's ever bringing this style back.
Bonus for yee-hah Western letters.
2011:
A closer shot.
What the hell did they do to that poor old thing?
Two years later, the screen is coming down. Perhaps a rehab is in the works, and the block will be brought back to its old glory?
Perhaps not.

Architectural vitiligo.

This was cool, once. No, really.
Before they painted it - and I'm sure they painted it - the ladder-thing must have been a different color. Look at that 60s space-age portal over the door.
Hey, I forgot, there's a previous version . . . yes!

Leaird's: a venerable name in local retailing?
Yes: Seems to be the only store standing.
From their website:
In the summer of 1898, Byron Leaird got off the Cotton Belt train and walked around the Gatesville town square. The new Courthouse was just completed and the place was booming with business. Leaird was in the grain business in Houston, but the doctor told him to move to a dryer climate due to his wife's health. Leaird and his wife moved to Gatesville and rented a building on the West side of the square and started a mercantile business.

Annnnnd here it is. You recall this from Tuesday's Clippings. The pride of Gatesville, the Chateau Ville.
All that hoopla, forgotten. Reviews say it's a Travelodge now, and is a decent place to stay - although one review said a lot of oil workers stay there, and while they're nice, they're LOUD.
Well, they're oil workers.
Once upon a time:

Once a year, the sun enters the window and falls upon a map of Egypt:

Mebbe I will, and mebbe I won't.

Finally: the courthouse.
Designed by W. C. Dodson, who fought for the South, and lived to see the start of the First World War.
It's a young country.

That'll do - see you tomorrow.