In case you're wondering, the Campbell Kids Situation has been addressedtoday. It's my fault for giving the pages Blue Dots, the label that says the Ephemera section was done. (Green for the Below the Fold feature.) I like to do those a bit in advance, and don't look much at the rest of the site beyond slapping what I've written on the top and hitting post.
Yes, I admit it: I do not do this page anew every day. I couldn't. Today, for example, I did the Product section for the first week of February. January is all laid out, with all the sparkling new features ready for your enjoyment. In the morning I tinkered with something for Jan 2019.
It's nice to have things in the bank. But lest you think I'm Mr. Under Control, someone who plans everything ahead, the tale of the Christmas Cards will disabuse you of that idea. I know, I know, you're usually disabused of a notion. That's the cliche. Make sure you pronounce it "dis-abu-see" and watch people's reaction. What, you thought it was dis, abuse? No, it's an entirely different word. From the Latine, abu, to refrain from correcting.
If I understand Latin, and I don't, they didn't put spaces between words. Really? Checking . . . yes. It was called scriptio continua.
Before the advent of the codex (book), Latin and Greek script was written on scrolls by enslaved scribes. The role of the scribe was to simply record everything he heard, in order to leave documentation. Because the free form of speech is so continuous, adding inaudible spaces within the manuscripts was illogical. (Citation needed, obviously)

Furthermore, at a time when ink and papyrus were quite costly, adding spaces would be an unnecessary waste of such writing mediums.

Typically, the reader of the text was a trained performer, who would have already memorized the content and breaks of the script. During these reading performances, the scroll acted as a cue sheet, and therefore did not require in-depth reading.
The reader would interpret the text, adding pauses and stops where he pleased. It was only the rise of silent reading that required the return of the space, and that happened around the 7th century.
Look at this example: it's like a YouTube comment.
Anyway, I was doing to dees-ah-byu-say you about my preparedness re: the Christmas cards. I took the photo, I wrote the letter, I I selected the card, I laid it all out, I printed the labels, but did not do all these things in a concentrated sequence. It took a while. So the last day before we had to mail the cards, I picked them up from Walgreens.
| | | |
| --- | --- | --- |
| | | Here's what the back of the card is supposed to look like. |
This is what the back of the card actually looked like.

Our message was printed in the corner, about a quarter-inch by half-inch. Which is great if your list of recipients consists entirely of 1960s spies with access to microdot readers.

I discovered this hours after I'd picked them up, and it was 9 PM. Wife was ready to affix all the labels, which I'd printed with no paper to spare; turns out the thick sheaf that said LABELS on the back was all return-address blanks. Great. But I printed off enough labels, and she stamped the envelopes with our return address and put on the stamps.

Walgreens, informed of the error, told me to resubmit. This I did. The clerk called back and said the same thing happened again. She'd asked her manager about this, and the manager said yes, that's happened on a few orders.

Oh.

I was advised to resubmit to a different store - 66th and Nicollet, not too far away. The website said they'd be ready by ten.

I went at eleven. Gave the nice gentleman at the Photo Center my name; he looked at all the boxes lined up for delivery. Nope. Then he checked another pile, and held up my cards - two per page, uncut. GAAHHH. Oh don't worry, it'll only take a minute. Took 15, but what can you do but wait.

Got them all out by two. So that was a relief. Now to start shopping!

Not really, but sort of. We all vowed not to do very much this year. No one needs anything, and the days of Toyland, Toyland, wonderful girl and boy land are long gone. I miss them. I miss all that, but what can you do? Part of me has enjoyed this season in a nice calm way - oh, Christmas again, how lovely - and part of me has been gripping the armrests like I'm having a tooth removed without anesthesia.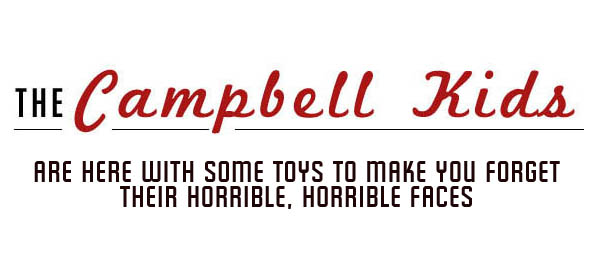 Hey, yeah, I finally noticed that I'd been posting the same pictures. So let's have a Campbell Kid Festival! Starting with . . .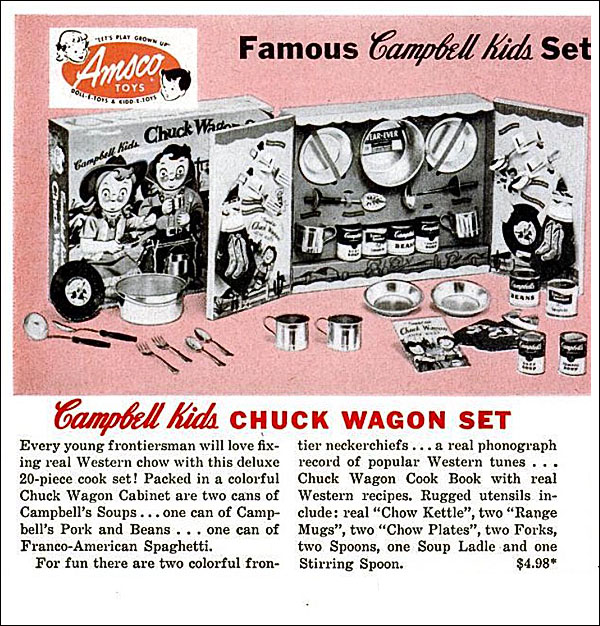 That's quite the set. Canned beans, just like they had in the Old West! A phonograph record, just like they had on the frontier. Includes "Chow Plates."
Here's the same thing with different adjectives!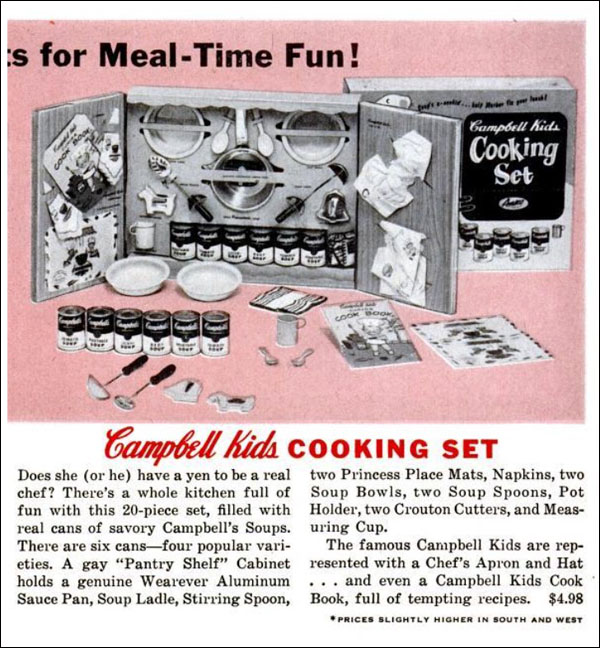 Gender non-specific, too.
Betsy Wetsy has some new friends who enjoy her incontinence. Good Lord: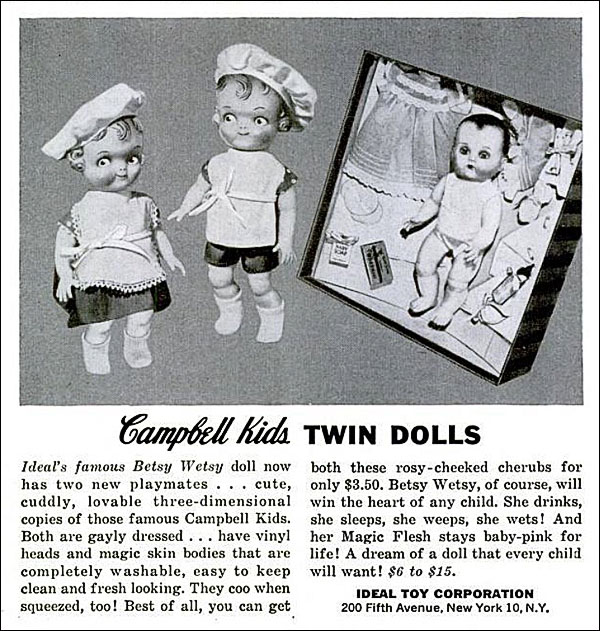 If they don't look like two imps who dug up a baby and put makeup on the corpse, I don't know what does.
Let's go to a wonderful store that doesn't have cake at all but just soup: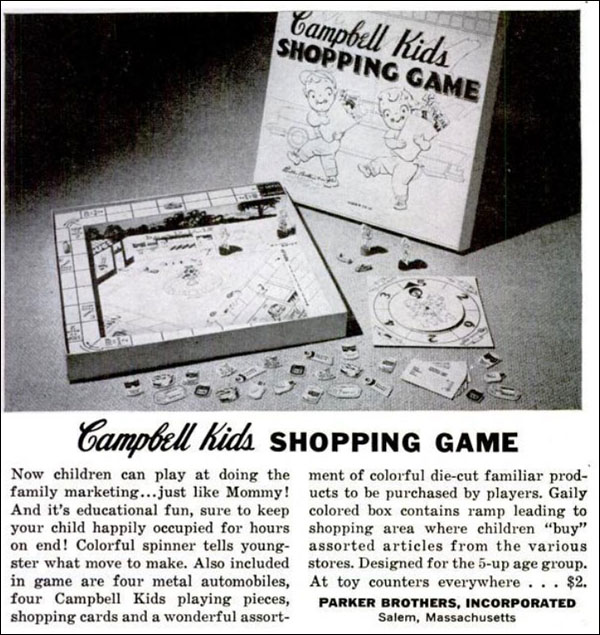 As you can see, Parker Brothers made that one. A pristine version of the game in all its colorful glory can be found here.
Oh man this was the best. No, the greatest:


"Just like those wonderful world-of-the-future gadgets you read about!" Yes, kids, you can get all the news on wheels. No mushroom-cloud surprises when you can catch up on all the escalating international tensions on the go.
Why not combine the brand identity of canned soup with tiny, mass-produced furniture?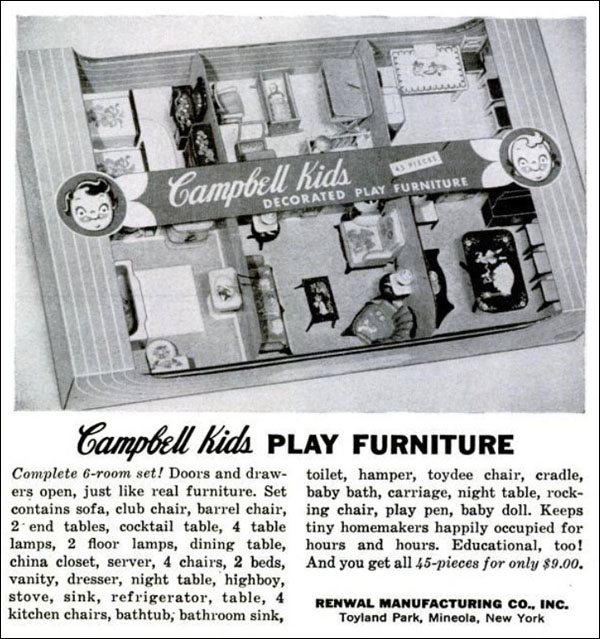 Nothing on "Toyland Park" except for references to ads. It's a small town on Long Island. Google Street view shows a wide and undistinguished main street with lots of traffic going in one direction; people leaving the City, perhaps. Back to the suburban house where the little ones are playing with Campbell Toys.
Nothing but Campbell Toys. That's all they want. Is it your imagination, or does your son and daughter look more similiar every day?
You try to remember: they weren't twins, were they?
You try to recall the last time they blinked.
And then something pushes the thought out of your head, and you wonder what you were thinking about. Beans! Perhaps there will be beans for supper. Again.

From their proposal for establishing a Historic District:
"The streetscapes of Main Avenue on either side of Shoshone were almost completely filled in by 1911, but many lots in the district have remained empty since the townsite was platted in 1904, and thus the edges of the downtown have always had an empty appearance."
And:
"In the 1970s, the city expanded the sidewalks into a curvilinear pattern, planted trees and installed street furniture."
As was their wont.
Well, there's your startling contrast:
It's like a leper colony. That poor structure was pummeled by rehabs, but it probably had little distinctive merit to start with. The clock is certainly a piece of work; perhaps it once lived elsewhere, was rescued, and installed to help revitalize downtown.
Along with Trees in Pots.

I hope this is temporary. But you can certainly read what happened: a new tenant put up a sign, and didn't bother to paint the area that was covered up. Later, I suspect, someone put up another sign, and the deep blue is the unweathered hue.
Rehab or new construction, it bestowed a serious Fifties on the look of main street. The fake stone, the script lettering, the flat overhang - it's all there.

Nice Frank-Lloyd-Wright-on-the-cheap there:
HERRIOT. Lots of history here:
This structure was designed by Burton Morse and the contractor was W.G. Reed. Although the building proclaims "Herriott," city directories do not list a business of this name at this address. Instead they list the Idaho Automobile and Supply Company, which sold Reo and Overland automobiles and served as the headquarters for the Pocatello-Buhl Truck Line.42 The local radio station, KTFI, was located here from 1932 to 1937, as was a ballroom "Radioland," before moving to the Radio Rondevoo on MainStreet in1940 (site54). During the 1940s it was used as the Rollerdome skating rink.


OMUB, or Obligatory Modern Ugly Bank:
Top-heavy, slit-windows - needs only circular light fixtures and aggregate planters.

Hmm:
The historical proposal says:
This building under went a dramatic reskinning probably in the late 1950s or early 1960s. Bisbee photographs portray a brick building with rustication on the first story. Windows on the second story were one-over-one, double hung sash and were recessed into shallow panels. An entablature emphasized the roofline, and the words "First National Bank" were incised in the frieze at the curved corner. The application of a porcelain enamel veneer on the first level and structural, opaque glass on the second, and the replacement of the original windows with metal sash has caused the structure to lose all semblance of its former self.
Not necessarily a bad thing. You can see the remains of the old sign:
The bulbs might have given off a little heat, perhaps?

One of those old buildings that looks as if it's wearing a mask -
Or in this case, two conjoined heads wearing masks.

Another marvelous innovation of the 60s / 70s bank: it's split level!
It's split level!
SPLIT LEVEL! Like the Brady's house!

Okay, class: what are the white dots for?
Right: they were the glue that held the tile cladding to the old building.
When Google went back, the repair work was done:
If you can call that a repair.

The Banner Furniture store: a confident corner with a 60s slant-window overhaul of the ground floor.
Once again, trees have taken over, hiding the lack of action from people who drive by.

The downtown motel:
Review:
Filthy, horrible rooms that smell. Had dirty sheets and blankets. When I got there management gave me the wrong key so when I showed up later I had to call then wait forever for them to show. Smells like dirty toilet bowls and homeless people. I do not recommend to anyone! Unless you are desperate for somewhere to stay but the local truck stop restroom is probably cleaner!
That's about 55% of all non-chain motel reviews these days.

A small-town staple: the classical temple done mostly in brick, with a slightly fussy pediment devoid of sculpture.
It's like a Carnegie Library that was cut in two so they could stick another story in the middle.

From the city's website, notes on the Baugh building:
"The eponymous building was constructed for a Shoshone, Idaho physician who owned the property for a number of years prior to construction."
"It has housed drugstores for most of its existence: Schramm-Johnson Drugs from 1923 to 1937, Walgreen Drug from 1939 to 1953, and City Drug from 1954 until the mid-1980s."
Looks as if it always wanted to be a bank.

1931. Not a lot of money sloshing around for new construction, it seems.

Lucky for them the new styles were stripped down.

Finally: the sad gas station with Buckaroo Revival overhang.
Perhaps it's just because of my family business, but nothing gets me in the ol' regrets like the sight of an abandoned gas station. Someone failed, and it couldn't have been a good patch in his life.

The last of the motels, I think. Not for good, for heaven's sake. 2018's batch is already done! One hundred and five cards, ready to roll in the spring.