Yesterday's happy fun moment of fun happy happy: unintelligible caller. She says she heard dog barking last night, like in trouble, behind her apartment building, and she is Asian, and Christian, and a dog lover, and she does not feel safe in her neighborhood. She came from New York but she does not like it here there are too many homeless people. In New York there is more equality. She is an animal lover and a Christian. She thinks the homeless people have eaten my dog.
It is impossible to get her off the phone, because she keeps repeating everything posted above. Especially the part about eating my dog.
So of course I have to go there, to look for a collar. It's a backyard of an abandoned building, overgrown, ominous. I don't go into the weeds.
After dinner wife goes back to walk around the neighborhood where we had the sightings, even though we've heard nothing for three days. As I'm at a highway intersection putting up signs, an ambulance screams past, and I think "probably going to the neighborhood where we got the sightings, because someone was shot."
Wife texts me a while later: neighborhood full of cops; someone was shot
So happy happy fun joy; put up 5 more signs to add to last night's 10, which added to the previous 20+. There is a kind volunteer who's putting up signs. I've seen signs I didn't put up, which is bizarre.
Oh, and a guy within the search area called to tell me there was a dog matching the description on the signs, had been coming to his house daily for five days to play with his dog. I said I would text pictures of my dog. This I did. Waited. Waited.
Texts back: nope.
I just tamp it down now and figure they're not going to be Scout.

Now, let's turn to architecture and see if it applies a numbing balm! Something I noticed a few weeks ago while "researching" a block of old Downtown for a newspaper feature. Well, an online feature for the newspaper. That sounds less impressive. Print is what matters; it has to be important to get the limited space. Online is a bottomless trench, with new and unusual shiny fish swimming up to the surface every 17 minutes.
It concerned the Broiler, a restaurant on Hennepin by the old Gopher Theater.
From the Minnesota Historical Society, a look at the interior.
For all my love of the bygone, and the coffee shops of yesterday, I have to admit - there's really nothing special about this place. Today's examples are much more interesting.
I found another picture at the Minnesota Historical Society that showed the restaurant from a different angle:
Here's where the old zoom-and-enhance comes in. So I zoomed, and enhanced: you can see the interior, which is post-war cool. The lunch crowd may have been ladies who were shopping, and wanted that bun-less pattie, or patty of hamburger, with cottage cheese. That was a staple if you were reducing. Like most restaurants of the day, you would have been struck immediately by the smell of cigarettes as you entered; it's just the way things were.
The manager, or head waiter, or cashier.
Flip that.
I don't know what that is.It looks like The Andrews - which was a hotel a few blocks away.
I know what the block across the street looked like, and I and have no record of anything that had a sign like that. I even went back to the old Route 66 show, which was shot on the street in the same era. Nothing.
Some day I'll bet I find it. Some day I'll bet I see an ad, or a picture, or something. It will be a great effervescent AH HAH! And no one will care. It is a big so what, isn't it? But I want everything to be remembered. Even if you have just a name and a sign and a matchbook, you can imagine all sorts of stories. It drives me nuts sometimes to think that we have now, assembled daily, and amazing account of all these quotidian details, and there's no process or means to assemble them. A million pictures taken every day in town, and nothing to form them into a coherent record. We'd kill for such a thing from 1927 or 1934 or 1957, but today? It's just today.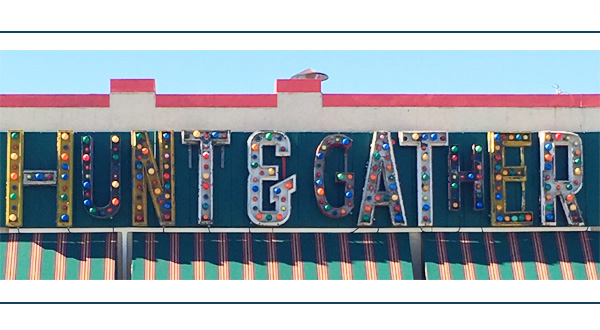 Items recently noted at my favorite art museum - er, antique store.
I think I saw this on Hoth, making strange droid sounds: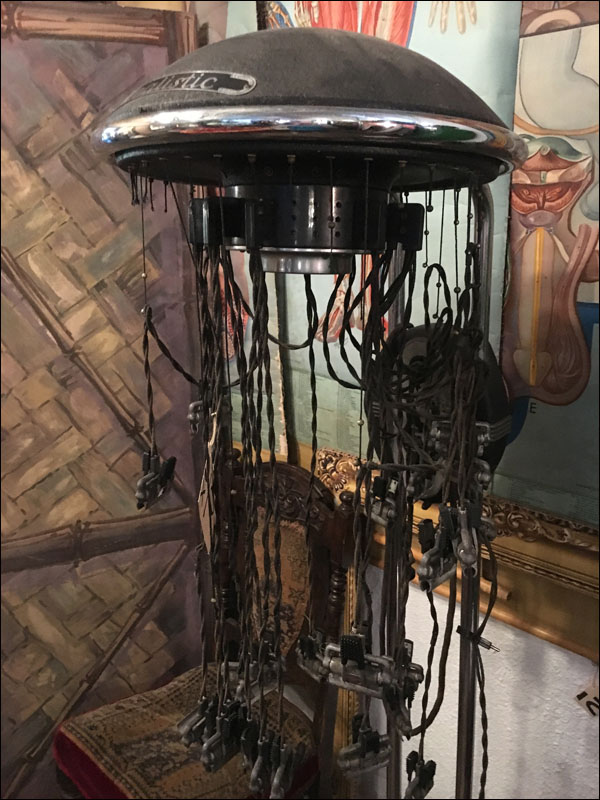 You've possibly identified it as a permanent wave machine. What sort of effects did this complex piece of technology achieve?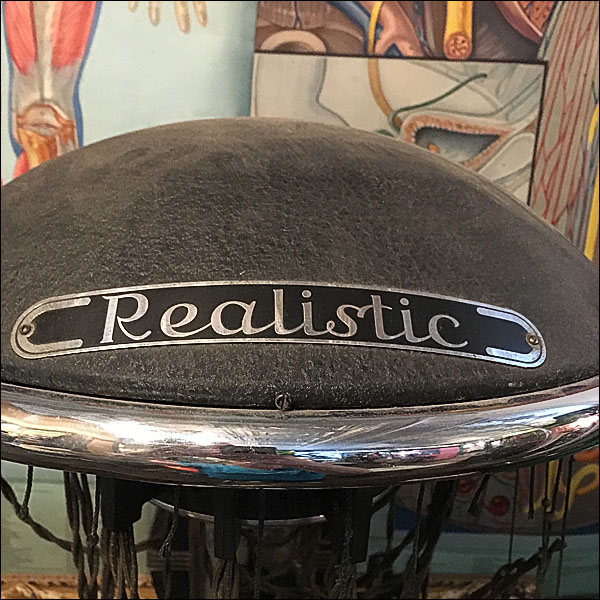 Good Lord: the 20s had some miserable implements.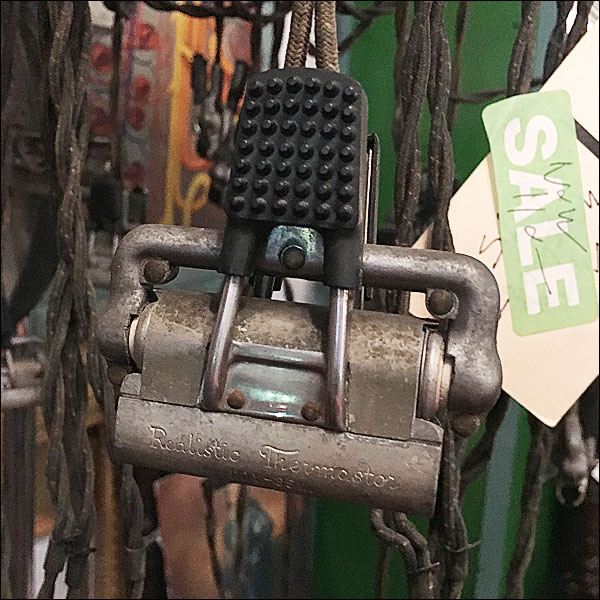 A brief testimonial to the device's abilities.

We can't spend all our time looking at depressing pictures of shuttered small towns. We need a break. That's why it's always instructive to visit the major American cities east of the Mississippi, where you can spend more time looking at depressing pictures of shuttered large towns.

This is Detroit's Beaufort Street. I'm sure it's home to some fine folk. But it's a mess.

Sounds like a nerdy version of The Shining.

Care and attention paid here; it's the price of the area.
Sixties / Seventies design, alas. Library? Church? Community college? Same style for all.

Like a nice middle-aged lady ignoring the fact a passing car splashed mud on her dress.
What's inside? Something's inside.
Whatever they made here, it took a long assembly line:
You might be able to resurrect the name from the painting on the upper right:
I can make out "young," perhaps. Not that it matters.

The next time the Google Street View cars come by, that window will shrink one more time.
Good thing it's been decorated by local artists! Certainly brings a merry note to teh neighborhood. This COOL A$$ JOE sounds like a fascinating chap.

Deindustrialized areas have their own hues, including the uncleaned-aquarium-water of the glass block windows:
Wonder who painted over the stuff that someone else painted over.

"Okay, I have the address. Which door should I use when I get there?"
"Oh, you'll know."

The old-time silent-movie trope where the villain puts his forearm up to his eyes to concean his face comes to mind.
Good thing they added two rows of glass blocks to brighten up the joint.

There's a satisfying finality to this style of renovation.

Here's a sight that will make some people swoon: 30s Stremline Moderne, big windows, glass blocks - and beer!
You'll find more info about the place on their Facebook page.

It's either a church, or the building is drunk:

Since it was a light-industrial neighborhood, there had to be housing for the workers.
Google Street view, a few years ago:
And today.
At least the city added a new stop sign, so you can't say they're not doing anything.

That'll do; some motels await. Thanks for hanging in here with me.