Apologies if some of you didn't get the Bleat the last few days; I was posting from CA, and it showed up on my computer and phone. Some odd DNS stuff, maybe. Anyway, let's begin. I wrote this last Monday:

I am at the nice little airport terminal. The Humphrey Terminal, as we know it; Terminal 2 for newcomers. Going to California as part of the Big Winter Travel Experience - DC in December, then Arizona, and now San Jose. Haven't been looking forward to this at all, because I have to give a long speech to a lot of people, and that can always go south. But that's why you make sure they are serving wine with dinner.

If you live in a place with a small airport, this might make sense: some gates are always the one from which you left for a specific place, even though you might have gone through the doors a dozen times. H5 is where we left to go to Iceland, and thus it will always be. My wife will always be at the table at the coffee shop working on something before we left. It will always be dark and daughter and I will always be smiling about some kid who was acting peculiar, or just being a little kid. The trip was full of happy moments, but there's nothing like the hope and excitement of waiting for the big jump into the sky and across the ocean to have an adventure. Wouldn't it be odd if that's the happiest day of my life? Those are the ones that usually turn out to earn the honor. Not for what happened, but for what you felt and where you were and who you were with. Remembering when the extraordinary felt ordinary. That's how good it was.

------ Another . . . interesting flight. I was in the back of the plane, because that's where the lavs are. The stews were in a snit, and one of them marched towards the front of the plane. Reason: cigarette smoke, and lots of it. Someone had been smoking in the bathroom, which is as stupid as stupid gets.

"Do you know who did it?" I asked.

"Oh yes," said the other flight attendant. I looked towards the front of the plane; the flight attendant was leaning down and saying something to someone, who was probably A) lying, and B) smelled of cigarette smoke. When we landed we had to wait a long time before deplaning, and I gather this was necessary to gather the necessary representatives of the state. The fellow was taken off the plane, and then we got off. Sketchy skinny dude with an oversized baseball cap on backwards, and the loping hunched walk of the Player. He looked like the guy who shot Wild Bill Hickock on Deadwood.

Sorry, spoilers.

Then down, down into the great big San Francisco airport to get my baggage. It was impressive and modern, and as I walked along I was reminded of something else I'd noted: earlier in the day, at home, I'd been paging through a book of 1930s New York architecture photography, and come across a beautiful photo of the lobby of the Chase bank. It had that perfect pure uncluttered beauty that characterized the 30s style. The indirect lighting, the rounded shapes. Later that day I'd looked up from my seat on the plane:

This is that, PLUS all the 80s dreams of sleek spaceships. And as I walked through the airport I saw a row of flatscreen monitors for people to use to get tickets or check in, and I thought again: I'm living in that future I used to dream about. It just happened gradually, until here it was, all at once.

I passed a woman working the Alaska Airlines screen.

Goddammit! she hissed, stabbing the screen again and again. God! Dammit

So the future's a lot like the past, then. Down to the baggage area. I'd checked my bag at the gate, which you can do for free. I wasn't in a hurry and didn't mind waiting for it, and I got to board early. For some reason I still believe this is a plus, boarding early. Hey, I can start sitting before anyone else! You board early to get overhead storage, but if you don't have a bag - well, never mind. The baggage area (12) was empty. No one waiting. No bags. Odd, that. I was in the 15th row, and I'd beat every other passenger?

The carousel clanked to life and spun around a few times, and some bags came out. Ten bags. I walked back and forth, waiting. No more bags and no people. Then the carousel stopped, as it does after it's gotten your hopes up. The display with my flight number changed status; FIRST BAGS OUT.

Oh. Well. I waited a few more minutes, and nothing happened, so I went outside to be outside, this being fabled California. Counted to fifty to let the strange illusion of the emty bagge room dissipate. Then I went back in, and the room was packed. It was as if a hundred people had materialized in the place while I was out. The carousel was going around, but a bag was still stuck on the belt where they emerge from the Moorlock's Domain. This condition persisted for another ten minutes, and then someone came up the ramp, wearing an orange vest and carrying a hat that had a light on it. He looked around at us with slight dismay, then went back down. A few minutes later all the bags came up and mine rolled out a few minutes after that.

All that remained now was an hour in the Uber along clotted highways. Dinner with friends, and then back to my hotel - which was four blocks from where we had supper. I take it I'm in Palo Alto, except when it's Mountain View.

Walked to the Safeway and bought a Coke. Parched from the day. Stood in the parking lot and drank it off and sighed with satisfaction. A warm night and a cold Coke. California.

THE NEXT DAY
Well. That was fun. And I mean the walk up and down the street, twice, an hour at a time, playing the speech in my head. As I said on stage: I do not have a standard speech into which I can plug a few local references; I write them fresh, so that means I have a lot to remember. I don't like to read the speech. Notes, but generally it's a romp and ramble. So when I practice out loud I lose all confidence after a couple of attempts, because I know the jokes, and I can start and stop and retool. No flow. It's better to just walk and think about what I wrote, and play it in my head. So in the morning I walked up the street and down again, and went back to the room to do something, and then I walked up and down again, this time for an hour and a half, until it was time to eat. (This being a Vacation where the rules don't apply, my meals consisted of a Good Hamburger, and then, as reward, a Good Pizza.) (And then beer. I never drink beer, because it enfattenates the belly, but I do love beer. So. Treat.)
Then I took a nap, 25 minutes. And then: up. Coffee. Suit up. Go! First stop was a TV studio for a half an hour interview, and then the event itself. It went well, and even though I hadn't timed the speech it came in exactly at 40 minutes, as advertised, and when they applauded, I did not sense the relief that would suggest they were sore glad I was done. Then came Q & A, which is fun because it's more improv than before, and looser. Talked to some people afterwards, including a Bleat Reader! (Reveal yourself in the comments, sir. ;) ) In California! Ran into a woman from the Cruises; ah, old friends. Met some Ricochet members. It's all a blur, as the post-speech things usually are. You find yourself leaving, shaking hands, in a car, then deposited at your hotel; back up to the room, which now feels like a quiet old loyal dog that has been waiting for you.
When I left the room I thought I will be so happy when I'm back, because the last box in this sequence of traveling and obligations will have been checked. And so I was. Grinned at myself in the mirror: that went well. Then changed out of my suit into civvies and walked to a pizza place and read a Van Veetering novel.
Because that is the way it goes: you're on stage bowing one moment, and an hour later you're sitting at a table eating pizza by yourself and reading a Dutch murder mystery.
When you imagine the first, you never imagine the second. More tomorrow, but not boring travel stuff.

Wonder if there's a Texas City in Colorado. Over four thousand souls; county sea of Mitchell County. Note: not to be confused with Colorado, Texas.
Well:
There had to be something else. Or there wasn't. Either is a little depressing.

I don't they're all paid up on their Chamber of Commerce dues:
Can't imagine what it was, or why they needed the steps. No, that's clear; they needed the steps so you could get up to the raised part, which was raised because . . . well, it's not for loading. Too low for loading the back of a truck.
Why four steps on one end and two on the other?
What happened here?

The good thing about the lumber business: when you go under, you've stock on hand to board up the windows.
There was another famous Rockwell in the lumber business, and this site says they had a location in Colorado, TX. But as we've learned, that's not to be confused with Colorado City. It was the Rockwell Brothers, though, so it's probably the same outfit. Mr. Rockwell died in 1931, but let he left a charitable trust that survives to this day.
The company sold its last yard in 1979.

If you've been following this feature for a while, or just know your urban hints and clues, you know what this was.
No, it wasn't for lynching.

Something's going on here, and I'm not sure what. New roof?
Signs in the window suggest permits, so it's possible a coffee shop (free wifi!) has opened since this was taken. Also possible it opened, and closed.

Mitchell Lodge members welcome you: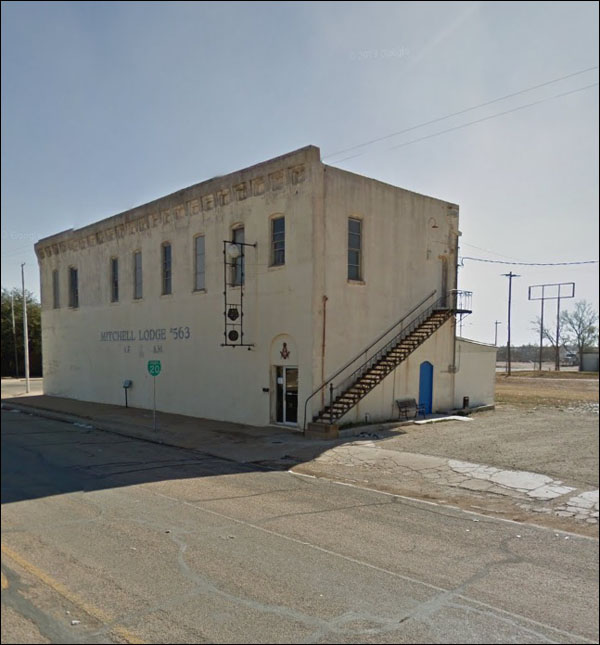 It has seventy members. They meet on the second Tuesday of the month at 7:30, although the meal starts an hour earlier.
Wives welcome!

The top of the facade looks well-maintained, but that could be the lighting. Old wood over the windows. Empty store. Rotten walls. No one home. Ghosts.
That's an alley? Whatever was next door was small. Looks like the floor tile is still visible.

Ah! Now here's a solid citizen:
BPOE, I think. The scalloped awning looks original for the 20s. The paint on the windows appears original as well, alas.

An old person who lived their whole life in this town must find these things unutterably sad.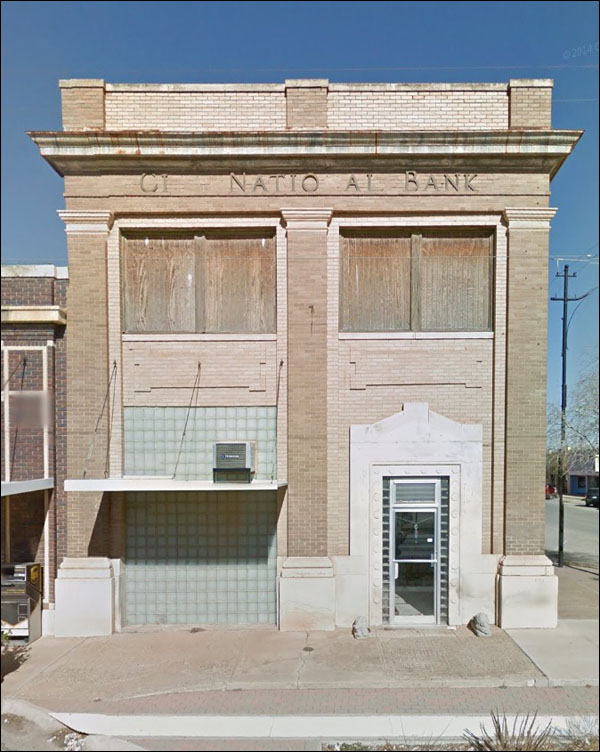 The awning and the glass blocks pose another mystery. They took out the big window but left the awning? The awning was kept to shield against the pitiless Texas sun?

Once there was a metal screen with the name of the store. The bottom floor was modernized. Everyone was proud.
The screen may have been lost in a twister.

Believe it or not, this town's another two-parter. We'll pick up the story next Thursday.


There you have it, for what it's worth. See you tomorrow - and I cannot believe it'll be Friday. A jumble of a week, but a crackerjack time. So far, anyway.