I may have mentioned this before: got a bed in a box. (Caspar beds; use the code RICOCHET and get $50 off your purchase.) It's the Goldilocks bed. When I'm in on a steel-slab bed that makes me feel as if I should have my hands up and be covered in Carbonite, I think soft would be better. When I'm in a bed that drops you a foot before it provides some support I think no, I'm a stern-bed kinda guy. This bed is perfect. But it meant the old bed had to go. With no small amount of huffing / puffing my wife and I dragged off the mattress and put it in the sun porch, but how to get it downstairs and out on the boulevard for the trash persons?
Answer: close the door to the sun porch and forget about it. Eventually one's wife will ask "is that going to stay there forever?" and you can say, if you are so bold, of course not; in the short term the house will fall down. In the long term the sun will expand in a fiery ball of all-consuming destruction before it collapsing into a dense brooding cinder. Not sure I get your point. Nothing lasts forever. I used to think the universe would eventually contract back into a single point then begin again in an inconceivable explosion, an idea that made the birth and death and rebirth of the firmaments something akin to the rise and fall of breath, but I'm starting to think that universes pop out of black holes in an endlessly renewing sequence of creation, with the old universes eventually fading away through heat death like an expired gust of life that takes a billion billion years to exhale and fade away. I'd like it to be so, because it's intellectually and emotionally satisfying, and that's should make one suspect of the theory. The laws of the universe are not written with our own happiness in mind. The universe is pitiless; the only act of grace it contains is the creation of circumstances in which intelligent life can arise, behold it, and seek out its mysteries. Which is a bit self-centered, really. It's like having kids just so they can write your biography.
You look irritated, dear.
The garbage persons come on Friday, so I called the Giant Swede and asked if I could importune him to apply his brawn. We did it. The thing had to weight 250 pounds, and it's boneless. Getting it out of the bedroom was a problem. Getting it down the stairs was a problem. Getting it to the front door was less of a problem. Getting it down the flight of stairs to the curb nearly killed us. We ended up flipping it over and over and over until it laid on the boulevard, where it will be for a day until the Heavy Duty Crew comes to get it. I fear a note tomorrow saying "Seriously? No." We'll see.
So then we had a beverage and chatted as Scout ran around wondering about This Guy Who Smelled of Other Dog. And then the Crazy Uke showed up and we made merry, as the fine old expression had it. But that was not the highlight of the day. Went to work, put a column in the system. Took a walk around downtown. Knocked off work. Went grocery shopping with Daughter, who is having friends over after school to make pizza. It's the last day of school. Huzzah! The cost of the ingredients exceeded the cost of Dominos, but you can't put a price on the fun of making your own. Well, you can; $23.78, but nevermind. I made a supper best described as Undistinguished Fish with Limp Fries. Honestly: the package says 24 minutes is sufficient, but 29 minutes later the fries were utterly inconclusive. Good thing she didn't have a friend over. She had a friend stay for dinner on Wednesday, and I said "Now for that awkward moment at someone else's house when the food is different than you have at home but you have to say it's great and wonder how much you have to eat to be polite." Broke the ice.
The friend was over because they'd done a news show for a class project. I put up the green screen and put Xs on the floor for marks, and they read scripts about Mexican drug trafficking. Then we put in graphics and picture-in-picture inserts. I'm used to this but still in the back of my head is amazement at what I can do at home. I think my mom helped me glue cotton on a diorama to stand in for snow. I'm tweaking pan-and-scan on a inset graphic.
So the week is done, except of course for today, but Friday is the best of all possible days - it has work, it has radio, but at the end of the day nothing has to be put up the internet for tomorrow. I will finish the Texas Motels, lay out the site for the next two weeks, work on a site overhaul, watch a B&W movie while I do rote site work, then it's "Ripper Street" season 3 with the weekend dish of ice cream. That's the apex of the week, right before I have the first spoonful. Because after that it's just hours until Saturday.
And Saturday is Mulch. Yes. Not done. Ten more bags. Then we are finished, and can sit back and enjoy the utterly mulchtastic yard for the rest of the summer. Which begins today! School's out. Forecast's good. Dress rehearsal is over.

Friday construction update: my old parking space by the old building.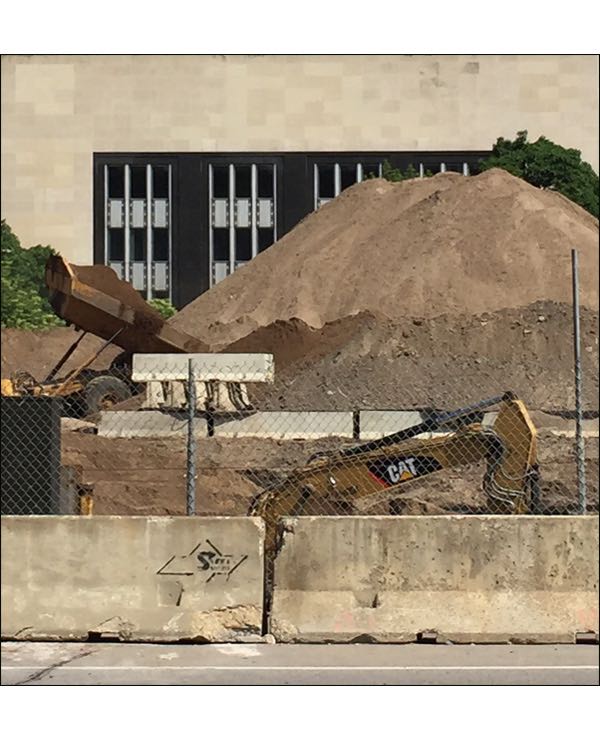 I was confused by this, since I thought they were building a park. Usually you don't have to excavate several stories down for a park, unless it's an underground bunker for the SPECTRE to control international events. Turns out there's housing on the spot. That makes three housing developments going up around the park, and they started digging last week for another tower a few blocks away. How I love a good speculative boom! It's not like SimCity, where the unoccupied buildings get torn down and replaced with smaller, shabbier units.
Pupdate: O happy days, lolling in the grass, pretending you'd killed something.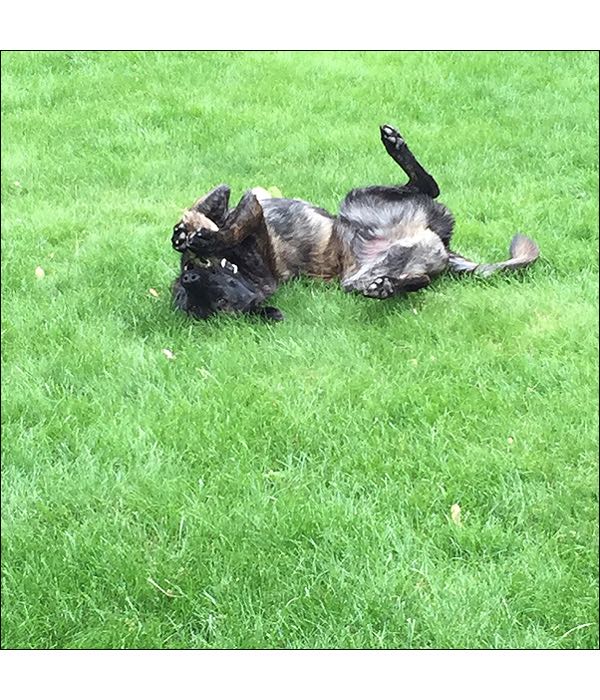 As usual for Friday, the Music Cues. Of course we begin with the Couple Next Door, with its cheerful soundtrack of the mid-century domestic scene.
Lots of new cues in the 600 episode series. I'm surprised - and I wonder where they were keeping them, and didn't use them before.

| | |
| --- | --- |
| | CND Cue #550 This is confused and contemptuous. |

| | |
| --- | --- |
| | CND Cue #551 Love the beginning; more Purposeful Walking Person stuff. |

Moving along with the innumerable Gunsmoke cues. Like the show itself - all different, and all the same . . . or so I used to say. The cues went with a full orchestra, heavy on the echo, and now we got Copeland-style Western stuff.

| | |
| --- | --- |
| | Gunsmoke #88 The clarinets have a lesson for Spiny. |

| | |
| --- | --- |
| | Gunsmoke #89 Be tense! Make people think of a railroad! Okay, wrap it up |

TO REPEAT what I've said before:
Back to the Couple Next Door. Peg never said explictly where the show was located, and she lived outside of New York, so I always assumed it was a nice town far enough from New York to feel apart. Then again, there were always Minnesota roots for the show; it began in Minnesota, had the original name "Ethel and Albert" - as in Albert Lea - and the couple lived on Edgecombe Road, which is a street in St. Paul, Minnesota. Eventually she started dropping actual Minnesota placenames into the script. First Mankato, then Mazeppa, then Pine City on 35, and now . . .

| | |
| --- | --- |
| | Where is the show? |

Big Lake! It's a real place. The marker on top is Pine City. The marker to the northwest of Minneapolis is Big Lake. As I said last week: You know, based on this, you could imagine that the Couple Next Door took place in the vague middle of the triangle, on the Western edge.
Minnetonka, in other words.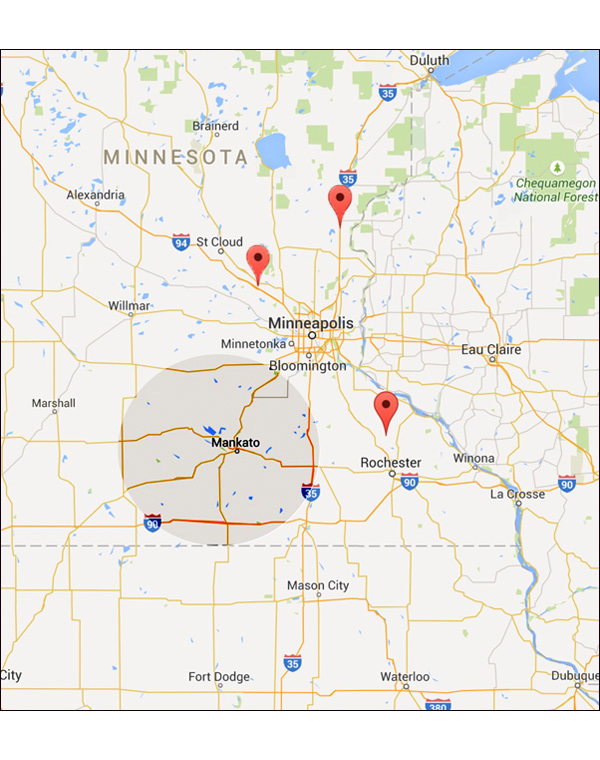 Or not. As her daughter wrote to me: "I think she used place names from her youth because they are the only places she remembers going, other than Chicago, Cumberland, Charlottesville, and 12 Gramercy Park. When you're at the typewriter all day and night, all you see is your room."
To wrap up the radio offerings this week, the old ad. Wake up! America needs people to be alert, especially with that Nikita fellow up to God knows what.

| | |
| --- | --- |
| | Has this ever happened to you? |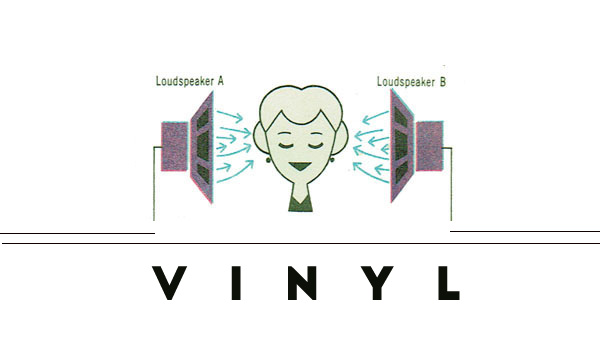 A real find, this one. Like it was never played. Her face seems glued on, though.
Ah, Bert Kaempfert. A trumpet player who made Harry James' vibrato sound like a foghorn. His big hit was "Wonderland by Night," which as schmaltzy as is humanly possible. My dad had that record. I remember it from a very early age. I'll give Bert this: he wrote"Strangers in the Night," among other things.
| | |
| --- | --- |
| | This is "Zambesi," part of the cheerful indiginous music of Africa! Totally authentic. |


And that'll do for this week; thanks for stopping by. Have some 1964 ads on your way out, and I'll be back next week with more of the same. Literally.