As I write this it's late Christmas Eve. That used to be the big event, but we switched to opening gifts on Christmas Morning. Now I wonder why we ever did it on Christmas Eve. Why anyone ever did.
Went to the four o'clock service. I believe there were ten. Afterwards I sought out my favorite pastor, who's a kidder. As is our custom, he knelt. I said "Rise, My Son." He rose and he said "Lutheran embrace" and we extended our pinky fingers for the briefest of touches. Drove home for Swedish meatballs and a brief theological discussion over supper. The hymn:
I am so glad each Christmas Eve,
The night of Jesus' birth!
Then like the sun the Star shone forth,
And angels sang on earth.
The melody, combined with the key, always gave me a headache when I sang it as a kid; least favorite Christmas carol of them all. It's earnest and plain, yes, but it just makes me think of being in Cherub Choir or listening to Cherub Choir. But once again, the lyrics. I know I've been through this before. But.
If Christmas Eve is the night of Jesus' birth, what is Christmas?
I brought this up at dinner. "Labor began on Christmas Eve?" my wife said.
But as you know quite well that's distinct from birth, dear.
Carols are not accurate accounts, of course, so you can allow some errors, but it still seems a gross error. It's like "I am so glad each Good Friday / When Jesus rose from the dead." But no one ever seems to question it.
There's the issue of whether Jesus was born in the early dark hours, which would technically be night, or during the daylight. Most people seem to side with Night, becausen of the Star and the shepherds who are out in the dark with the flock. If so, then the event occurred, for celebratory purposes, on Christmas Night, which is when everything has wound down and people are gathering up the boxes, doing dishes, filing it all away into the memory banks.
Well, company's coming over on Christmas Day for a big meaty dinner and there will be dogs playing and good wine and carols on the speakers, as it's always been since we've moved to Jasperwood. Except no Jasper, of course, but I'll look down where I know he was last year and remember him. The arrangement changes but the melody stays the same.

In case you missed it:
| | | |
| --- | --- | --- |
| | | |
| | | If the player seems a little balky while loading, click on it. Worked for me. Also, if your TV reception is bad, bang on the top of the set. |
| | | |
A thrift store find - and a preview of the Vinyl Site to come in 2015.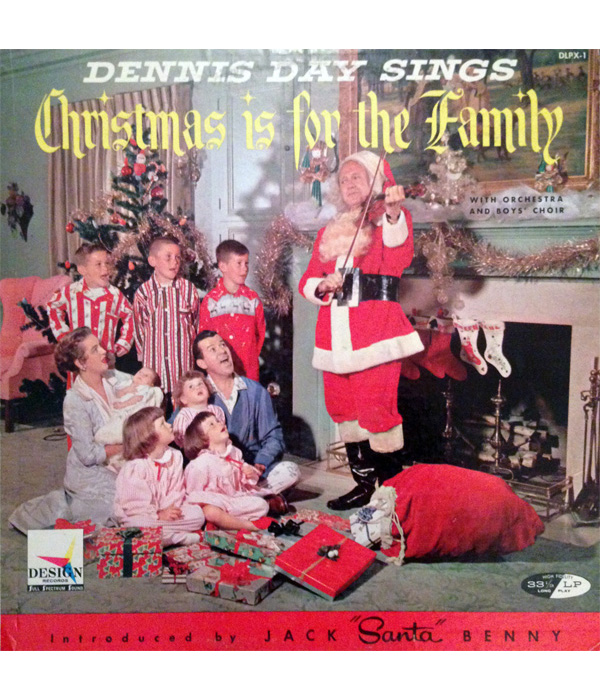 | | |
| --- | --- |
| | Annnd here's the extent of Jack on the B side. |

See you tomorrow, for a few brief notes. Don't click on the Fargo link; it's old. Merry Christmas!