The old bandstand refreshment center had been torn down long ago, so I was glad to see it as I rolled down the hill. I could get pictures for the website. Unfortunately, access wasn't possible, unless you wanted to go through a swampy area around to the back. But that's what I did squeezing through some boards and bending over and finally getting into a small dining area with a bar. Everyone there was Black, and looked at me with surprise. One of them said you couldn't get a seat unless you were born here, and I thought that meant the reservation line was long. There was a window that let you see out; it had no glass. It was narrow and it would be hard to climb out. There was a staircase on the other end going up, but it was blocked with wooden rubble.
And I thought: it's a metaphor. Of course, it's a metaphor. Scene change - outside somehow, walking along with my old editor from Washington. She's smoking again, it seems, but that somehow makes sense because she is also alive again. We are going to the new office, which has been made over in the new style: looks like an 80s office. Tall puce dividers. Lots of binders. Paper clips in the crevices where the desk meets the divider. No computers; typewriters. Ashtrays. There's one new hire who's particularly unhappy about being here, because it represents a step down in the world. When I ask him what he used to do he talks about what he wanted to do, how he wanted to write novels, but he was happy for a series of newspaper articles that led to something big - whereupon he got out a phone book and pointed to the brief introductory passage describing the city's meat-packing history. He said that was based on his work.
So you're disappointed to be working in a Washington DC news bureau but you're proud because you think the phone company based a White Pages entry on your reporting?
The night before I was on earth in 2441, and it was just what I wanted. It was night, and there was a huge, graceful, white spaceship visible up in the sky, as well as a series of five lights that turned out to be an orbital facility. Most interesting was the projection the night sky of a circle of sorts; it seemed to be a translucent gateway, and indeed it was showing part of a distant galaxy. Such things were only possible at certain altitudes, it seems, and there was a massive articulated tubular structure that connected to the circle to record the astronomical information.

"Can I stay?" I asked. And then I woke up.

In need of some amusement last night, I watched a biography / interview about Mel Brooks, whom it is impossible to dislike and not find amusing even though it has been a while since any of his movies seemed close to the brilliance of the earlier, funnier movies. (Speaking of which: I also recently watched Woody Allen's "Bananas," and while it was funny enough, it's hard to watch them now without remembering when you found them much funnier. Although this still cracks me up.


Who is the priest? Of course, it's Dan Frazier, also Captain McNeill on Kojak.)
Anyway, Brooks has such cheerful self-regard you can't help share his opinion. Happy to see him make money with the Producers musical, even though you have to know it would rankle a bit that you end your career with something from forty years before. Then again, money is nice and so is respect. Especially after a two-decade slump. No wonder he seems content.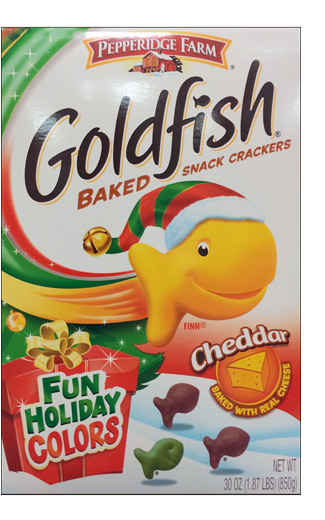 As noted yesterday, the holiday spirit evaporated over the weekend, but I will try to retrieve some by doing the tree and festooning the house with things the dog will probably find and eat. Not time for the music yet. But we can begin three weeks of . . . Product Yulfication! Aka how bags and boxes are redesigned for the Red and Green Festive Interval.
Today it's Finn, who always adapts for every possible season. He is arrayed in colors that are not just Holiday related, but Fun.
Those colors are Fun Holiday Green, and Fun Holiday Dried Blood.

FiL update: showing more brain activity than they thought he would. Just talked to wife. Absolutely draining for her, but there was a grimly amusing realization among the family that they were the doctor's worst nightmare: the family consists of a nurse, a hospital administrator, a medical compliance-law attorney, and a doctor - AND they had just gotten some advice from a member of the family who's a neuroscientist.
Good hands. All told he's in good hands.

Still stuck in 197, where the world as we know it today is a-borning everywhere, undetected and obvious. That's just the sort of pretentious assertion you've come to expect from this feature, no? C'mon. It's just ads.
Except . . .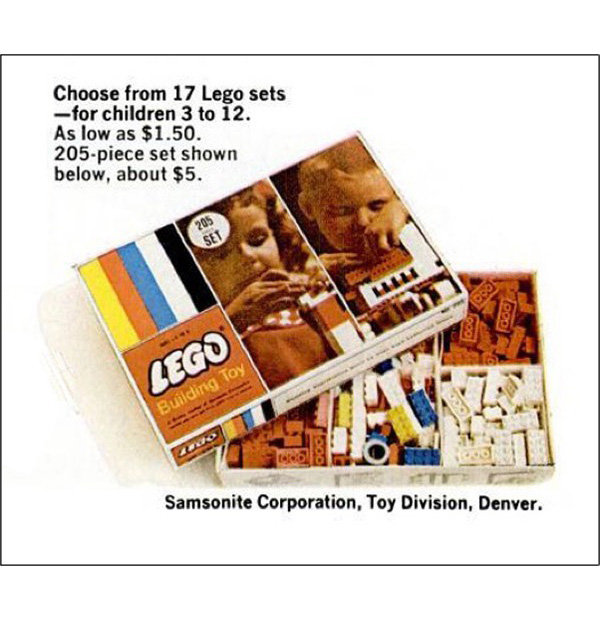 There are rumblings in the LEGO world today that the sets are too mission-oriented. The object is to build a specific thing, not come up with whatever your imagination produces. I understand, and agree. When I had this set - and more pieces, of course, like the ones that had holes for wheels or big grey plates - I built rockets (and crashed them) and jets (and crashed them) and great sinking ships (which I sunk.) Also a robot.
Note also that Samsonite was the distributor. No hint it was furrin' stuff in its origin.
SNAX
No longer are you confused by the relationship between taste and form: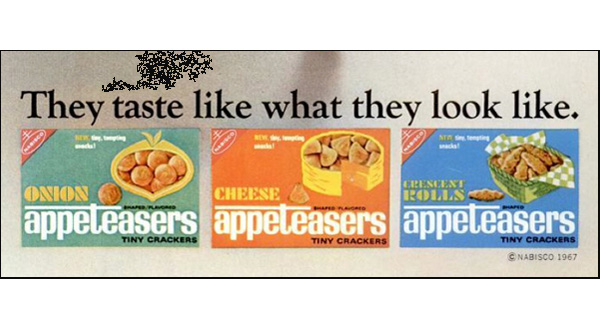 Crescent rolls? Really. I wonder if that was just "butter" flavor.
LEAN BACK
This puts the aggressive in passive-aggressive: you've done everything for your wife, and in return you can't even sit in that soulless museum she calls the living room.
Again, people of my generation will understand. The living room was not always for . . . well, living.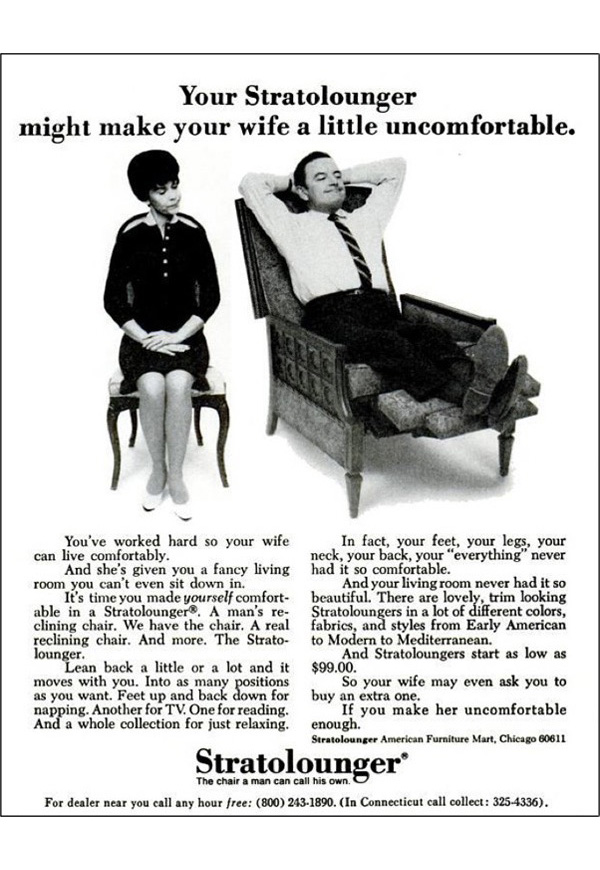 The front room, as we called it, often had plastic protectors on the sofa so the dust didn't collect, not that there was any dust. It kept the cushions from wearing out, which suggests that people glued sandpaper to their arse and slid back and forth while mom, tied and gagged in a chair, looked on with horror.
On a related note: Another living room ad, but this one uses a formulation unfamiliar to modern ears. Trust me when I say this headline is used as a self-aware ironic cliche.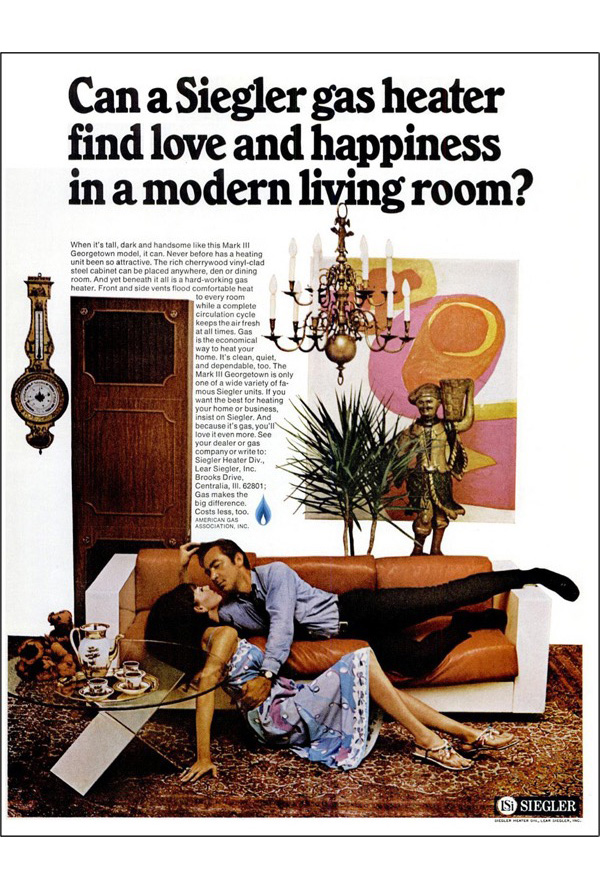 Can the "blank and blank" find "love and happiness" in "X situation" came from somewhere - radio serials, perhaps. Love advice columns. It was common enough but mockable, and hence these ads. And gaah, that room.
XMAS FIESTA
Because nothing says "Birth of Christ" like an appliance fiesta: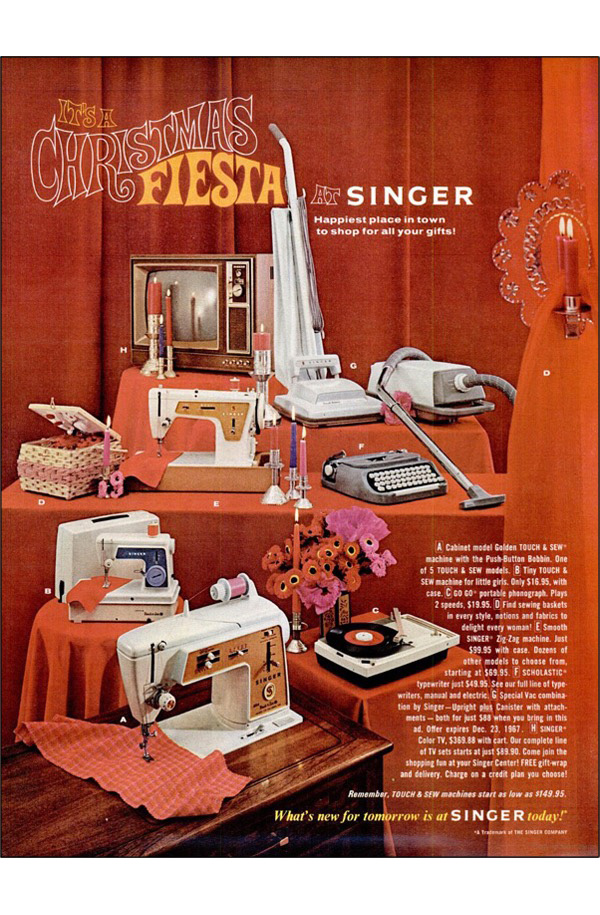 Singer really did branch out beyond the humble sewing machine,a dn would retract soon enough. Record players? Television sets? Who'd buy a Samsonite record player or a Zenith typewriter? "The Happiest Place in town to shop for all your gifts" was an assertion, you suspect, that was immediately corrected after a few minutes in the store. If you were a guy.
ACTION PEOPLE CARPET
Yes, everything had to be fargin' modern and with-it and up-to-date with the youth culture, so they came up with words like "action people," who required fibers that stood up to their on-the-go lifestyle.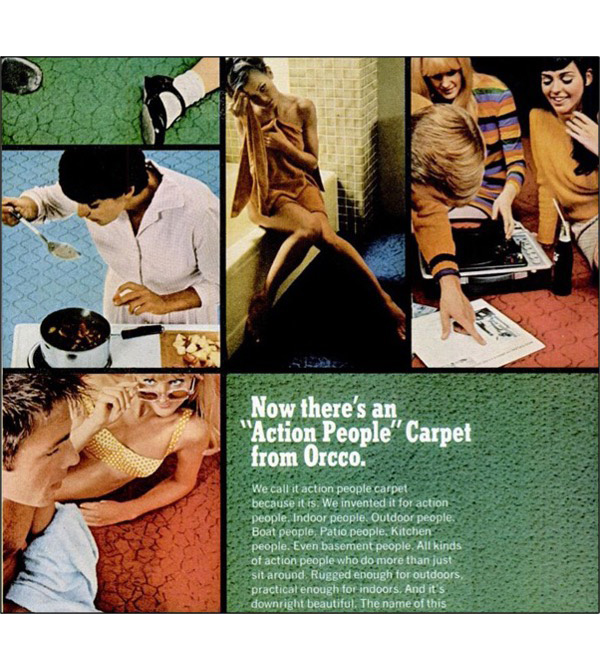 Now there's Action People Carpet. There wasn't before. About damned time, Action People said.
Finally: this kid. And when I say This Kid, you know who I mean.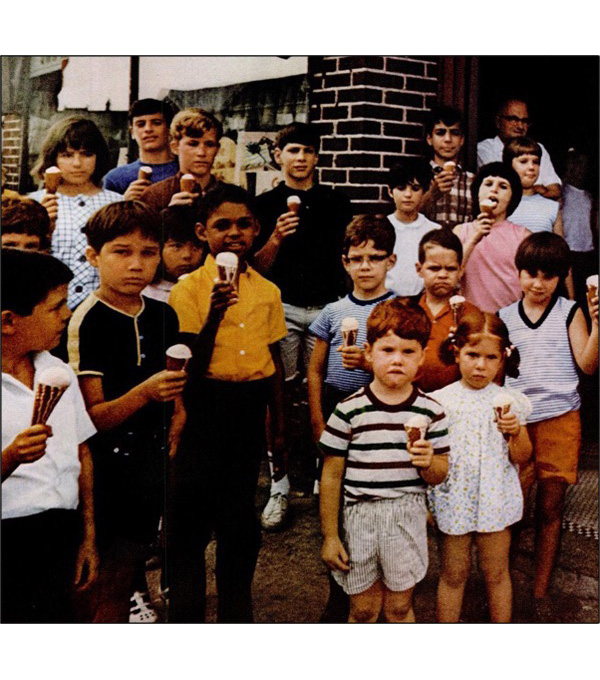 I mean that kid. Go on, speculate. Wrack your brain for other appearances. Google all you like. I can't place him in anything. I just know he was, for a while, everywhere.



I have a big Star Trek work blog set up for Tuesday, and of course there's the Tumblr. Richie Rich - two pages today, but big updates the rest of the month. See you around.