One of the more interesting catalogs we get every year is aimed at cranky, unpleasant heavy drinkers. That's not what it thinks it is; no, it believes it's an amusing, eclectic, lower-upscale compendium of witty shirts and signs and various manifestations of cat worship. But half the items are glasses, bottle stoppers (with a cat on top), wine bags, wine racks, anthropomorphic cats holding a bottle of wine, and TV shirts about how much the wearer likes wine. And then there are these sentiments:
I'm having one of those days when my middle finger is answering every question
When I was a KID I wanted to be older . . . this CRAP is not what I expected
I have stopped listening so why are you still talking
Just be happy I'm not a twin
I am who I am . . . your approval isn't needed
I'm awesome. Don't question it. Just deal with it.
Wine improves with age I improve with Wine
Oops did I roll my eyes out loud
I consider ON-TIME to be when I get there
Bitchcraft: the art of pissing people off while smiling sweetly
I'm a miserable person whose faults are discussed behind my back on a regular basis
I confuse obedience with agreement

Okay, the last two were made up, but that's the sort of person who would wear these. They're the sort of "funny" things you give to someone who's apparently proud of her "Attitude" and considers herself virtuous for not being a sarcastic, sullen, unpleasant harridan to everyone except a select few.
I say "Her" because aside from a few "guy" things, most of the stuff is scarves, wine, and cats. Also lots of stuff for nurses, which is interesting. Wine, cats, misanthropy, and nurses.

Tonight or tomorrow I will finish the first edit of the next novel. Very few changes necessary for the final edit, which I should finish by the end of the month. ETA on amazon.com: February. Why so soon after "Casablanca"? Because it's connected, and I want you to read the sequel with the first one still in your mind. Again, it's a different book: not a hard noir, but a newspaper novel set in the dark days of 2009. It is a mystery and a comedy, although the latter judgment will be up to you.

It has been a busy day, so forgive me if I fob off dogs and clips and call it a Bleat. Friday construction update: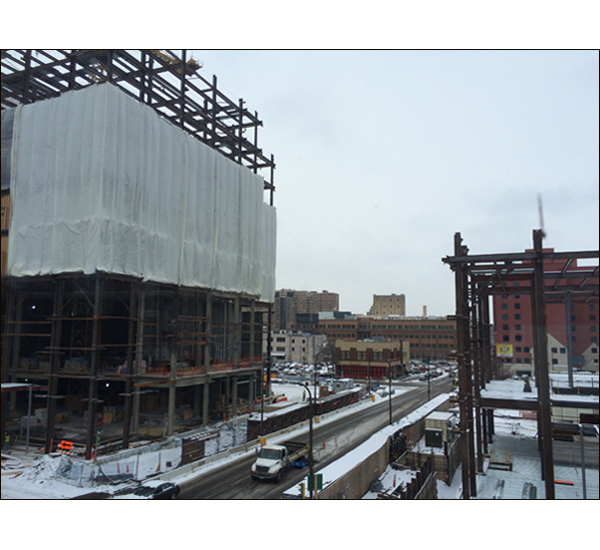 Coming along nicely, but the north building has reached the point where what goes on inside is inscrutable. The sheets are up; the men are now working high up out of sight. Its mirror-doppelganger is a month or two behind, so I've something to watch. And today I heard the machinery pound the beams to frame up the pit for the third site.
Something horrible has happened to the building, though. I don't know how they are going to solve this. I mean, this can't be the facade.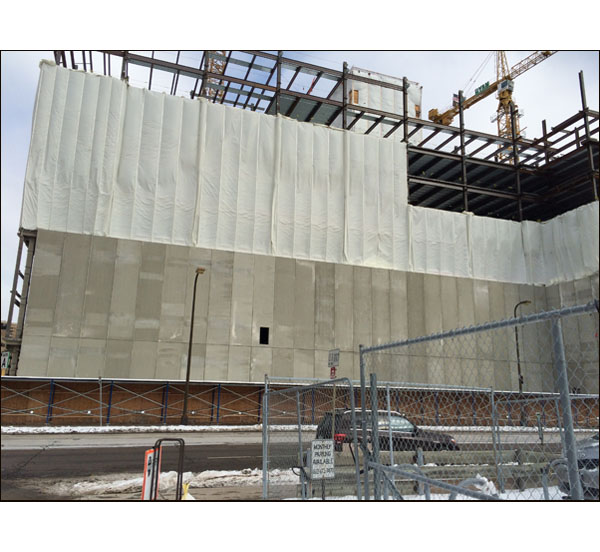 Even if they hang nicely colored panels on it, that's about as dead a street presence and you get. What's the one door for? Making fired employees walk the plank?
PupdatE: the dog the other night was just standing outside on the table. Like this. Your basic Demon HellHound.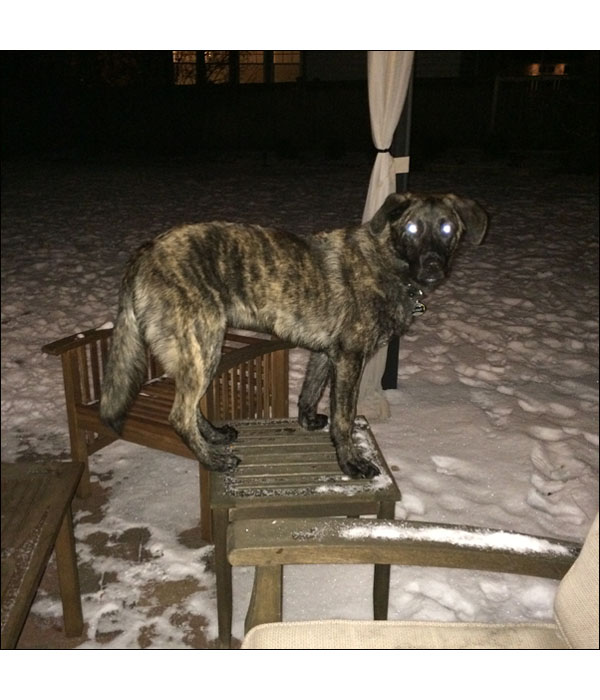 Okay then. Carry on.

As ever, we end the week with the happy sounds of library music from 1960, used in "The Couple Next Door," and the dolorous laments of "Gunsmoke."

| | |
| --- | --- |
| | CND Cue #496 May the meeting of the Ladies' Club come to order. |

| | |
| --- | --- |
| | CND Cue #497 Struggling with the oars through sugar water. |

| | |
| --- | --- |
| | CND Cue #498 Don't ask the composer what's going on; he's writing this one by the yard. |

Now, the inexhaustible Gunsmoke Variations.

| | |
| --- | --- |
| | Gunsmoke Cue #33 Another Western song given an ominous treatment, leading to the inevitable boots. |

| | |
| --- | --- |
| | Gunsmoke Cue #34 It's back! With more drama to hold you through the L&M commercial. |

| | |
| --- | --- |
| | Gunsmoke Cue #35 And all's well that ends well at a saloon, getting the greenhorn hammered. |

| | |
| --- | --- |
| | Gunsmoke Cue #36 Faint notes of O Susannah again, leading to . . . .hoof-steps. |

| | |
| --- | --- |
| | Gunsmoke Cue #37 The main theme, restated with broad sweeping prarie-strength power, fading away to street noises. |



L&M - the modern smoke.




That's it; newspaper column's right here. Enjoy! And have a fine weekend.