As I may have noted from time to time, I work on this site well in advance. Just this morning, while waking up, I finished the Fargo hotel updates for Dec. 18th. I write the above-the-fold stuff daily, although I've been adding additional above-the-fold little add-ons, as you can tell. The Pumpkinification project. This week's DC photos. I wouldn't bring this up except to note that it's inevitable there might be jarring shifts in tone between what's up here and what's below the dividing lines. Well, this morning's hotel update was the Waldorf, a 1899 hotel that stood across from the train station where my dad came home from war. Six years later he was already set up in the oil-delivery business, and was the guy who kept the fire trucks running when they put out a fire. Like the one that consumed the Waldorf - on December 13, 1951. He described how the water flowed out and froze and cracked from the heat.
And a few hours later my sister called and told me Doris, dad's wife, had died.
So. Canned content the rest of the week. Thanks for your kind thoughts.

As promised - or threatened, I can't recall - some more DC pictures. Because I have so many .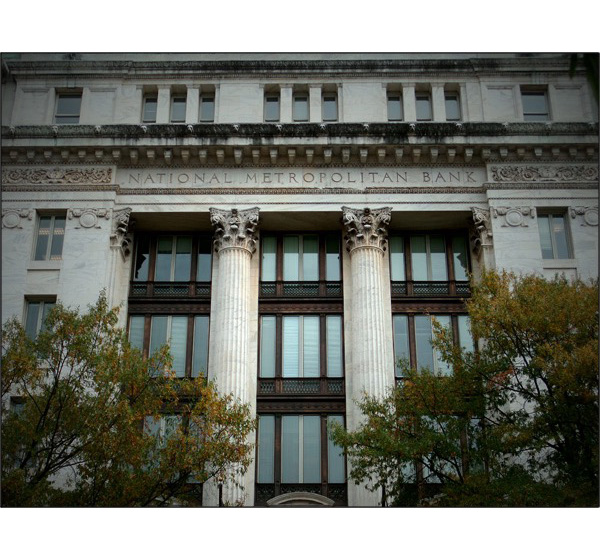 I could have adjusted the rotation a bit better, but I didn't, and that's all there is to it. If you're curious, all these shots are shown more or less as they came out of the camera, using either the B&W setting or the Vignette setting. I like the camera alot.

Now and then a town really surprises me, which means absolutely nothing except that I was ignorant before and am now incrementally less ignorant now. So:

This was where the little Google guy landed: a Museum with a spiky turret and brickwork that suggests they spent the whole decoration bundget on the Romanesque front door. The statue commorates Laura Haviland, a WTCU activist looks to have been a rather humorless bird. But she was an abolitionist and a suffragette, so she probably didn't have a lot to laugh about.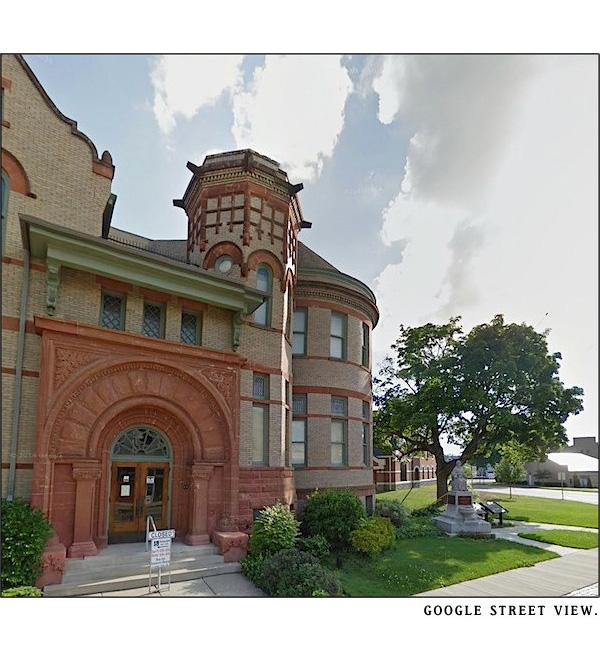 She was buried in Adrian. Wikipedia: "Symbolically, at Haviland's funeral, hymns were sung by a choir of white and African American singers, and then her casket was carried to the grave by a group white and African American pall-bearers."
Moving right along: here's a sign that the downtown business association, or Chamber of Commerce, or just the people who own the building know the cirtues of a well-executed restoration: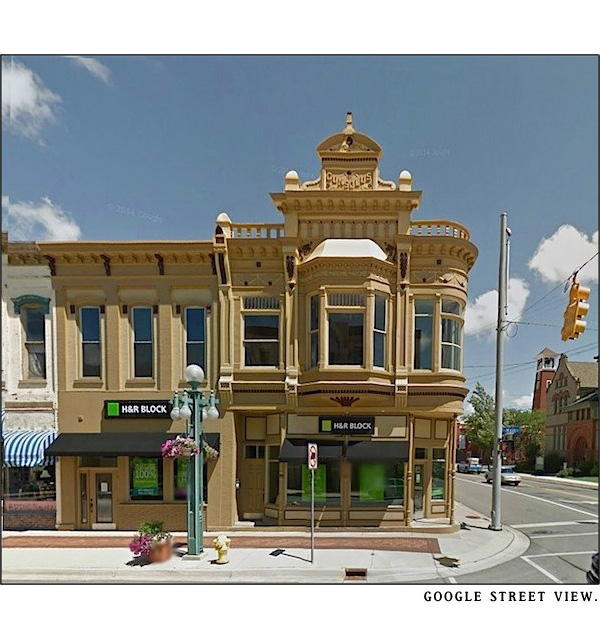 Unless it always looked like this, and there's a picture of itself in the attic, windows bricked, awnings shingled.
Two old fellows with a pre-war / mid-late 40s (if that nails it down) ground-floor renovation: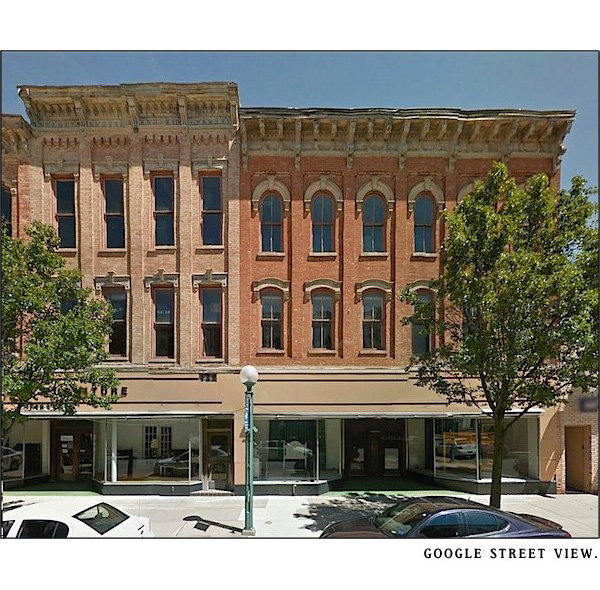 Let's look closer. Hamerman's.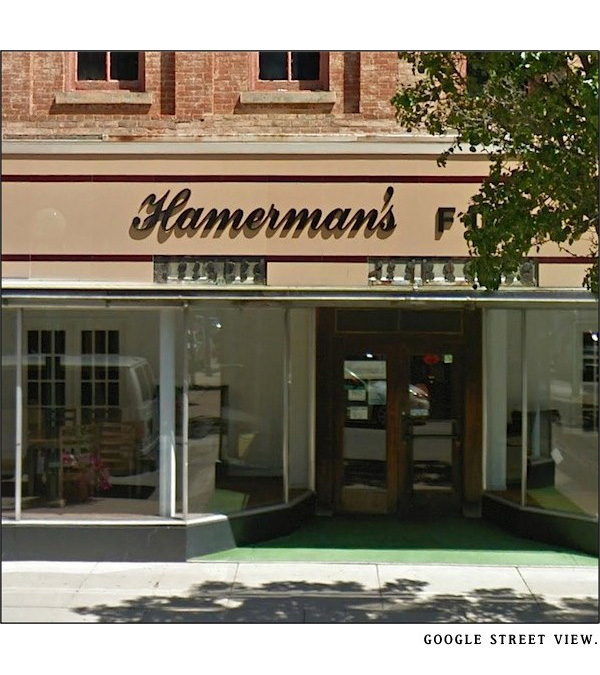 The panels are coming off. They always leave those tell-tale circular divots of adhesive.
Good Lord, the town's full of these elegant grand dames: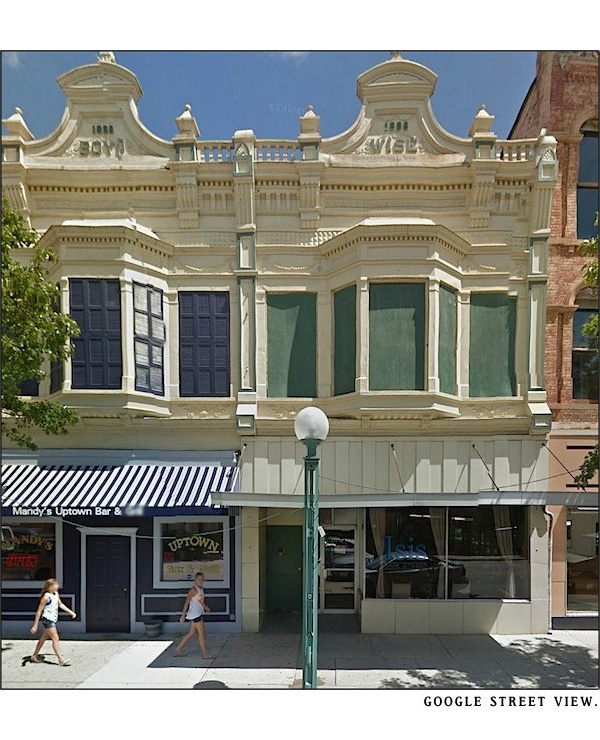 What did they do to get such buildings? To the Wiki page:
In the late 19th century through early 20th century Adrian was known as the "fence capital of the world," when J. Wallace Page invented the first successful wire fence. Throughout this period, Adrian was one of the first fencing manufacturers in the world and its fences were shipped as far as New York, Berlin, Asia, and Africa.
But wait! There's more:
One of the first motor vehicles, the Lion automobile, was created in Adrian. Between 1900 and 1912, Adrian was shaping up to be one of the motor capitals of the world, with three car models manufactured in Adrian during those 12 years. But due to some unfortunate turn of events, it never came to be.
Yeah, Ford goons busting shins and putting out eyes, I'm sure. Actually, the Lion plant caught fire and took 200 cars with it.
That's right. A fire. How convenient.
The bank, designed so it could be passed off as a Carnegie library if bandits came to town: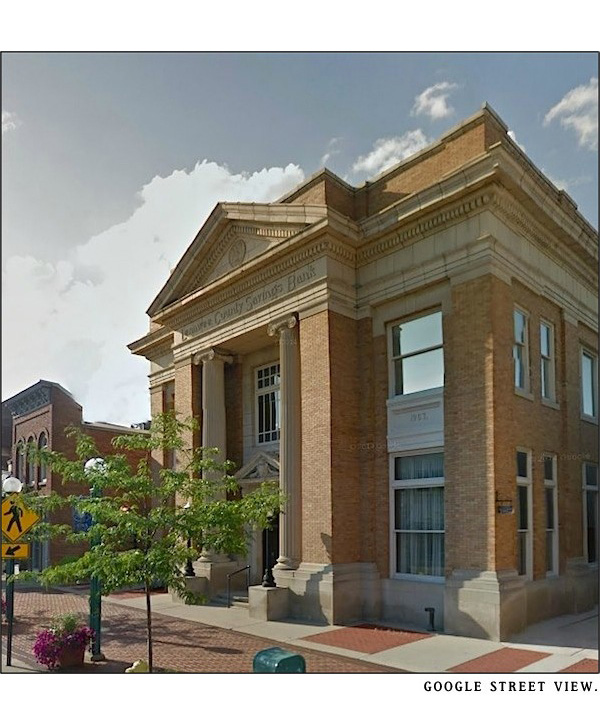 I'm trying to remember why I snapped this one, eexcept to note that this is how you do it. Note anything different from the Main Streets this feature has shown before:
The windows aren't bricked up.
On the contrary: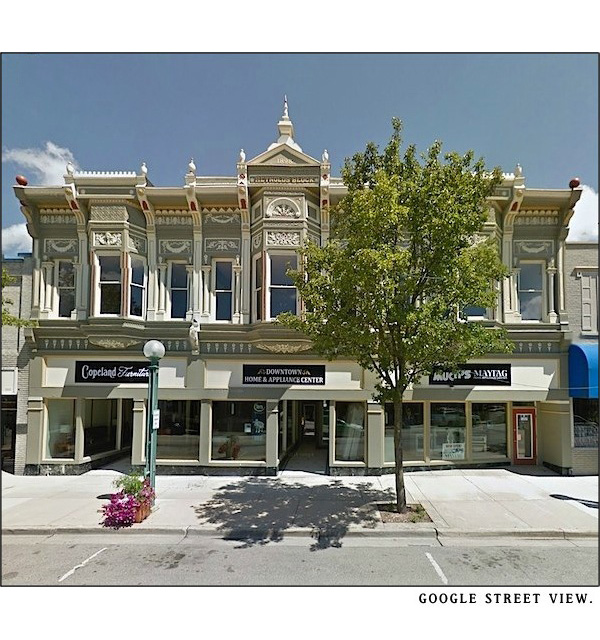 Look at that thing! You can understand - sort of - why less enthusiastic buildings looked modern and cerebral.
Still. Ergh: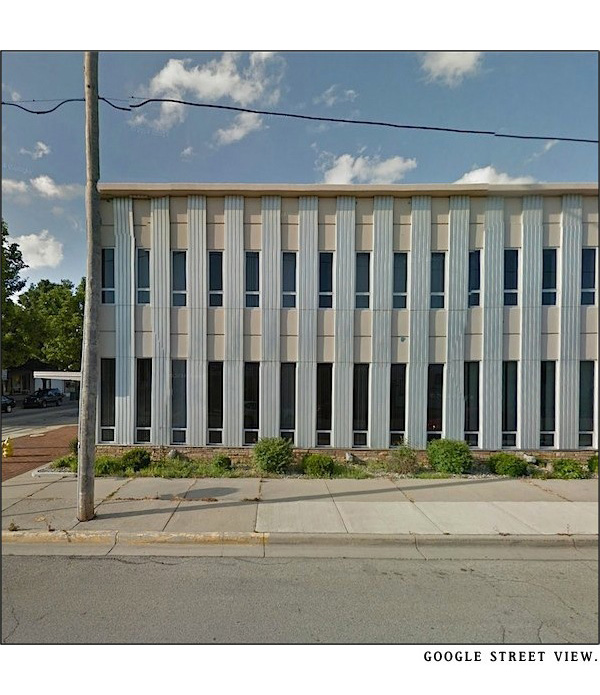 I have a soft-spot for small-town newspaper offices, even if they're covered with spiky skin-shredding aggregate slabs of rock: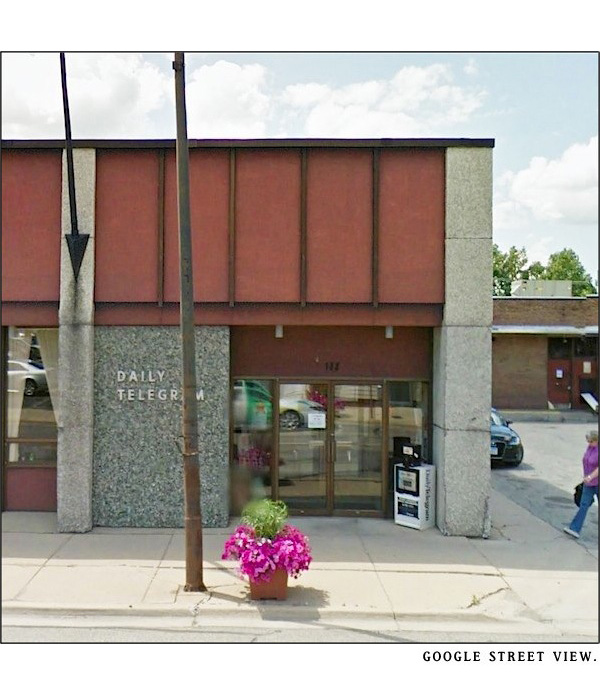 It's not all perfect. The building on the left was mauled good and hard, and the one on the right was not only blinded, but topped with something that appears to be a giant bottle opener. What is that thing?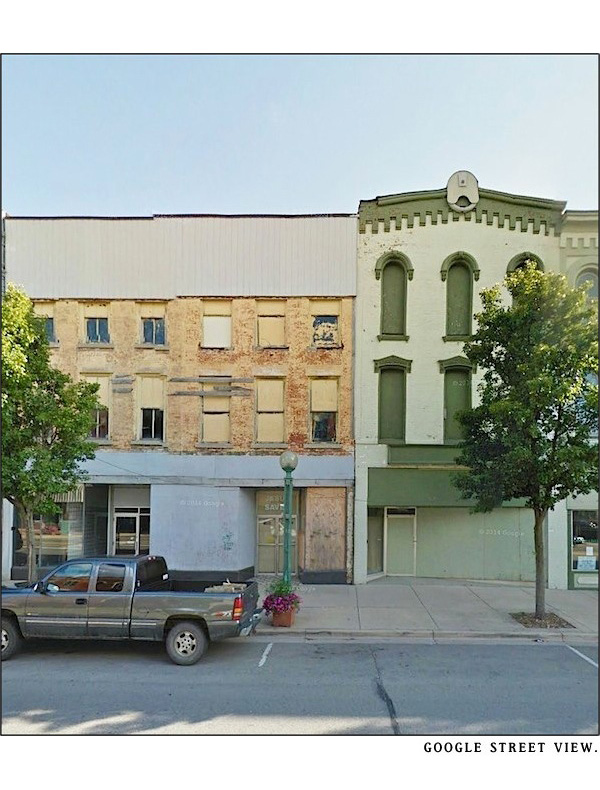 Poor fellow in the middle, wondering why his brothers had all the luck. If you're going to be covered up, at least you could get some paintings that hint at bygone activities.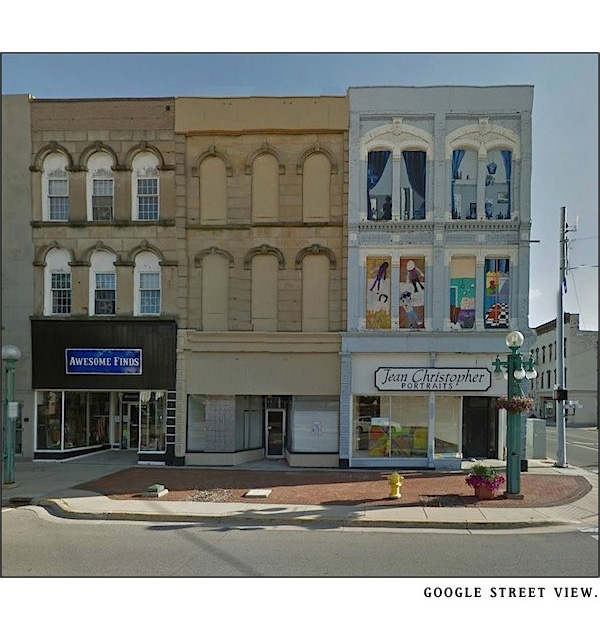 But the side of the blue building didn't fare too well. At least they matched the hues.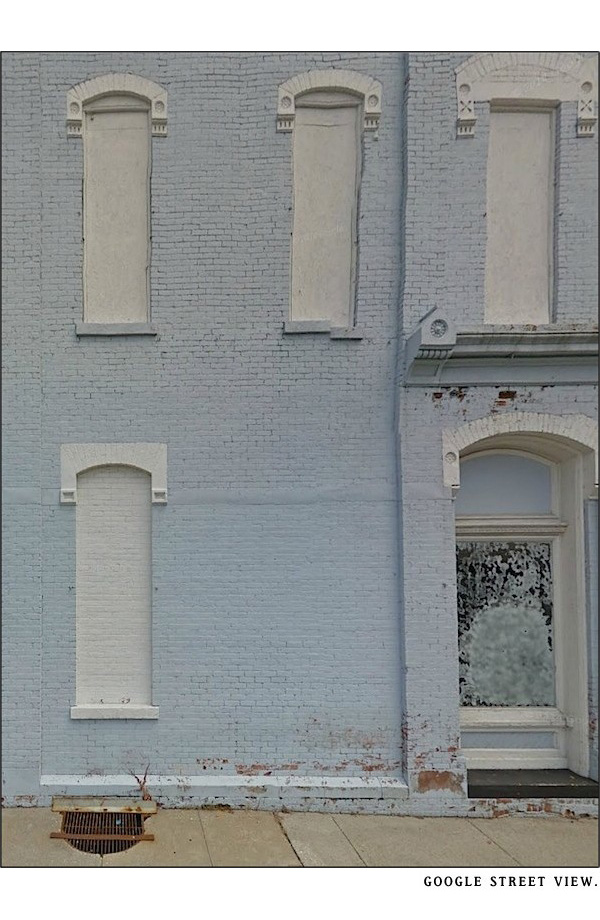 One more. IOOF!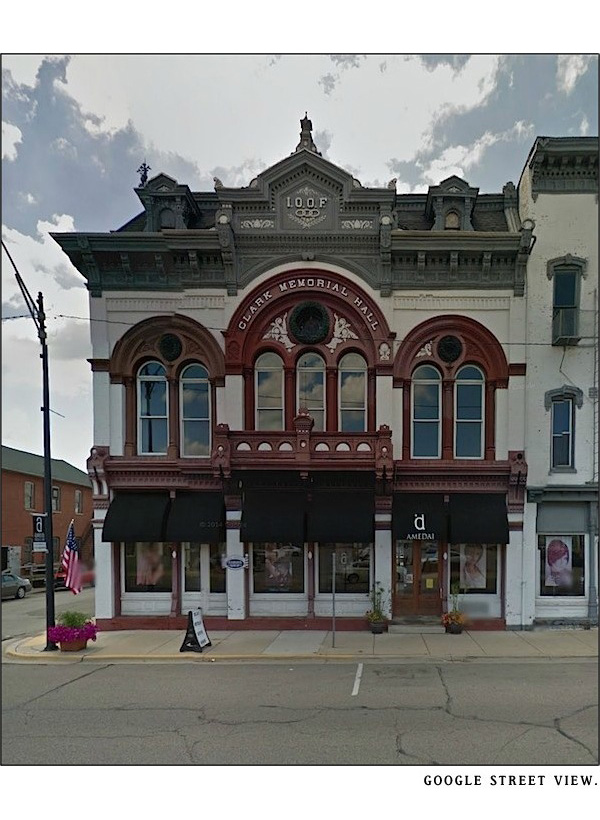 The building's namesake came from Elihu L. Clark, who was a prominent banker in Adrian. As stipulated in his will, he donated a substantial amount of money for the Adrian Lodge of the Odd Fellowship — a branch of the Independent Order of Odd Fellows — to construct the building. For that reason, the hall is also known as the Adrian I.O.O.F. Hall, and their logo appears on the top of the building. In 1986, dwindling membership forced the building to be put up for sale.
IOOF is still around. See those three links below IOOF? The symbol befit a mutual aid society, and each stood for something. F. L. T. Friendship, Love, Truth.
Finally: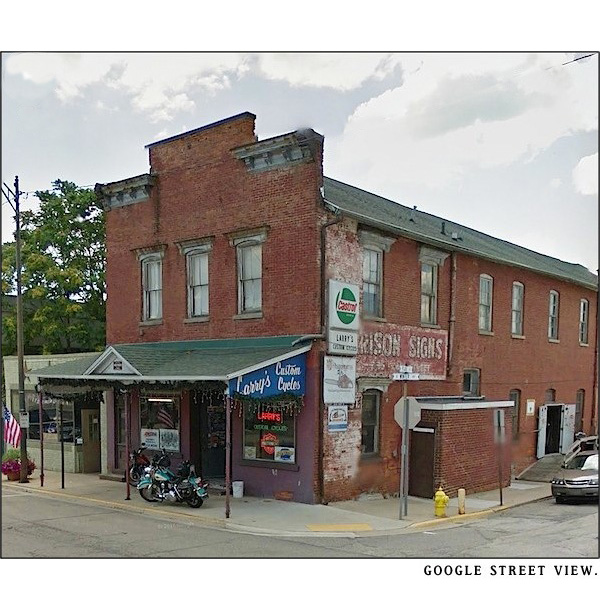 Not every old building has to be beautified. Sometimes one that wears its years with obvious disregard for paint or makeup keeps a place from being too Disneyfied.
Perfect: a ghost sign for a sign company.

Have a stroll, and give my regards to Adrian, Michigan!