Daughter went off to a friend's cabin, so it was me and the dog. And the dog, now fully recovered from his various gut issues, is rambunctious and interested in chewing every possible thing he can put in his mouth, so the entire day is NO and DROP and DROP and NO and then kennel so I can go to the office, and then back to let him out, and NO, and DROP, and OFF. Should have called him Ivan, because everything I say is like a Russian name: Nodropoff.
And he's hungry. He could eat six cans of food a day. He could eat six cans of food per meal. And then mud. And leaves. But still cute and sweet, and funny; it's just amusing to see the little gears turn in that small head. Should I chew this rock? Why not. It's not doing anything. Well, keep at it.

"Did I submit an expense account for that book you got me from Amazon for work?" my wife asked. This was not something I could answer, not being an invisible spirit hovering over her shoulder at work. More of a rhetorical question. I said I would get her the receipt again if she needed. I will never forget the book, because it was about medical law compliance, and cost $45, which is what you charge for a book no one would possibly read unless their job required it, and would reimburse you. Nice work if you can get it.
I sent off the receipt to her email before I went to bed Sunday, and thought: this was a day of accomplishments. Wife asked for a receipt and I got it! Snap! Bingo! Right away! Let us hope this augurs well for the week.
Alas.
Today's major Thing I Did may seem small, but it's not. Needed to rename the next book. (Which is allllmost ready. Say, a Fourth of July present.) I have been turning words over in my head for days, always coming around to the same unsatisfying words in unsatisfying combinations. Newspaper novels have obvious titles you know have been used again and again. COLD TYPE. DATELINE: MURDER. STOP THE PRESSES. And so on. Then there's the Minneapolis setting, which lends itself to "water" in the title, for some reason. And there are murders! So . . . RED WATER RISING. Jeez no. RED FALLS. But it mostly takes place in bars and cars. One scene at Minnehaha Falls. There's a brief snippet of "Song of Hiawatha" in one scene, a stanza that had the phrase "Dark Behind It," but as much as I liked it A) it's meaningless, and B) Most of the Dark Stuff in the novel is pretty up-front, inasmuch as you have dead bodies right out there in the back room of the bar or in a parking lot. So no. But perhaps "Song" had something else! Let's read it.
Oh God let us not. The effect of the poem is like being stuck at a malfunctioning red light for three hours while the car next to you plays a song whose droning repetitive bass line can be heard through your rolled-up window. THUMP thump thump thump thump-thump thump thump / THUMP thump thump thump thump-thump thump thump for at least 6,000 lines without variation.
But there I stood in the Galleria shopping mall on Sunday, leaning against a wall, scanning the poem for a few words I could use. I'd gone to the mall for a two-button wall-switch. All the light switches in the house are buttons. When daughter's room was repainted a long while ago we discarded the one on the wall; didn't match. Hammered copper didn't fit a pink girl's room. Earlier that day at Home Depot with the Giant Swede I'd remembered: wife had asked me to get outlet plates to replace the ones we removed, and I believe she had asked a few years ago. Well, let us get them now. So I did.
And then remembered on the way home that she really wanted the two-button switch cover. Right? Dang. And the only place that has them is the Brass Handle. Well. After I dropped off the Giant Swede I went to the Brass Handle. It wasn't there. They'd moved it to the basement of the shopping mall, probably because people don't make impulse purchases of handles, brass or otherwise. Last time I was there I got into an argument with the clerk about Dennis Prager, because this is my odd life. Today there was a young fellow sitting alone watching soccer.
Helpful? Heavens yes. He got out the Massive Book of Hinges, Handles, Knobs and Plates, and we found a two-button number. It was three dollars and twenty-five cents and would take seven to ten days to arrive. This required writing down a nine-digit product SKU in addition to the supplier code and my phone number and my credit card number - a sequence of digits unique to this transaction, perhaps, and not duplicated again in human endeavors for hundreds of thousands of years. I left feeling good about this because I finally got the damned switch plate.
Wandered through the mall, remembering the times I came here with Gnat, when she was Gnat; we would go to the toy store, full of Real Honest Toys made of wood and designed to Encourage Young Minds; what I remember most, aside from playing with Thomas the Tank Engine sets on display and explaining how Sir Toppemhat was a caricature of a capitalist enslaving sentient beings to facilitate the movement of industrial products, was how she always managed to fill a Pamper back in the Groovy Girls section.
It's the rich mall. All the stores are boutiques. Everything costs more than you want to spend unless you're filthy with it, in which case you pile it on the counter before you adjust your sunglasses and trot out to the Yukon. There's a Barnes and Noble, and I remember the times I took my books to the HELP counter and signed them. I remember the time I led a book discussion with some nice ladies who were delighted to have a real author talk about books. I'd assigned the text a month in advance. Imagine my horror when I showed up and saw nice suburban ladies of a certain age, wan smiles on their faces, copies of A CLOCKWORK ORANGE in their laps.
Anyway. I went home and that was the end of Sunday, for the out-in-the-world portion. We sat around outside waiting for rain, because rain was due. No rain came. At the end of the night I went up to say good night to daughter, who was packing for her cabin trip. Scout was on the floor chewing on a plush toy Daughter won at the fair. Oh so cute, especially the part where he's trying to eat the eyeballs. Scout saw me come in and stood and lifted up a paw in greeting, as he does; it's just precious. Gave him a hug and a smooch, which he accepted graciously. No open-maw happy panting on this fellow; he has the disposition of a hound.
Should have called him Blue. That was the old hound on "Lum and Abner." I think he lived 30 years. It takes a while to realize that the "old fellows at the Jot 'em Down Store" were old fellows when the show began in the 30s, and probably aged about four years in the course of the decades.
On the way out of her room I looked at the switch plate, thinking "wife will be happy to see I finally got it."
There was a two-button plate already on the wall.
I have no memory of that.
Earlier tonight my wife said she had, indeed, submitted the expense account for that book.
"I just have no memory of it," she said.
I nodded. I know how that goes.


Our weekly look at ads, labels, products, displays, and other disconnected piece of commercial culture detritus. If we're lucky, we have a . . .
WEEKLY BORDEN
One of my my favorites - simply for the contrast between Elsie's eternally cheerful monomania, and Elmer's utter collapse into the dark realization of the abyss beneath the glistening surface of existence.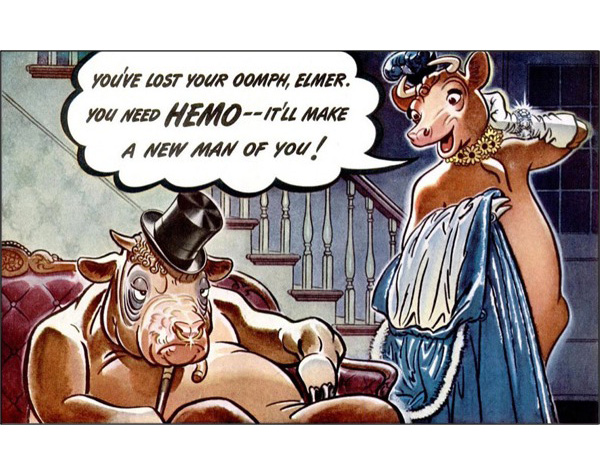 As I've noted, Elmer vanished from the ads once Elsie set him up in the glue business. Elsie and the family were reduced to puppets before she returned to illustrated form. By 1963 a certain baroque style had taken over the ice cream, and while it's certainly indicative of the era, it's . . . well, it's certainly indicative of the era.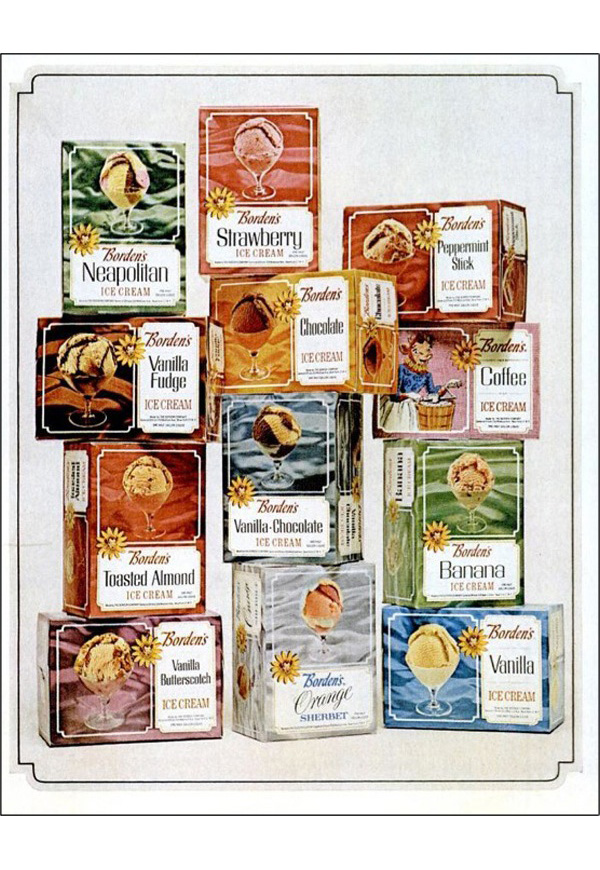 How could a fella make a brand block with such differentiation in the front of the carton?

THE MYSTERY DUO
The ad made me look twice because of the people on the rocket. Most of the classic Rocket 88 ads look like this: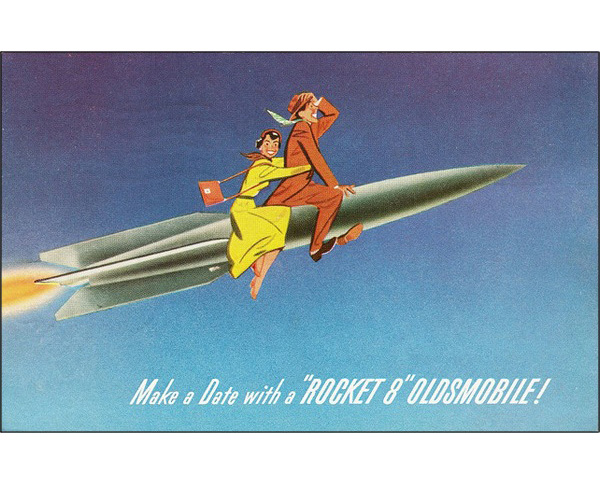 But these people look different.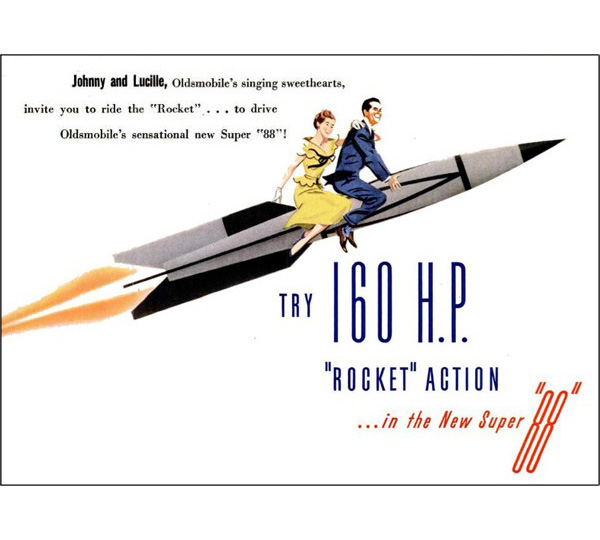 Johnny and Lucille, eh? Well, of course. It goes back to 1905, to the song "In my Merry Oldsmobile, which featured a fellow named Johnny who was a'sparkin' for a lass named Lucille. Here's the tune played on a remarkable piece of old tech; here's the 1932 Fleischer studios cartoon based on the song; and here's a commercial - in which we learn that they did, indeed, ride the rocket. Bonus: Mel Torme.


I love that very much. In 1951 they did a 30-minute advertising comedy, in which Johnny intercepts a signal from . . . Mars, and discovers that Martians are going into infiltrate an Oldsmobile plant.


Just wait until you find out the completely logical explanation at the end. At least the journalist has the right idea about future economic prospects.
(You can probably skip from the first few minutes to the last. In fact I recommend it.)
But who were Johnny and Lucille?
I've no idea. It's possible - likely, really - they were interchangeable, and new ones were swapped in as the old ones degraded, aged, or were caught in reefer busts.
LANOLIN
Was there a Charles Antell? The answer may surprise you!


If you have an less-than- elementary grasp of ad culture, that is. The name was invented by "an Atlantic City pitchman named Leonard Rosen" and two other fellows, and they named it Charles Antell's Formula 9, suggesting constant, obsessive improvement. The company is credited with the first informercial on TV in 1950, a fifteen-minute long discussion of the features and benefits of lanolin.

It was not given by Charles Antell, which may have been people's first clue.

WHO?
As long as we're on mysterious stars of yore: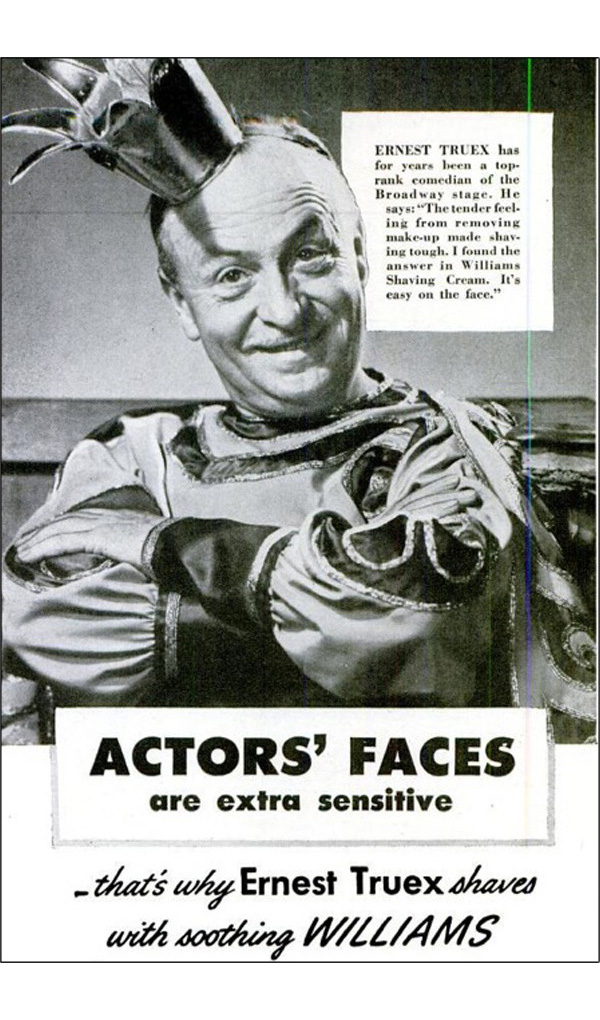 A long career with odd highlights: Early in television, Truex guest starred on CBS's Faye Emerson's Wonderful Town. From 1953 to 1954, he co-starred with a young Brandon deWilde in Jamie on ABC. He played aging Grandpa McHummer striking a bond with young Jamie, his recently orphaned grandson." Or: "In 1960, Truex appeared with Harpo Marx in the episode "Silent Panic" of CBS's anthology series The DuPont Show with June Allyson. He guest starred on the CBS sitcom, Dennis the Menace, with Jay North in the series lead."
He had a son, who followethon his footsteps:
Philip Truex's most famous performance is the title role in Alfred Hitchcock's The Trouble with Harry as Harry, the corpse dragged all over the countryside by several other characters in this film.
You can still buy Williams Shave Cream. and there's even a YouTube video devoted to telling you how to lather with it. Then again, the phrase "there's probably a video on YouTube about (x)" is not a rather discriminating assertion.
MAKERS OF FINE PRINTED PLASTICS
Doughboys are Fortiplyed!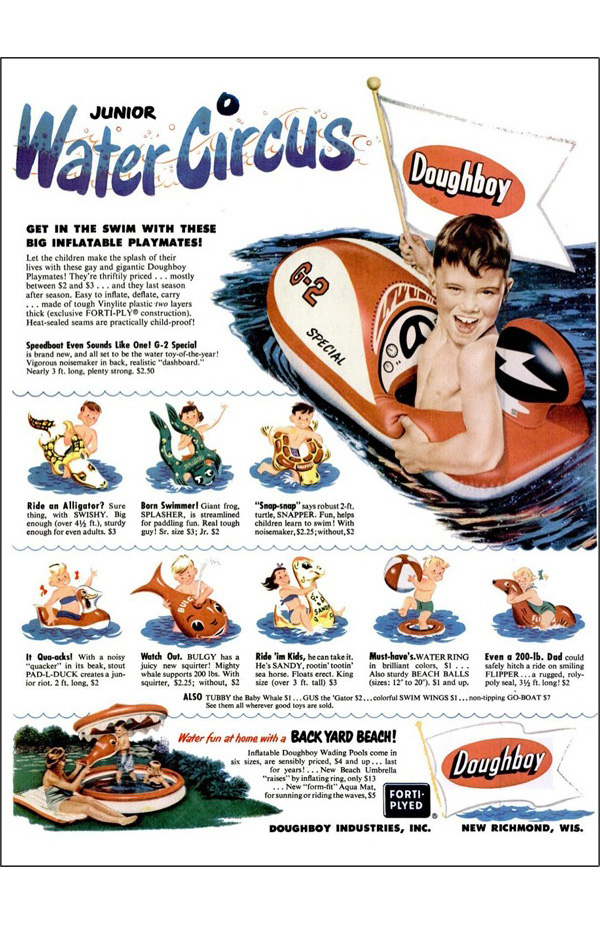 Gosh, I wonder what happened to them? Maybe there's something at doughboy-pools.com. Says the website:
During World War II Domain Industries, through its packaging machinery operation, perfected rubber sealing and won the Army contract to seal K-rations. K-rations were a "meal in a can" carried by United States soldiers during battle. During World War II, the United States soldiers were known as Doughboys.
Well, not really. That was more of a WW1 term. GI and Dogface and the like in dubya-dubya 2, but not much in the way of Doughboyism.
In 1947, Domain Industries formally named their packaging machinery operation the Doughboy Plastics Division. Doughboy Plastics Division was created specifically to enter the outdoor family entertainment market by manufacturing inflatable splasher pools, toys, and beach balls. Years later, they changed the name to Doughboy Recreational.
But there's more to the story. Bosch industries - yes, the big company - starts from the beginning, where a flour mill on the Willow River in New Richmond WI incorporated in 1889 and did very well for itself:
Over the next several decades it diversified into assorted grain related ventures. 

In the late 1930s it began producing and selling  puffed wheat and rice cereal. The cellophane bags of cereal were sealed with heated flat irons but the seals were of poor quality.  Ed Cashman, president of the company, now called Doughboy Industries and later Doboy, presented the challenge to two of his millwrights who put their ideas together and designed a rotary sealer.

Word quickly spread in the industry about how effective these machines were for sealing cellophane and soon calls were coming into Doughboy inquiring about them.   They started to manufacture and market the sealer in the early 1940s and in 1946 produced their first band sealer, a success that springboarded Doboy firmly into the packaging machinery business. 
Wonder what the millwrights got.
FINALLY: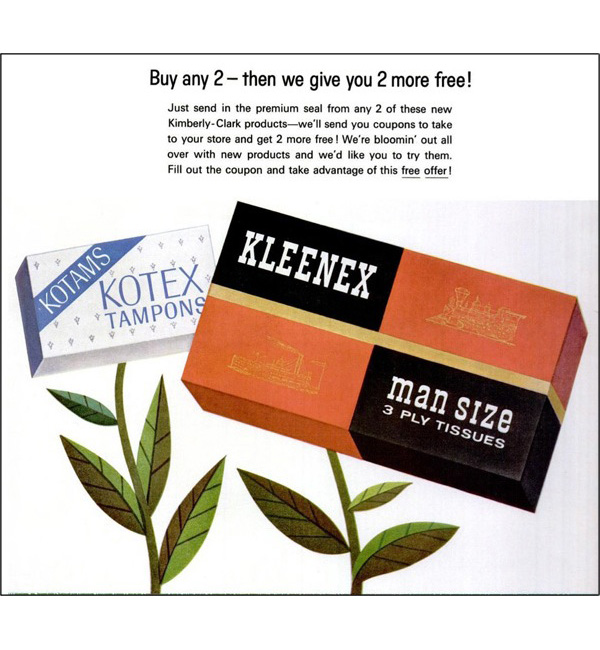 MAN SIZED FOR MAN-SIZED LIQUID ISSUES.



Work blog around 12:30, Tumblr around noonish or so - see you then! And of course, Richie Rich.