This is why people in retail hate people in general with a dull aching throb and people in particular with bright serrated rage: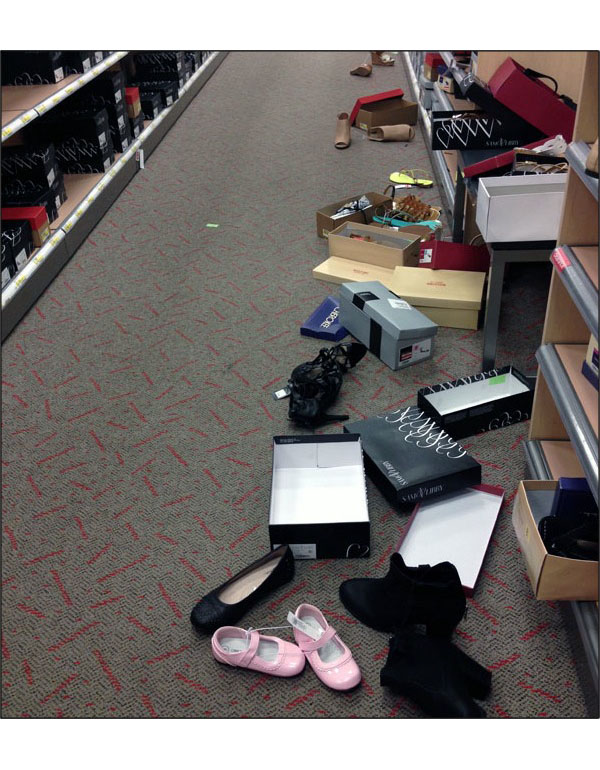 What's the common theme here? Someone will clean up. And why? Because it's their job. That's what they have to do, right? They have to straighten and put stuff away. So why should the customer help?
Daughter and I went to Target after a trip to the mall for dinner; I cashed him my Free Entree coupon I got for giving the new Mexican place a rather dispirited review. (It was better this time.) After a blitzkrieg of Target we hit the highway and she put on one of her favorite songs, and because we were on the highway and it was summer I cranked the windows down and cranked the music up, and we flew along on the best Thursday night of a month that started cool and dim and ended bright and warm.
Thinking, thinking: please, remember this, child. I will, but the point of a relay race isn't holding the baton. It's passing it.

Any concerns about low-energy pup were abandoned today - well, last night, around 2 AM. Scout has clicked into FPM, or Full Puppy Mode, running and chewing and playing and doing everything you'd expect, except barking. He buried a bone today, as if subscribing to some archetypal concept of expected dog behavior he got from old cartoons.
We went to the vet today, a long hot walk that had many perils and delights - including an entire class of high school science kids down by the creek who wanted to pet him and ooh and coo and ask what he was. Don't know; Shep, lap, Louisiana Porch Hound, we'll see. He has the same vet Jasper had, and they were glad to see we'd finally brought in a new dog. They were amazed when I put him on the scale and said "sit" and he sat. More impressive: when I was putting on my shoes to take him to the vet, he walked into his kennel at sat down.
After one day.
Well, you don't want to read too much into these things; everyone thinks their dog is So Smart, as if that's a personal accomplishment. I wonder sometimes whether dumber dogs are happier; the world has so many more mysteries and surprises. A little learning is a confusing thing.
But: yaaawwwn, on my part; I was up until two wearing him out so he would sleep long enough to let daughter get some rest. There are worse tasks in life than playing with a dog in the wee hours.
It's different with the second dog. The first time it's all new, every bit of it, and if you don't have a kid yet, all that stuff gets poured into the small furry vessel. A lot of time has passed since I walked out into the world with a puppy, or had to wonder what he was chewing, or digging, or ingesting.
It's you who aged. The dog? He just got here.

Faces of Judge Judy update: The woman in the back has disappeared, but there was on last appearance, looking sadly off to the side.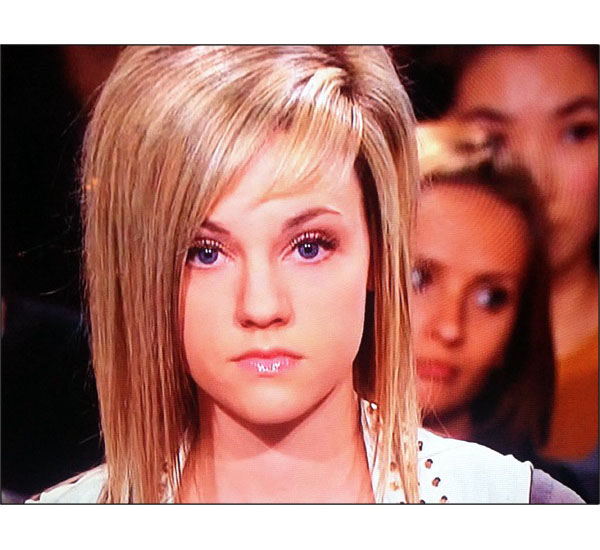 It was an interesting episode, because they fired up the Time Machine to extradite the plaintiffs from 1968:

BIOSHOCK UPDATE: While the game loads, you get this: "Solace," by Scott Joplin. Heard it every day for a month and I never tired of it.





Now, this week's batch of "Couple Next Door" cues, taken - I believe - from the depthless CBS EZ Cue music library. The story continues to explore Italy this week, from Venice to Pisa and south. They've been in Europe for two months, and I was relieved to hear them mention the baby back home. Poor Bobby probably wished he was born after Episode 700.

| | |
| --- | --- |
| | CND Cue #417 This sounds fun to play. |

| | |
| --- | --- |
| | CND Cue #418 Apparently harmonica = Italy. |

| | |
| --- | --- |
| | CND Cue #419 This is more like it; moon-a hits your eye-a, etc. Squeezebox and soppy emotion. |

| | |
| --- | --- |
| | CND Cue #420 Accordion does = Italy. |

CND Cue #421 I left in Galen Drake's commercial conclusion and Aunt Effie's exclamation just to make it surreal. Maybe it's not; maybe we're so used to the flow of commercials and music and stories that we know exactly what's going on here: ad, musical introduction, and cue the actor.

Outside of this culture, or in another time, the sequence would not be intuitively grasped.

| | |
| --- | --- |
| | CND Cue #422 When you're buying your transitional music by the yard. |
More X-Minus 1. As I mentioned before, I was first introduced to Old-Time Radio through a Sunday night broadcast on DC public radio, and I had a crude digitizer I held up to the radio to get clips. I carried them around from computer to computer for decades, never knowing what to do with them. (For a brief time there was a site here called Audio Lint, where the clips were available as .wavs.) It's always amusing to hear something in context again, and recall how long the notes were sitting on various hard drives from place to place. But that was before the internet.
| | |
| --- | --- |
| | X-Minus 1 Cue #18 I wouldn't be surprised to learn this was the work of someone who went on to write for Star Trek - the timbre, the horns, the woodwinds all fit. |

| | |
| --- | --- |
| | X-Minus 1 Cue #19 As late as 1958 you could still hear unabashed and unalloyed sentimentality of 40s soundtracks - although it's used in this case for a futuristic dating service that's "Fully Transistorized." |

| | |
| --- | --- |
| | X-Minus 1 Cue #20 Out for a jaunty walk in the countryside? Here's what you wish was playing in the air, somehow. |

| | |
| --- | --- |
| | X-Minus 1 Cue #21 If the composer learned this had been used for a script about giant mosquitos - and it wasn't - he might have been pleased, if not amused. |

| | |
| --- | --- |
| | X-Minus 1 Cue #22 It's the attack of the Killer Comically Raised Eyebrows! |

| | |
| --- | --- |
| | X-Minus 1 Cue #23 More of the classic X-Minus 1 Mocking wah-wah-wah I first sampled twenty years ago. Back then I'd never heard it used without irony. This was the real thing, right here! |

| | |
| --- | --- |
| | X-Minus 1 Cue #24 Rarely has "going to see my lawyer" been such a strenuous endeavor. |

| | |
| --- | --- |
| | X-Minus 1 Cue #25 Another one of the cues I sampled; I used to use the very end in a program that used sounds to indicate the hours and quarter-hours. This was the bottom of the hour. |

X-Minus 1 Cue #26

We end the week with a scurry of blurry strings, and a revelation: I've heard this one on the Couple Next Door, a CBS show. I just realize that X-Minus 1 was an NBC show. So not everything from CND came from the EZ Cue Library.

If anything did.



This CBS promo includes a bit of the announcer's introduction, mostly because the author he cites was an author at the newspaper where I work.
| | |
| --- | --- |
| | Red Foley. Hah there ev'ybody. |

That brings our week to a close, and I thank you for your patronage; I hope you enjoyed it as much as I did. Sorry for the scattershot nature of the last few days, but for some reason I'm a bit frayed this week.
On to June!