Remember this view, smothered with snow?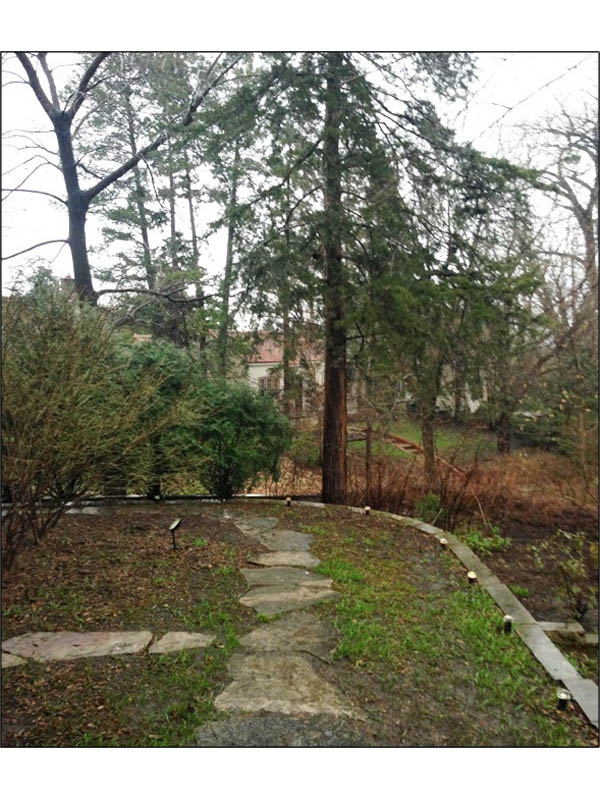 It has come back to life, as it always does, nourished by the incessant rain of the last 18 hours. I suppose a rainy cool Sunday is no particular boon when you're hungry for warmth and light, but there was something nice about getting an excuse to sit inside and do all the cozy rainy-afternoon things. In my case, watching some old movies while making or remaking websites. Nice to head into May with 100 pages done and merely waiting an upload.
Saturday errands, en route to Home Depot. Daughter:
Can we listen to another song? This is getting kinda . . . I don't know.
For some reason she hasn't insisted on control of the radio.
Hold on, I say. This is just the start of the song. (But she is right; the song is taking its time getting going.) When this came out, MTV was new, and videos were the big thing. The channel was nothing but videos. People sat around and watched music, okay? So now you have this guy singing he wants his MTV, and that's Sting, who was with the Police . . . you know, RAWKS-ANNE, right?
Oh sure. Wait that was a song?
Yes. Okay, now some drums, just be patient . . . this is a song about appliance movers who are making fun of musicians on TV but wishing they could do it and make a lot of money.
Seriously?
Seriously, child.
Then came the crunchy riff which was the strangest and most formless hook of the year, and now she's listening. I told her that this was the first big computer generated videos, and that they made fake videos that looked like real videos - so it was a video that satirized other videos but was something new at the same time.
"The guitarist was an English major and journalist who happened to be one of the greatest guitarists in England, and his band had some success before but this probably made them millionaires." She was impressed by this but probably shared the small, fleeting sorry of her father, who was an English major and a journalist.
At the proper point, of course, I howled along with the dog. "There's computer-generated dog in the video. Probably the first one of those, too."
Awww.
It was still playing when we got to the hardware store, and I said "it'll probably be playing when we get back."
We went inside to get a small cactus, because she wants some small cactuses on the windowsill. This being America, we found them in the Succulent Department. I bought some LED lightbulbs as part of the house-wide upgrade, staring with some trepidation at the line on the package that said they would last 22.8 years.
Back in the car; OMD is playing now. I said:
I was listening to this band a few years before they became popular with this song.
"I know what that's like," she said. "You want to tell everyone hey, I knew about this bad before they became popular, but no one cares."
It's cool to know other people like it, I said, but it's never for the same reasons you had when you discovered them. Or at least you tell yourself that.
And so it went for the rest of the afternoon, store to store. Had lunch at Chik-Fil-A, which she'd never been to before. The place had four registers ten deep with customers at 2 PM but the staff was still as polite as humanly possible. Daughter was impressed that they brought the food to your table. She loved the sandwich and Instagrammed the soda cup; I considered warning her that some people may take offense, this being America, but let her figure that out on her own.
Target. The closest parking spot makes the end of my vehicle hang out, because the person on the other side of the line backed into the spot. "Wait," I said to daughter. "We'll get back out here and the other car will be gone and it'll be me who looks like he didn't know how to park."
"Who cares?" she said.
Good point. So we had a conversation on the way into the store about how you should care what other people think, but not too much, but not too little. It depends what you wish to be judged for, how you don't want to do the things for which you judge others poorly. (This week's other Conversations were about Tattoos and Abortion, which are really conversations about how to argue, but that's another story.)
Remember last week, how I was so pleased to get a coupon on my phone by texting a code, only to find that the clerk scanned it from a piece of paper taped to the monitor without me even mentioning I had the coupon? This week I saw the the sign to get the coupon by texting, thought ahhh, they'll just scan it anyway - but I texted the number, got the coupon, and forget to mention it until the transaction was completed and everything was bagged. There was no way to undue the damage.
But Dale was there. Dale is the fellow who is always there; I've mentioned him before. He had a fundraiser to buy a new van to get him around (he's in a wheelchair, has cerebral palsy.) He'd stopped by the office with the information, someone had taken it and said they'd put it on my desk. I never got it. I felt bad about this but there's another coming up. Anyway, he motors up and the clerk asks how to deal with this coupon situation, and he gives her the codes to give me cash. Cash! It seems indecent, somehow, these days. I'm so used to never using cash it's a rare day I have change in my pocket.
She gives me the five, and for a moment I consider just giving it to Dale and telling him to add it to the kitty, but I'm sure they have cameras trained and that would have looked very, very bad.
We get outside, and sure enough, the other car is gone, and my car is hanging into the lane, and I look like an idiot. This could possibly be another Conversation point: if someone does ill to you, it might be because someone did ill to them, long before you came along, and you'll never know . . . nah. Or: sometimes you can look at the way things are and detect an absence that shaped the present, the way a sidewalk has a curve to accommodate a tree trunk long dug up . . . nah.
Back in the car. We went to her channel and found a song we both liked and turned it up loud and hit the highway . . .
. . . which was empty. On Saturday afternoon. And by empty I mean there were no other cars, at all. Construction had shut it down up the line, and we hit it where it opened.
She thought this was cool, all those empty lanes. "INSTAGRAM THIS!" I said. Right right right. She got a picture of the empty highway. "NO FILTERS! POST IT RAW!"
Dad. Please.
"We are now entering Minneapolis," she said as we swept past the Population sign.
"Greatest city in America!"
"Yeah!"
"You don't really think that. But one day you're going to realize how wonderful a place you had to grow up in."
I think she knows that now; there will come the inevitable denial, and desire for new places. But eventually you remember how good it was.
Did I mention I worked on a lot of websites this weekend? Got a good start on the Fargo overhaul.



Not a review, but a look at the faces and locales and cultural references of the era. The last movie of its type from the 30s - you know, the carefree, devil-may-care Thirties.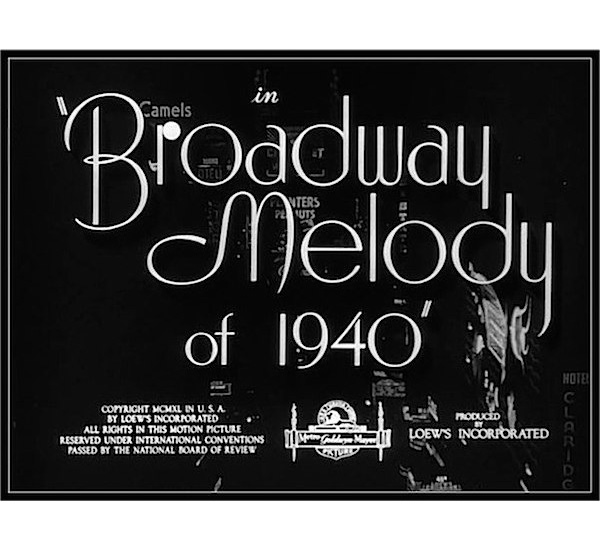 Perhaps the 30s looked a bit better from the perspective of the early 40s; I don't know. Perhaps audiences in 1939 felt that certain thrill you got when the calendar turned over and gave you a new decade; all of a sudden you were living in the future.
The opening credits play the "Broadway Melody" song you'd hear later in "Singin' in the Rain," raising hopes someone would sing it. No one does. But there's Professor Marvel straight away for comic relief: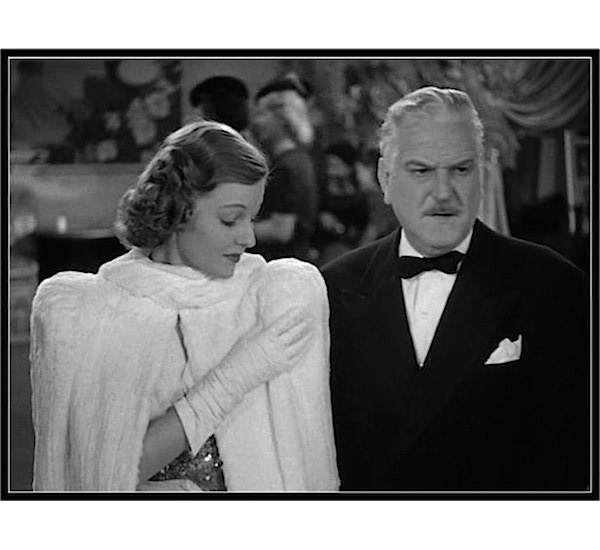 The plot concerns - oh, who cares. Let's dance on an emormous set: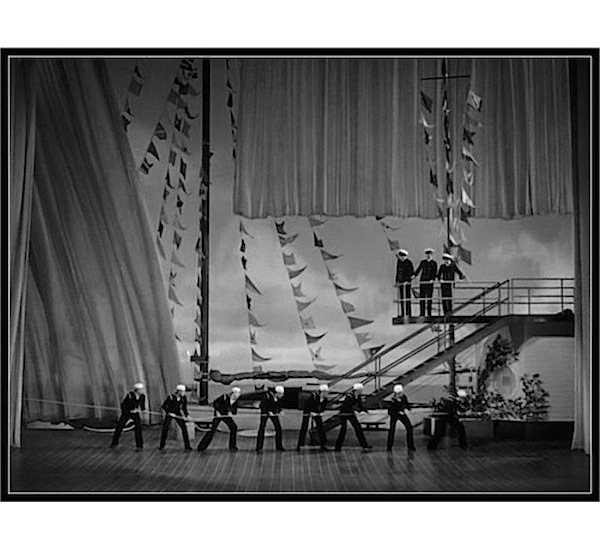 We meet the Girl: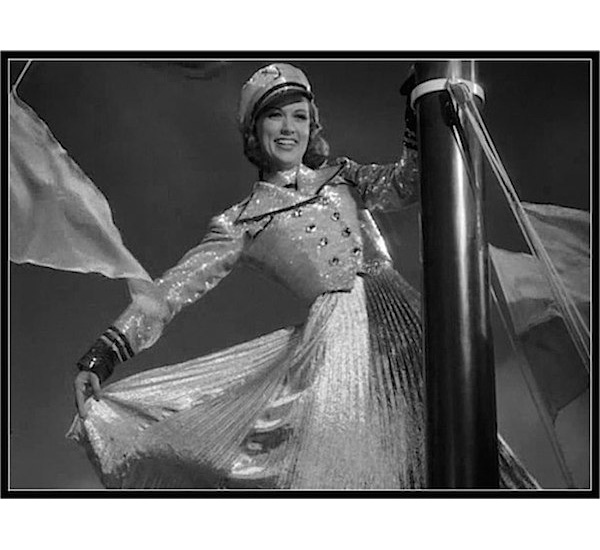 Eleanor Powell? Eleanor Pole:


She's something.


Later, in a talent agent's waiting room we meet someone you just know you're going to have to Google.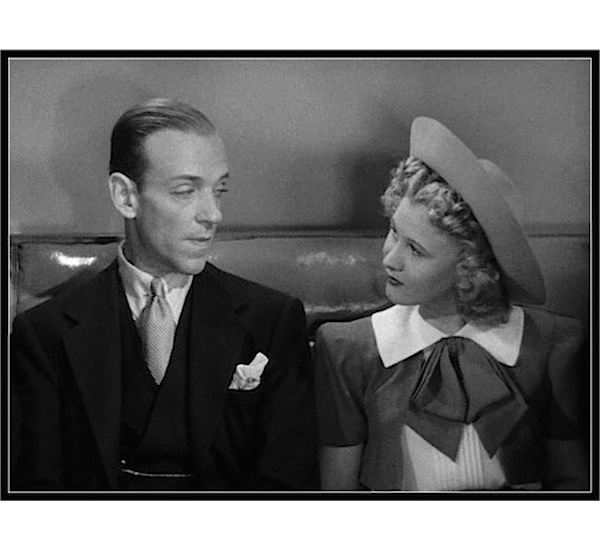 That's Trixi Firschke from Budapest.


They called her the First Lady of Juggling; hard to imagine anyone challenged her for the job. She had a stint with the Ice Capades as well, so I imagine she did all this while skating backwards, too. According to the Juggle Wiki - and there is such a thing - she received the Historical Achievement Award from the International Juggling Association. And there is such a thing.


Note: while doing additional research, I found this:
She performed a ball-on-stick balance while in a full back bend. This trick cost her her two front teeth in a smaller than usual ice arena. While skating backward with the ball balanced in the back bend position, the ice ran out and she fell over and broke her front teeth. (Luckily they now make a nerf mouth stick!) She would complete her act with a fast set of some 20 back handsprings, keeping a good grip on the ice with leather palm pads studded with metal spikes.
I was kidding about her probably doing it backwards.
It also has George Murphy as The Other Dancer who's sort-of-competing with Fred for her attentions; it's not really very romantic, since we're supposed to want her to like Fred, but he's not a compelling love interest, is he? Engaging and funny and decent but somewhat homely, no? George and Eleanor get a high-Forties dance number with an enormous set.
This frame below is why people wanted to leave the small town and go to the big city: because this wasn't a special place. This was an ordinary place there.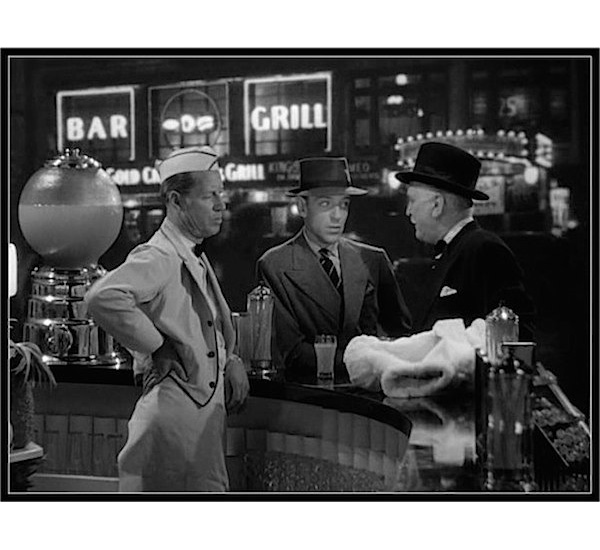 A minor character actor who appeared in literally hundreds of films, actor Irving Bacon could always be counted on for expressing bug-eyed bewilderment or cautious frustration in small-town settings with his revolving door of friendly, servile parts - mailmen, milkmen, clerks, chauffeurs, cabbies, bartenders, soda jerks, carnival operators.
Despite the problems the show had behind the scenes, by some unforeseen turn of events they pull it together by opening night. Remember: this is a musical about dancers making a musical about dancers, the usual strange nested unrealities audiences accepted without question.
Hell of a sign: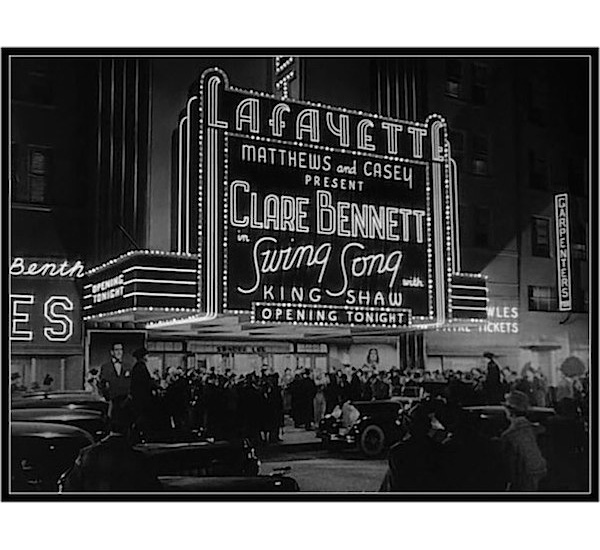 You're supposed to watch Astaire, because, well, it's Astaire - but Powell not only appears to be his match, she's really best seen on her own, as far as I'm concerned.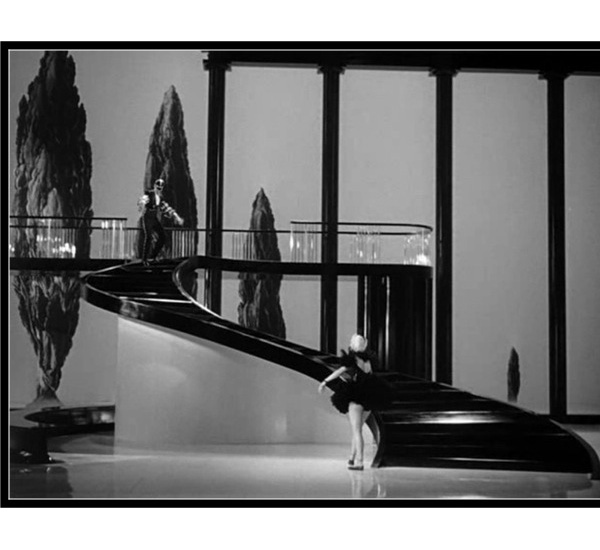 In the fantasy world of musicals, when the hero wants to make a point and go out on stage with his old buddy and his new partner / girlfriend and they run out, the orchestra not only knows the tune, the singers not only know the words, but they have a routine they've never done before, which matches the music perfectly. The end!