Did the work blog with a picture of Llightning McQueen Easter Cookies and then interviewed a man with a Beagle. Now I am writing a column. That is my work day. The evening was taken up with some duties and afterwards we went to Perkins to eat and now I am full.
Annnnd that's about it for today. Sorry; lots of work to do. But at least you can't say I've been skimping on the Bleat this week, or anything else. Hey! Here's a picture.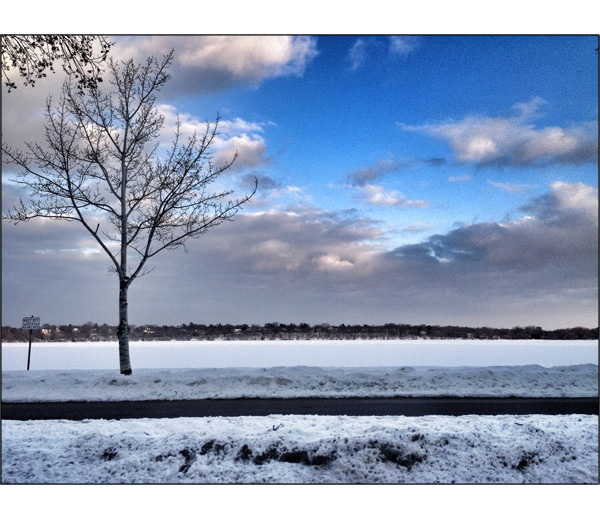 That could be February or January but it is late-middle March. It snowed last night but Thursday is supposed to have lots of Death Rays from Above to accelerate the melt.
Oh: something else I won't trouble you with, much: I was listening to an audiobook about a murder on Someplace Remote and Bleak You've Never Been To, this being the preferred thing in mysteries these days. A taciturn, dedicated, painstaking detective in a pale that's grey and cold investigates a crime, and discovers something hidden for decades. It's always that. This one takes place on an Scottish island, where the detective grew up but left as a young man. It struck me that the island is probably real, and as such, is on Google Earth. That's a given. I was surprised that I doubted whether there would be a Google Street View; of course there was. So I wandered around the town and got the feel for it, and was startled to come across a large moving fan bearing the last name of the protagonist.
Wonder if there's Google Street Views of Pompeii. But that reminds me of something I thought while walking through Pompeii: wondering why so much of their painting was so poor. It seems to be the one area in which they didn't excel. Sculpture: exquisite. Architecture: brilliant. Music? Who knows. But there's something lifeless about Roman painting -
- except for their mummy-case portraits, which suggests they not only excelled at portraiture as well, but that this work was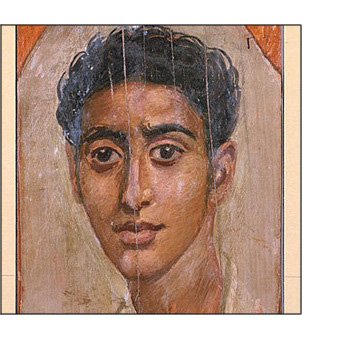 done by a different class of artists who could work fast and served the middle class / civil servants, as opposed to the monumental painters who did interiors for the upper class. I don't know. But obviously it's wrong to say they didn't know how to imbue their portraits with life.
First century CE. Astonishing.
Well, as is often my wont, I wrote a ton of stuff later in the evening, but I'll save it for tomororw so the week can end with prolix enormity. In the meantime: Main Streets and Restaurants for today, so it's not as if meagerness rules. Head on down. I wrote this on Sunday and haven't fine tuned it as much as I'd like, but I think we can all survive the horrors of inadequate architectural analysis.


Drag the little yellow Google Man across the blue lines on the map, wait for a city to appear. In this instance I found Webb City, MO. As usual, we're looking for the standards of the old small main streets: the Theater, the Bank, the Old Office Building, some mid-century modernism, Ghost Ads, and the occasional unique detail. Let's go!
It's Webb City, population almost 11,000 souls. Platted in 1875, named after the famer whoowned the land. I ended up learning more about the place than I intended; the city's history talked of an early intercity streetcar system that had its HQ in Webb City. Discontinued after the Rise of the Auto. The history said:
Legend has it that when Webb City's mayor was approached for right-of-way for the electric system, he was concerned that Webb City residents would use it to go to Joplin to do their shopping so he required the headquarters of the new system to be located in Webb City. The deal was struck and Webb City became the hub of the streetcar line, with offices, power house and car barns located on Madison Street between Broadway and Daugherty streets.
There's still some old buildings there, if you want to go Googling. This caught my eye:
This part of town soon became a second business district with cafes, grocery stores, and some light industry. Many young men, as they left for war and whose names would appear on the tablets in Memorial Park, said goodbye to their loved ones at the Frisco Station at Daugherty and Madison.
A second business district. There are some signs of old commercial activity still around, and if you didn't know the history you'd wonder why things looked as they did. There's something else, too - but I'll save that for last.
On a block in the primary business district, a structure that faces the new century with a proud face that's mostly nose: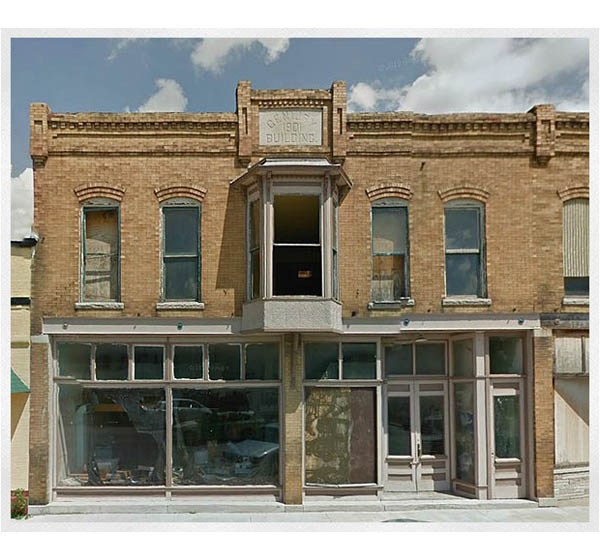 I suspect renovation has revealed the facade; seems unlikely it existed in its original state for a hundred years and change.
Is it difficult to find the movie theater? Not really.


It's still in business, although you suspect "Route 66 Theater" wasn't it's original name. Indeed, no. Cinema Treasures notes:
The theater was originally built as the Shapiro Shoe Store and in about 1952 was converted to the Dickinson Movie Theater. Dixie and Howard Larsen purchased the theater from Mr. Dickenson… Prior to being the Route 66 Movie Theater, the building was the Route 66 Music Theater which featured Branson-style music variety shows. In the 1950's, the theater was known as the Larsen Theater.
Not too many shoe stores turned into theaters. Usually it was the other way around.
The health of a downtown can often be gauged by the state (or even existence) of its downtown gas stations. If you can still read the corner as a gas station - a repurposed low-slungbuilding set back in the corner, with the layout of the bays stil obvious - then someone came along and invested in downtown. A gas station that just sits there untouched connotes a certain lingering slump. At least in this case you get to see a mid-60s station in all its glories, complete with the modern parking-lot lights: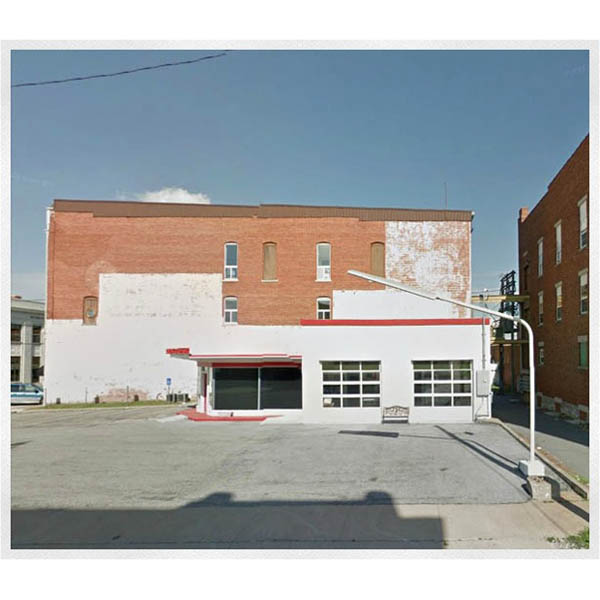 There's a reason it's left alone, though - it's the city's Route 66 Visitor Center.
Let's enhance that wall.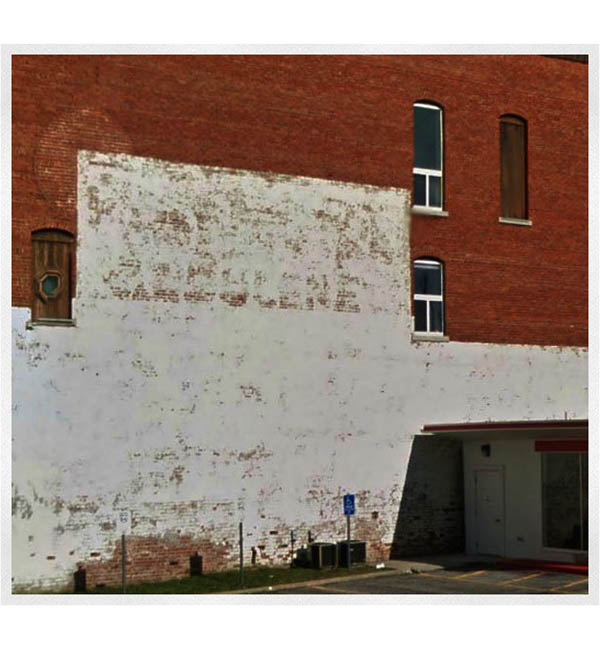 Everything else is illegible. Some other ghost ads are almost as impenetrable:


The bank? Oh, of course. Not much ornamentation, but plain and Midwestern and up-right and sober.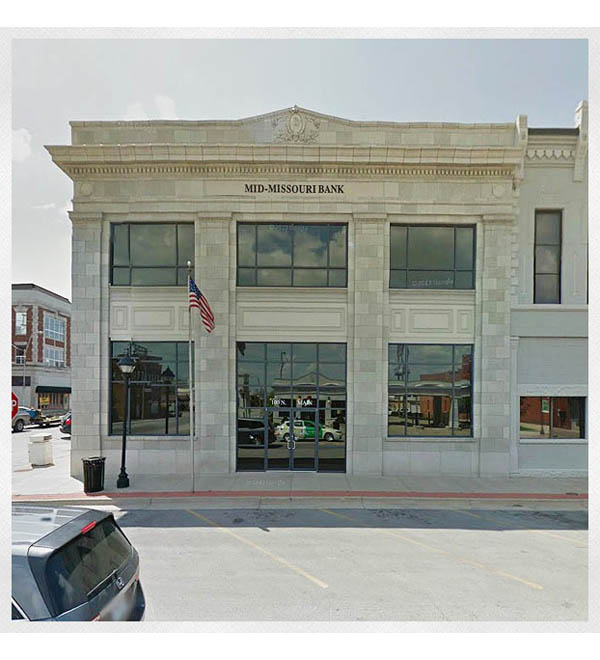 Another boarded-up second floor on a building that's escaped the hand of the 20th century entirely:

This was even more extravagant:


Finally, one that's rich with small-town history. IOOF!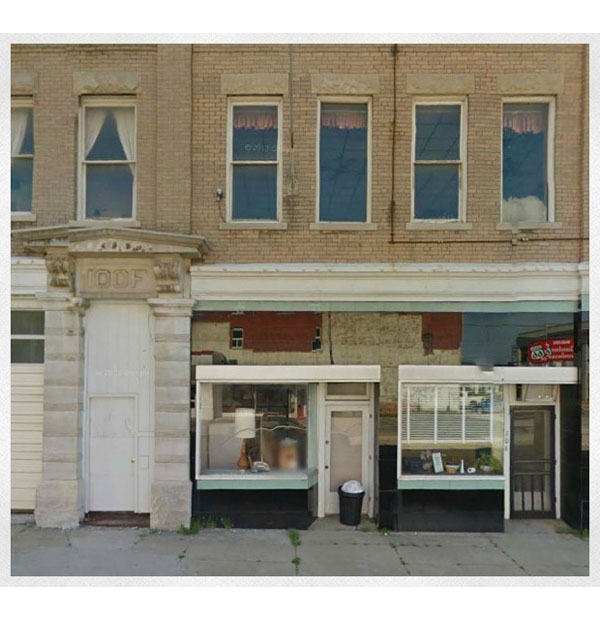 Independent Order of Odd Fellows, one of those mutual-aid societies that supplemented the charity organizations of the day - the church, and later, the state. As their history says, they
. . . came to be known as "Odd Fellows" because it was odd to find people organized for the purpose of giving aid to those in need and of pursuing projects for the benefit of all mankind. It was believed that they were "an odd bunch of fellows" who would behave in such a selfless and seemingly impractical fashion.
Next door, a 30s or 40s renovation
Back to that intercity streetcar line. When you look at the satellite view, you see a line that goes from the old sheds described above. When it crosses a street you can get a sense of its dimensions:


The rail line is defined by its absence, by what grew up around it. Hovering above you can trace its route until you lose it in Joplin.


Restaurant update, as the pane above demonstrates; Work Blog in small portion around noon-thirty or so; Tumblr, of course, every day. See you around!