Oh My God. You did not. Tell me you did not.
But I did.
You are the most annoying person in the world.
She may be right. But I was genuinely curious.
Back up: Saturday we went to Daughter's theater-class show, held in an old, old, old building on University Avenue. The sort of place invariably described as "funky!" because there's stuff all over the place and the paint is peeling and it's full of artists.
Also boasts a fine little cupcake cafe and some antique shops, one of which sells architectural salvage. Outside heaped along the street, there's items like this: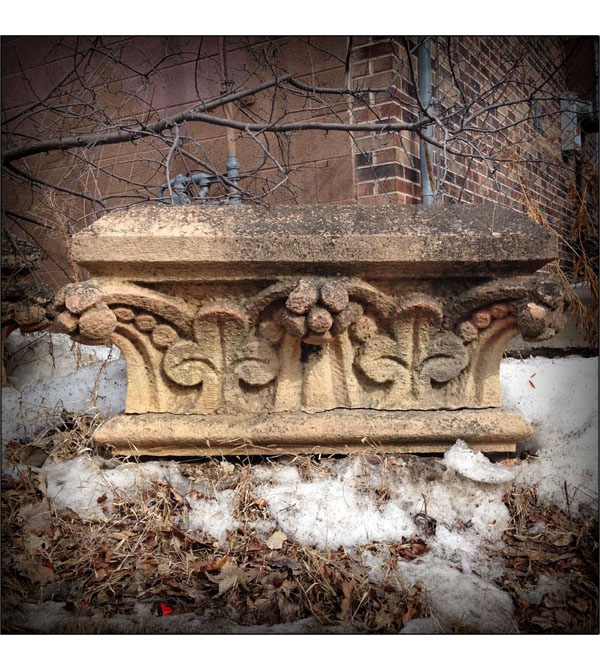 It's a neighborhood in the process of upscaling; the new light rail and proximity to the University has meant huge new apartment and condo blocks and rehabs of older structures, and while this building and its eclectic tenants are precisely the sort of thing people love to discover when they move into a city, I predict it will be gutted in three years, and the aisles of hinges and old bound volumes of newspapers and bowls of keys (five for a dollar) will be replaced by offices housing technology startups where people design new apps for sharing that marvelous funky urban experience you just had. Wherever it will be.

Light fixtures, doors, door knobs, door hinges, ceremonial chairs from churches that went modern, and so on. I admit to a fondness for the old porcelain bathroom light fixtures: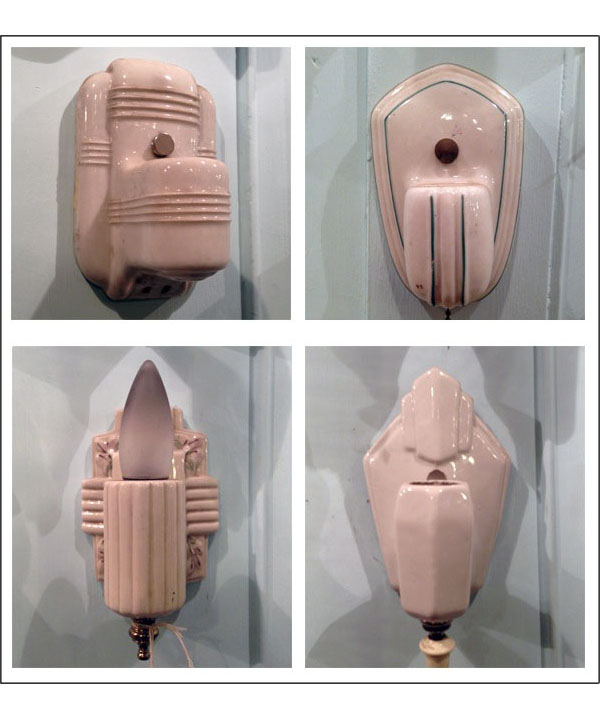 They were also shooting a movie in one of the back rooms; I got to talking with the crew - and you're thinking, is this the annoying part? Chatting up the crew? So, what type of cameras are you using? Editing in Final Cut? No. I found out it was a student product for a film festival, thought they might want a little publicity in the paper. They fetched the producer / instructor, who turned out to be an old colleague from Public TV waaay back in the 80s. So I hope to have some clips from the shot, which looked incredible. They were shooting in 4K. Hah! In my day we had 480 lines and we liked it! Bah.
But this was after the performance. My daughter did really well. And I say that because she is my daughter, of course. There were two who were better, vocally; they had the requisite brass to sell a show tune, and had that unmistakable gene that marks a performer. But MY CHILD had a winsome quality and sang the lyrics to communicate their meaning, not just hit notes and phonemes to impress. Of course I am biased.
Afterwards it was back down to the Cupcake store, which is actually named Cupcake, and then they went home and I went to do errands. Did not take the freeway, since it was backed up for about four miles when I was heading to the studio. Someone went off the road and up the hill and rolled back down, and the gendarmes had reduced traffic to one lane. The snarl stretched for miles - four lanes unmoving without hope of release. When you finally pass the end and you see cars slowing to join the queue, you feel such pity. Whatever they had planned for the next hour, it's shot. The paper said "alcohol may have been a factor," and if that's so, there was a moment when someone raised a hand and called for a drink, and that simple action would make about 3,000 people waste an hour of their life. At least.
The worst part? The line was moving, but at the absolute minimum speed required to be called "moving," and this meant that some people who'd been in the queue for an hour would nose around a corner and see the line of cars extending unto the horizon. Weddings and funerals missed, planes not caught, relatives in town for an afternoon not seen, playdates lost, ice cream by the ton melting in the trunk.

After a nice solid nap I took daughter's friends home, and then we stopped at a new neighborhood joint that serves fish and chips. And nothing else. Well, chicken. Brand new, very popular, lines at the cash register, a wait for your food. (Which was fine. Limp fries, which are avoidable and hence unforgivable.) Daughter was showing me some videos she made with her friends while they made cupcakes.
"You're shooting it vertical."
"I know I know. It's just - whatever, it doesn't matter."
"It does. Don't. Shoot. Vertical. Video. They were shooting at movie at the antique store next to the Cupcake place, and do you think they crammed all the action into a space that looked like a doorway?"
"Dad it's just a group chat video."
Sigh. I try to get her to save these things, and possibly she does. She came into my studio last night and asked what exciting thing I was doing now - scanning matchbooks or arranging things in folders? Well, got me there. Anyway:
"There was a lady next to me at your performance who was shooting the dance number in vertical video, and when it was all over I asked her why she did that."
"You didn't.
Oh but I did. I was genuinely curious. You go to the movies; they're not shot that way. You watch TV, it's not shot that way. You have a room full of kids dancing, and you hold the camera so you only get a slice of the action. I was genuinely curious, so I asked: Why do you hold the camera that way, instead of this way?
And she said:
"Because I'm stupid." She laughed. "I don't know what I'm doing. My husband usually takes these."
So I showed her how, if you tilt the phone sideways, it gives you a picture that gets more information and looks right.
"Oh My God. You did not. Tell me you did not."
But I did.
"You are the most annoying person in the world."
Well. It's a big world. I'd like to think I have some competition.
Another image from the stark middle of a cold March. right by the cupcake place where they were shooting a movie by the old porcelain bathroom lighting fixtures: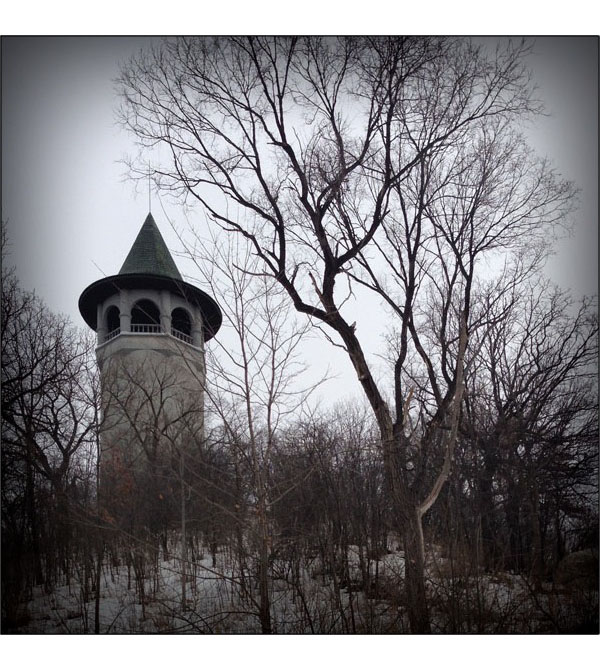 It never looks less than haunted on the brightest of summer days.




The war's on - and it swings!
She's a gal with a dream, a receptionist at a radio station who dreams of having her own show.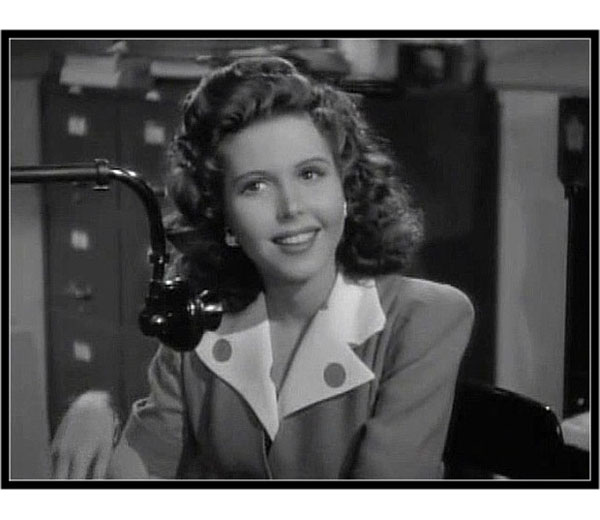 The last role this woman did was in a David Lynch movie. Ann Miller. As all-American as is humanly possible. When someone gets sick on the air, she has to read a commercial. Remember: this is the dominant popular medium, so shots like this were like movies about the HQ of major websites.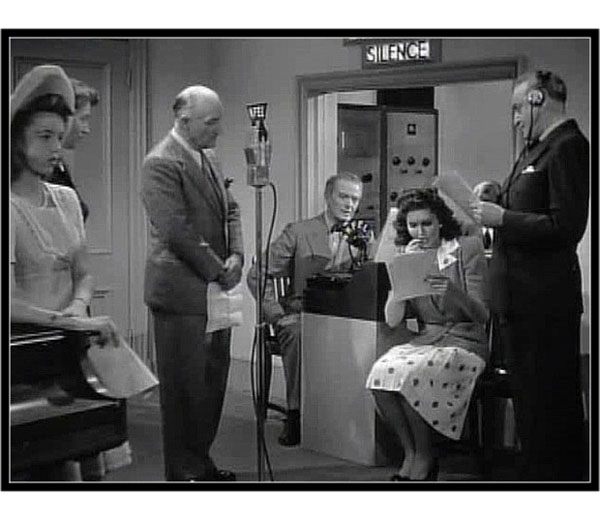 On the wall, one of those things that reminds you how times - literally - changed for the duration: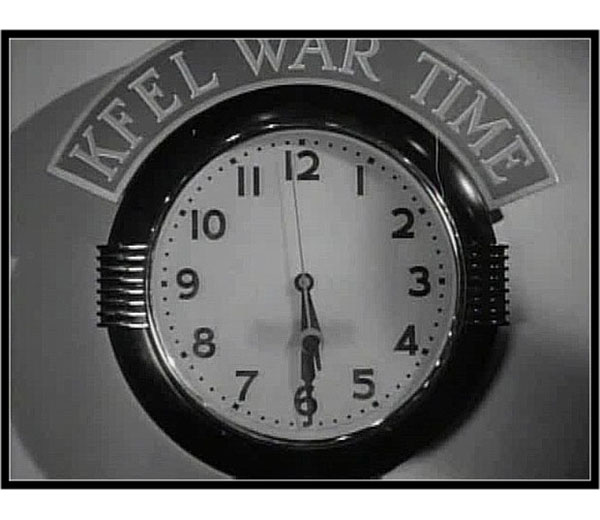 That was year-round Daylight Savings Time.
Once she's on the air, she finagles her way to sitting in for the stuffed-shirt who bores everyone with his morning classical musical show. Strictly from boredom, jack. She's an instant hit! Men on their way to report for enlistment tune her in: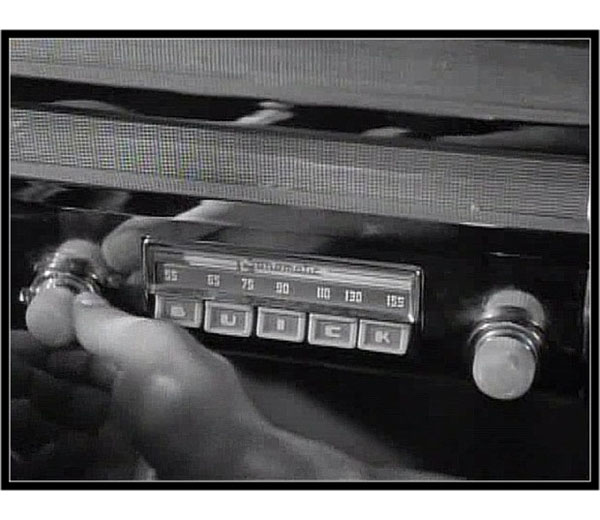 That's a Sonomatic. By the way, the car is driven by a chauffeur taking his boss to report for duty. They give a ride to a soldier . . . who's Beverly's brother! Of course. The boss and the chauffeur make a bet that the slick gal on the radio is probably old and ugly.
The boss, of course, is also the radio station's big sponsor. Oh, and the chauffeur is also reporting for duty. Oh, and they both meet Beverly through the brother, but there's merry confusion about which one's rich and which one's not. They both fall in love with Beverly. Who cares? There's this: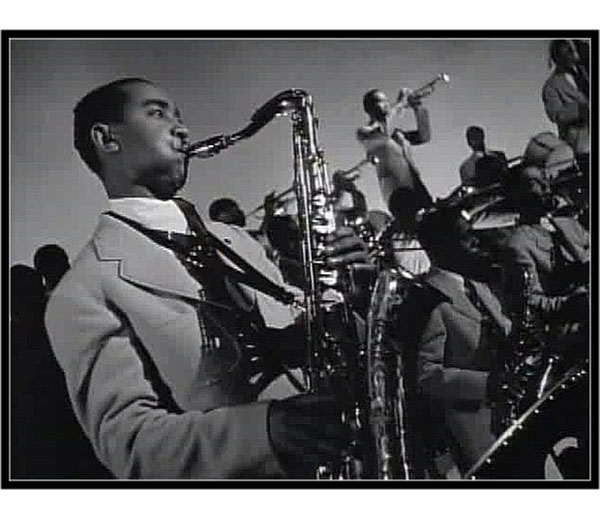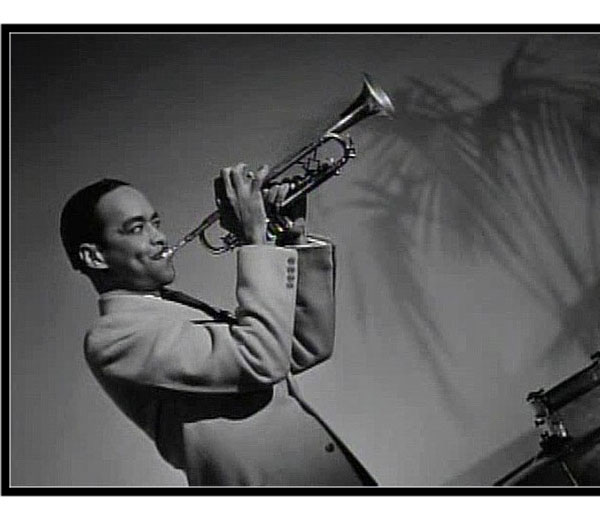 It's just the best.


The movie isn't overloaded with Patriotica, but there's lots of this:
You can compare the camera angle - the Hero Shot - to the work of Fascist and Communist filmmakers, but really, it's an obvious angle. And there's joy in these shots; he's playing Reveille, sure, but he's hep.
It ends with a variety show that suggests a small budget, and includes an act called "The Radio Rogues." They impersonated famous radio acts. The entire act, I think, would be met with stony incomprehension today. This made me smile:


That's a horrible Lum & Abner.
All pretense that Beverly is just a wonderful small-town gal who wants to spin hot platters is dropped with the final routine. Three minutes and change: this is as militarized as American popular culture ever got. And there was nothing abnormal about it at the time.


Work blog at noon and Tumblr too; don't forget the Matchbook update. See you around!