As predicted, I accomplished the absolute opposite of what I did yesterday. No, that's not right; that would mean I undid everything, which is impossible in some respects. You can't unring a bell and you can't unscan a page. You can destroy the image, but the fact that it was scanned, the action itself, cannot be undone.
Also, I didn't feel well. A rare day of just . . . blurgh. Probably my own fault, because I stayed up too late working on the novel and such and just didn't have enough in the tank when I got up. I'm not talking one of those days when you're in low gear. I'm talking "not getting out of the garage." At least I fixed 5,000 words of the novel - not individually, of course. A big nightmare chunk was repaired and the stupidest plot coincidence ever was fixed.
Now I am full of lobster ravioli and bread and things are looking up. Also, my devices have iOS7 now after a day of frustration. It's not that you can't get in right away, or that the servers were overwhelmed, or installs were incomplete; these things happen. It was the fact that you had to keep trying over and over again. and by "had to" I mean "made a conscious decision not to wait a day."
I much prefer the new look. I hated the apps-that-looked-like-real-things, which were a reminder that Jobs had some terrible lapses in taste, and the shiny jeweled icons had come to look gaudy and predictable, with the same reflective detail on each. I don't look like 2007; don't expect my phone should, either.
This was the first comment on a site that had some news about the new operating system. Someone decided this would be an interesting thing for others to read, a valuable addition to the ongoing conversation.

Nine people liked it, bringing the number of confirmed idiots on the site to 10. He begins with nonsense ("whats new in that?), gives us that new invention, the truncated ellipses (..) drops in something incomprehensible ("save yourselves from few clicking") and tells one of the most profitable companies in the history of mankind to "wake up."
I mention this because it's possible the next comment, or the one after that, was something useful, written by an adult. What some people love about the internet - a free-for-all, where every voice is equal, living alongside its betters and lessers! - it what makes certain topics unreadable and useless. It's like having a class on microbiology where the 12-year-old "jeff_1" says his piece before the professor and talks about how it's cool that things are small but hey if you cant see them ..why bother

Some things from the screengrab folder. Add this to the list of things that make you back out and cancel and uninstall. I was trying to sign in with Twitter. Well:
Post tweets for me? Are you people insane?
A big ad from 1958, making the essential connection between your favorite shows and the products you know and trust. This was the actual grocery store display.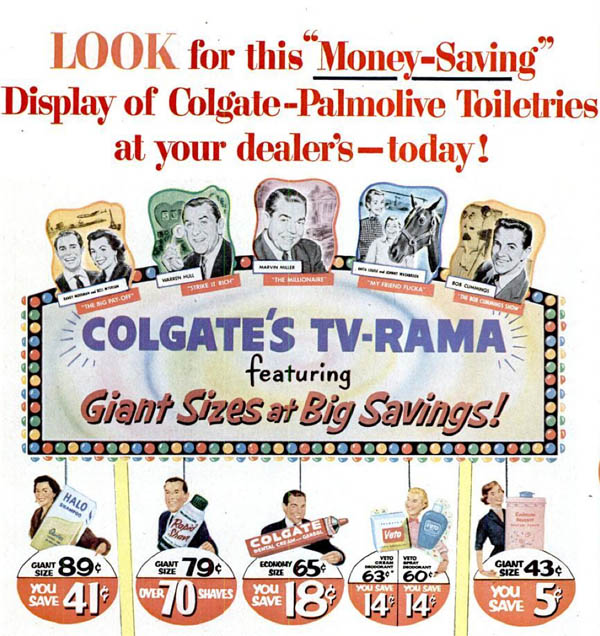 I just love it, and not just for the completely sincere use of the -rama suffix. In case you're curious:
"Back-formation from English panorama and cyclorama, and thus from Ancient Greek ὅρᾱμᾰ (horāma, "sight", "spectacle") and ultimately Proto-Indo-European *wer-, meaning to perceive or look out for.
Got it. Let's look at those stars. The top tier: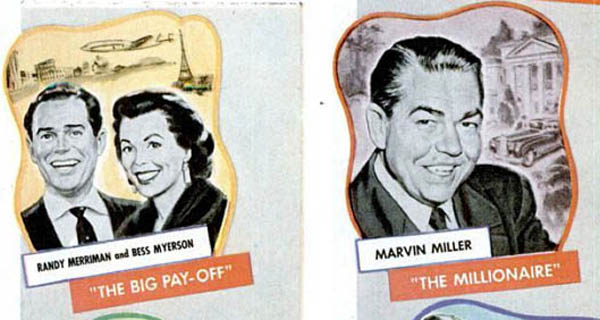 Bess Myerson needs no introduction. (Note the plane, Eiffel Towel, Roman ruins: the Big Pay-Off was a trip to Europe.) Randy Merriman is a member of the Twin Cities Broadcasting Hall of Fame.
In 1951 he ushered in the network TV quiz show era, starring on "The Big Payoff" with former Miss America Bess Myerson, televised nationally on NBC and later CBS. He returned to Minnesota in 1958 and joined WCCO Minneapolis/Saint Paul, hosting radio and television shows including "Honest to Goodness" with Dick Chapman and "Fan in the Stands" before Minnesota Twins baseball games.
You can hear an excerpt of the TV show here.
Marvin Miller, as we've noted here before, is one of those guys whose work everyone knows, but no one knows him. He was the voice of Robby the Robot in "Forbidden Planet." One credit in a long line of accomplishments, including a long run as the announcer on "The Whistler." . "The Millionaire" was an anthology show about a man who gave strangers a million dollars. Miller was the employee who handed out the money. We never saw the rich guy, just heard his voice: Paul Frees.
Marvin Miller died of a heart attack at the ageof 71.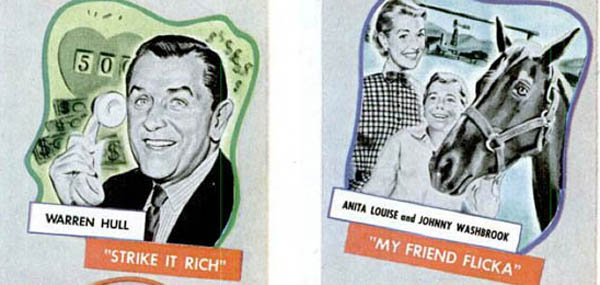 Wikipedia:
Strike It Rich was a controversial game show that aired on American radio and television from 1947 to 1958 on CBS and NBC. People in need of money (such as for medical treatment or a destitute family) appeared and told their tale of woe, then tried to win money by answering four relatively easy questions. Each player would be given $30 and bet any of their bankroll on answering each question after being given the category. If the contestant didn't win any money, the emcee opened the "Heart Line", which was a phone line to viewers who wished to donate to the contestant's family.
People facing dire times would pack up and drive to New York in the hopes of being on the show.
Warren Hull was a well-known announcer and quiz-show host, but he was also an actor in adventure serials in the 30s. That's like Christian Bale showing up as a game-show host 17 years after he was done with Batman. Could happen, I suppose.
Warren Hull also died of a heart attack at 71.
As for the horse show, I was never interested in horse shoes. The kid left show business and went into banking. The mother was Anita Louise, who knew something about child acting: she started at 6, and did her first film at the age of 7.
Unknown: the name of the designer of the grocery store display. It's way past time for ad agencies to start digitizing their archives and company histories and putting them up as a cultural resources.
Also, so jeff_1 has something else that confuses him because he has no context but it's old look at there hair lol
---
New Restaurant exteriors today, and not many sites can say that. Tumblr and Strib Blog. Have a grand day!