Do you have good taste? It's easy to tell. One of these items appeals to people with good taste; one of them appeals to people with poor taste. Experts say so! Make your choice, and we'll reveal the answer at the end.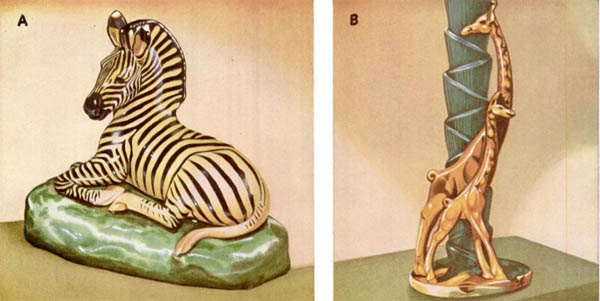 -----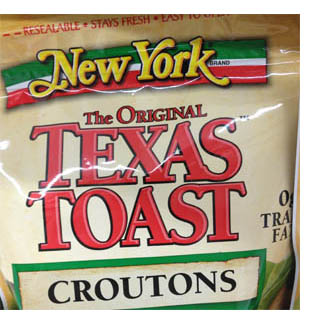 Something I saw in the grocery store the other day; seems apt for Product Tuesday. Most people laugh right away when they see it.
So surely the people at the company laughed, and heard others laugh, and everyone was laughing, and then after they'd wiped away their tears they told the factories to start churning it out.
Let's start with the basic, obvious contradiction. You cannot have New York Texas Toast. There is no such thing as New York style Texas Toast, either. One could argue that "Texas" here is not a regional reference, but rather a measure of thickness. It's generally agreed that "Texas Toast" is known as such because of the lingering cultural preconception of Texas as a place of outsized things. Even Texas Toast in the store isn't toasted; it's sold pre-toasted, but you're guaranteed Texas dimensions.
It does make you wonder, standing in the aisle, whether there's any Texas connection at all, so you call it up on your phone. Turns out there are two Texas claimants to the bread. Additional research reveals that the New York Texas Toast company is in Cleveland OH. So you go to the FAQ page. First question: "How can the Original Texas Toast be made by New York Brand in Cleveland OH?"
Make a long story short, they moved.
What makes this Texas Toast crouton-worthy is the garlic, it seems. But we're still talking about something that's known for being oversized, but here is broken down into small chunks. So the original size of the contiguous Toast from which it came is irrelevant, as well as its regional origin.
Now, the phrase that strikes terror and despair in the hearts of marketers everywhere: I bought another brand because it was ten cents cheaper. You got that? TEN. MEASILY. CENTS. I've tried these, and they're fine. But when it comes to dry bread baked into crunchy cubes, I'm going with the package that flatters my sense of my self and my aesthtic preferences when I take it down. This is a gaudy package.
Oh, one more thing: It's Texas Toast from Cleveland branded with New York and featuring . . . the colors of the Italian flag. God Bless America.

The weekly look at the way things used to be, and the expectations they had about the consumer. For example: consumers would be attracted to clowns, and were insecure enough to be lectured about their taste in ceramics by a gum company. We begin, as always, with:
THE WEEKLY BORDEN
Now we know whether the baby looks like Elmer: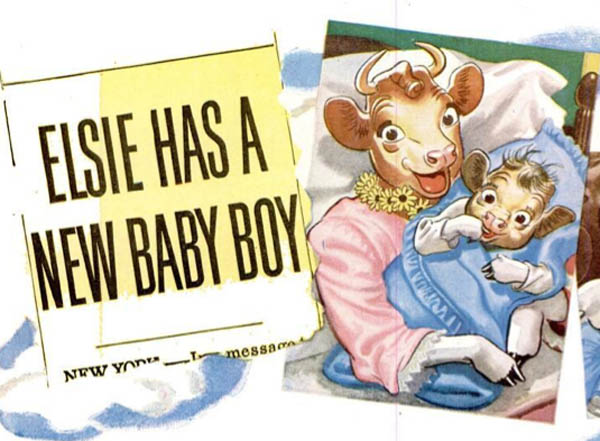 Let's just gaze for a moment on the idea of a cow in bed wearing a daisy necklace holding a calf in swaddling clothes. Next up: Elmer learns that constant humiliation, his domestic lot in life, will soon be exacerbated: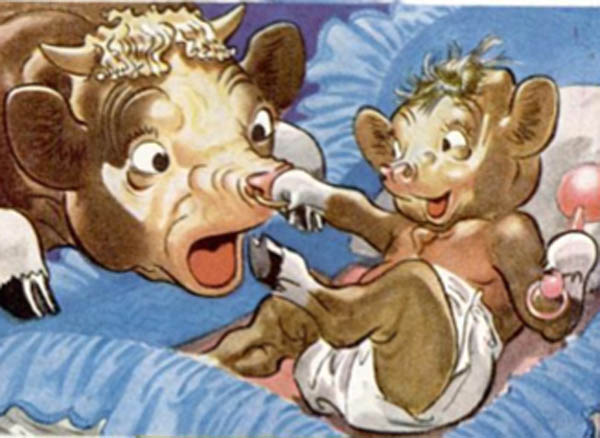 Ah, but does the calf have a name yet? No, America. That's up to you.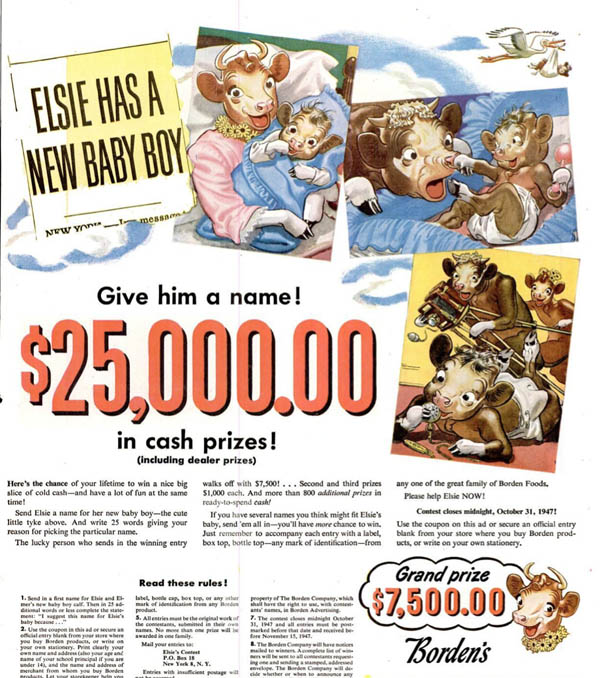 NEOLITE
I include this because I lament the end of the cheerful mascot who resembled his product. Meet Mr. Neolite: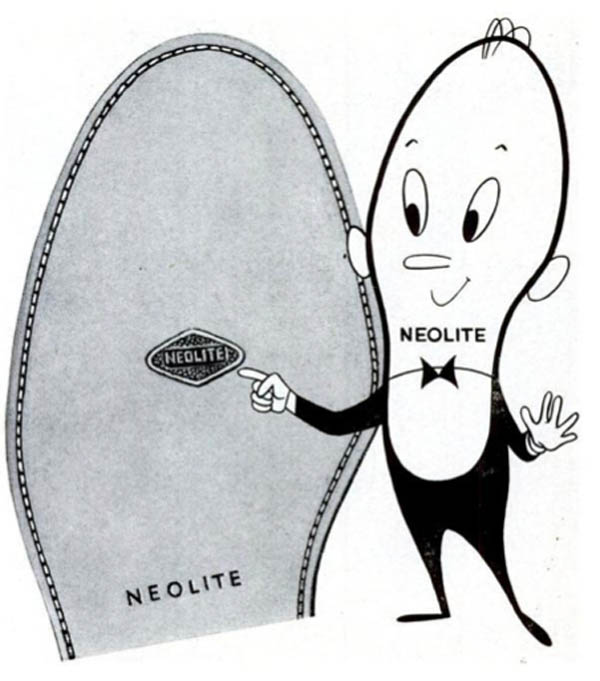 It was a Goodyear product. They started developing in 1937; don't know when they brought it to market. Now? This site says:
neolite is a homogeneous, high sensitivity luciferase reporter gene assay system for quantitation of firefly luciferase activity in mammalian cells. neolite was designed to provide the ultimate balance between strong signal intensity and extended signal half-life.
And this site in Egypt seems to have taken the name for its own as well. The trademark seems to have expired. Wonder why Goodyear would let a brand like that go fallow. Even if you're out of the shoe-sole business, wouldn't you want to keep it in your back pocket?
TELETIMER
The TV of the future, today!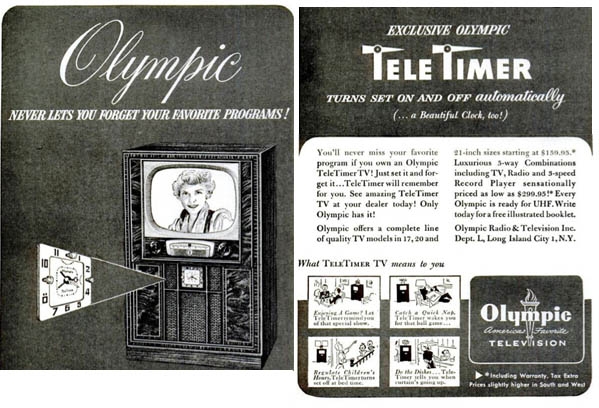 It didn't record anything, it just turned itself off. Yes, you'll be sitting in your chair with your favorite pipe, reading the Saturday Evening Post, and then the sound of the TV from the next room will give you a sudden shock that makes you think robbers got in. Buy why would they turn on the TV? To cover the sound of the murder! Yes! Oh, wait.
Here's a picture of an Olympic Star-Brite Duplicator, which had no tuning controls. The text notes that it was probably used for the Hotelvision system, and that opens up another can, doesn't it. Apparently you selected the channel, and the set informed the main receivers what you wanted, and piped it up to your room.
Olympic started in the late 40s, and ceased making sets in 1971.
ERR . . .NO
Did anyone do this?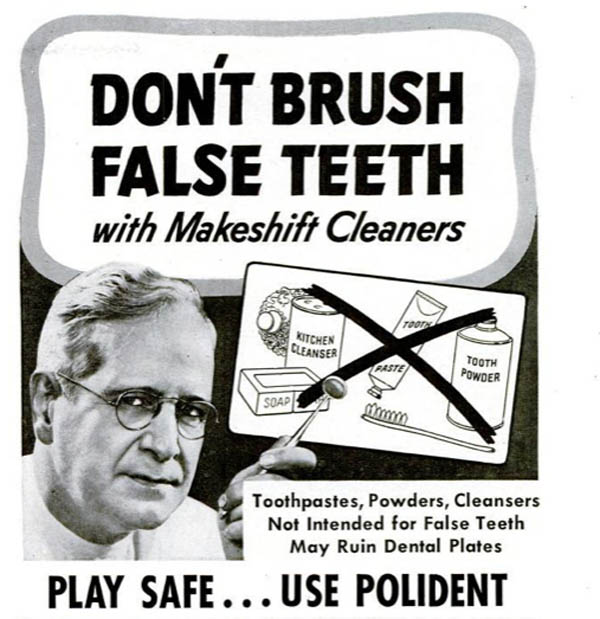 Really, soap on your dentures? Comet?
POST
A rare look at the back of a box. You never saw the back in the ads.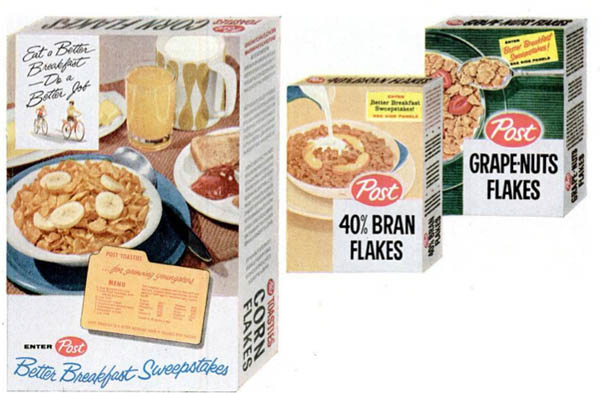 LUCKY TIGER
Sounds like something sold in Asia, but back in the 40s, men were squinty with scalp-happy joy. It has active ingredients!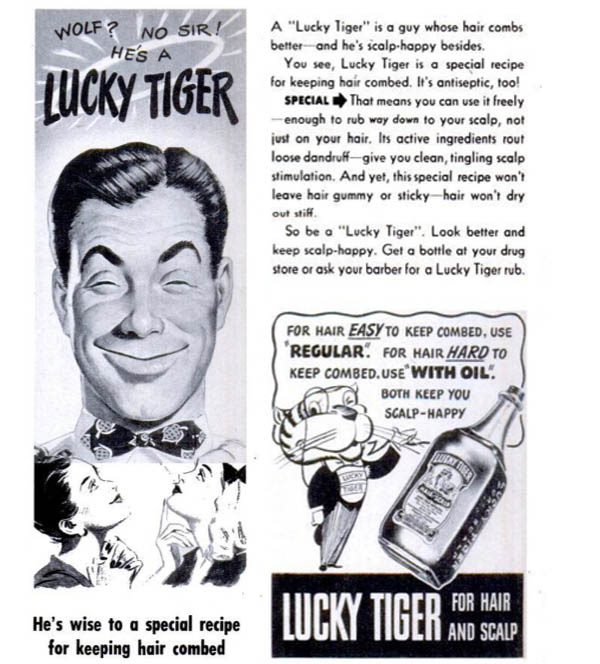 To my amazement, it's still around. They still sell hair tonic. From the folks who bring you Barbisol, and why am I not surprised by that?
The story of Lucky Tiger has been handed down from generation to generation and through the years this tale grew. As it is now told, the Lucky Tiger legend began in the 1920's, in Kansas City, Missouri, in the basement of Benjamin Clarke, an amateur scientist and one heck of a great barber! Ben created a tonic for the hair and scalp that was different and better than any other product in his day and called it "Lucky Tiger Tonic." Everyone who visited Ben's Barbershop got the royal treatment – a shave, a haircut and a generous splash of Lucky Tiger Tonic.
Finally, the Good Taste answer. It's from an ad for Teaberry Gum, which looked like this: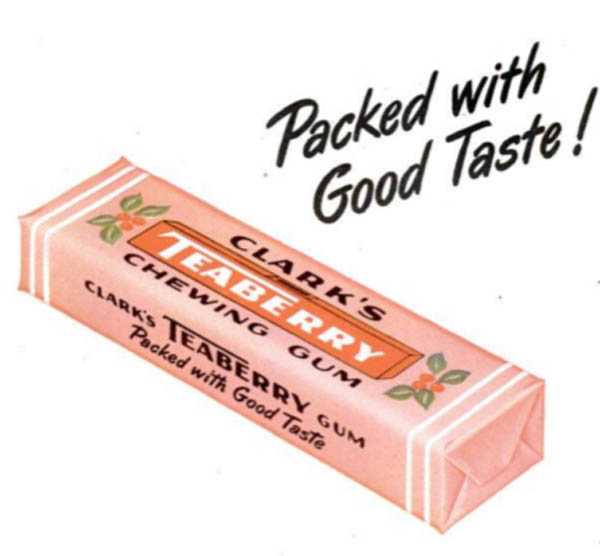 You had your choice, remember: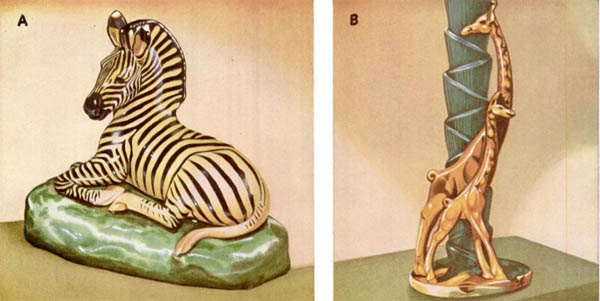 Well:

There you have it. An expert says so! You may read the entire book here, if you wish, for free.
New Comics. A funeral to go to. Back tomorrow.