I couldn't go to the Fair today. I just couldn't. It was so hot. The idea of walking around with a tripod and a camera looking for something, anything, ANYTHING, was just horrible. I banged out a small video for the blog site and put up some tractor pictures, and also put up a video on the Strib site about the Rise of the Rabbits, and figured that'll do.
But. I should have gone to the Fair today, I knew that. I have a feature to do and a column and an interview and another column and another video, plus another video, in the next few days, and even though it's just Tuesday the Horrible Fair Imperative bore down on my conscience until I said I have to go to the Fair today.
And so I went.
At night. It was a bit cooler. Only 90 instead of 97, although dusk dropped the temps down. Attendance is way off; everyone says so. It looks like the population's been halved - the rides are empty, the lines mere stubs, the streets almost clean and open. I went back to Heritage Square to do some interviews for a piece, and talked to a Smithy who was banging away at an anvil in a hellish little booth that felt as close and sweaty and miserable as the real thing in Gunsmoke days. Shot the Midway at twilight, the annual thing I do, and I was hampered by the placement of the rides: nothing fit together. Hard to get good angles. Not enough screams.
Paused at the freak show, which is always the sole throwback to the olden days of geeks and hoochie-coochie: the fine old art of Midway freak-show canvas signs continues as pure as ever.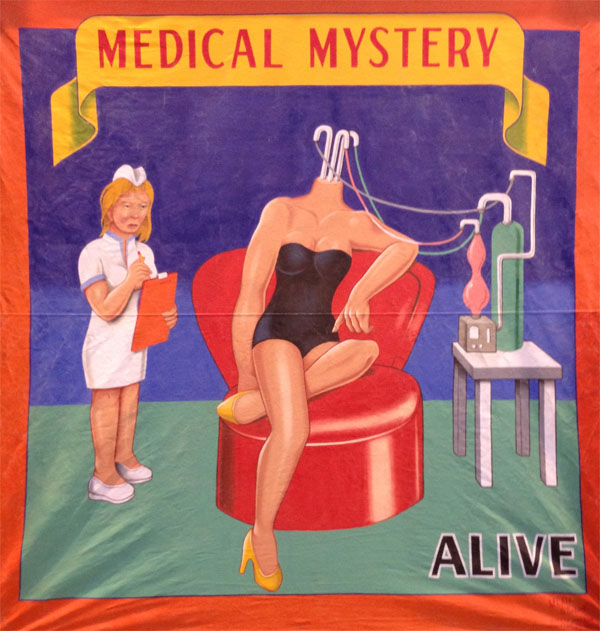 Shot some patter from the guy who tried to get the crowd to part with some tickets and come inside. I remember shooting this act a few years ago, how absolutely lousy the show was, how everyone in the audience went briskly from disappointment to amused contempt, how you couldn't help but root for the amateur performers and their threadbare acts, because they thought they were keeping a tradition alive, and they really were.
Really: they are.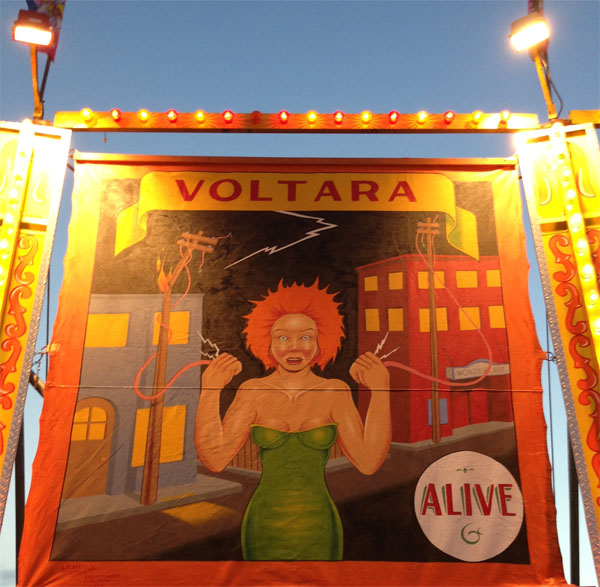 From the old dusty train car filled with State Fair history:
It's just not a particularly interesting tradition, close up. Best to stand outside the tent and imagine what it could be.
Then home to write and crunch. Sorry: as I said, Fair weeks are short-Bleat weeks, but I did spend some time Friday night preparing below-the-fold material. This might be of interest.

Well, no, not this: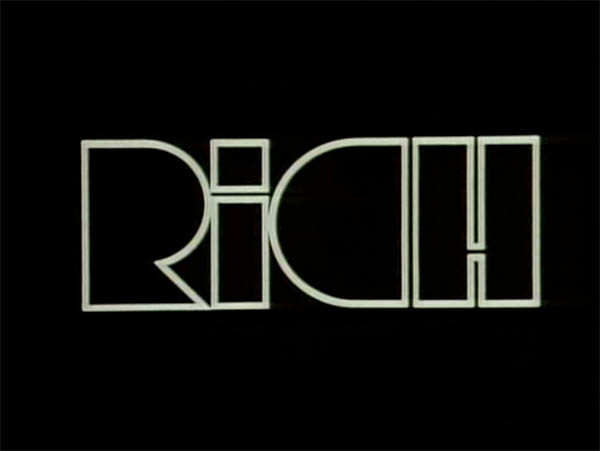 Or this. Or rather these.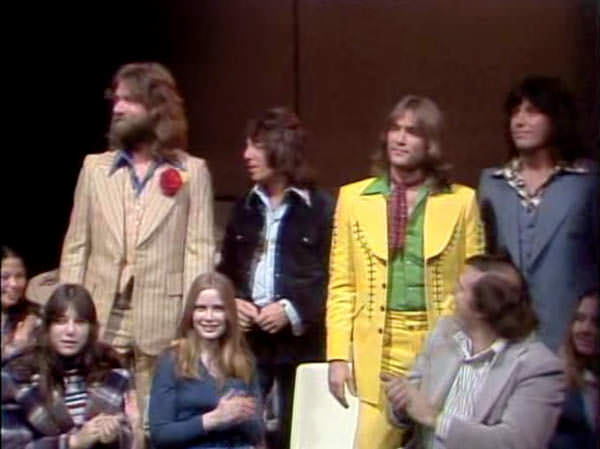 Let me explain: the logo above was the sign of the Rich Little Show, a variety number from 1976. It had impressions. It had sketches in which Little did not do impressions. No one cared about that because they wanted to see impressions. Like Nixon! Over and over, always the Nixon. And John Wayne. Say "well there cowboy!" That's what we tuned in for. That "cowboy" part.
The musical guests: any idea?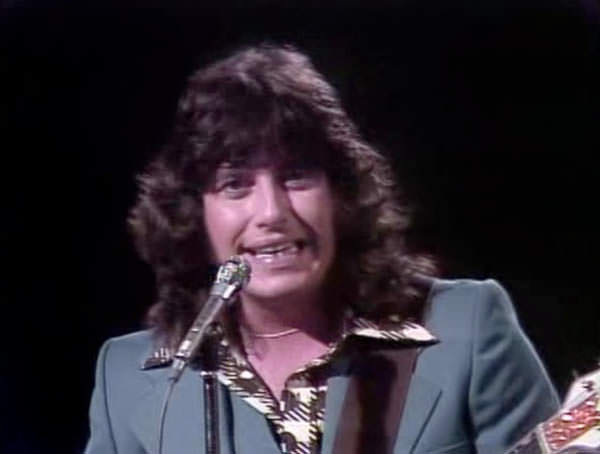 I don't know if that's Hamilton, Joe Frank, Reynolds, or someone else who joined the band. Okay, Googling . . . well, Reynolds left the band in 1972 after they had the '71 hit "Don't Pull Your Love Out From my Baby." Wise move, dude. They had a bigger hit in '75, "Fallin' in Love," which I'd completely forgotten. This must be Reynolds. They're playing "Winners and Loser," which was the last hit they'd ever have.
Like every other song performed live and real for TV, the audience was so overcome with enthusiasm they began to applaud wildly at the end, requiring the band to close the performance with a gentle decrescendo.
This is mid-70s music at its purest, and I don't say that as a compliment.
Also appearing as a variety act: the stars of "Emergency."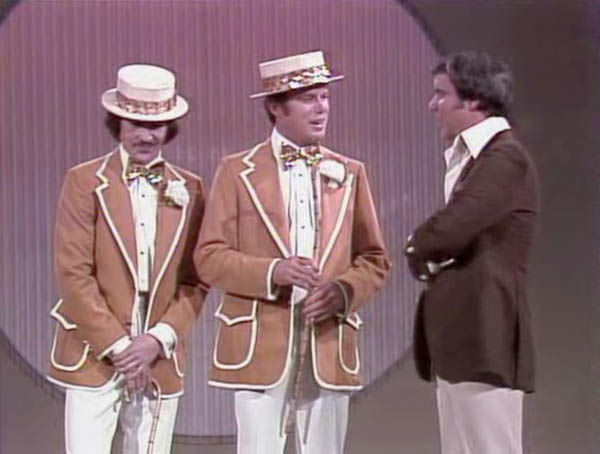 But there was another guest. The fellow on the left, who's really sucking it in, and standing on the sidewalk so he looks commanding.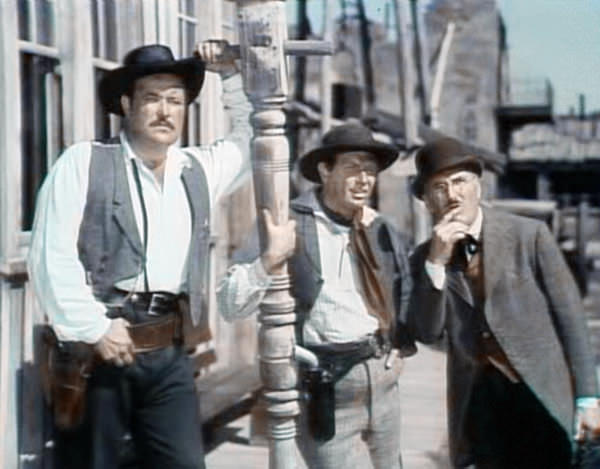 The man himself. The one Rich Little probably couldn't do. He's hard to impersonate, I think - there's so much character and subtlety to his vocal persona.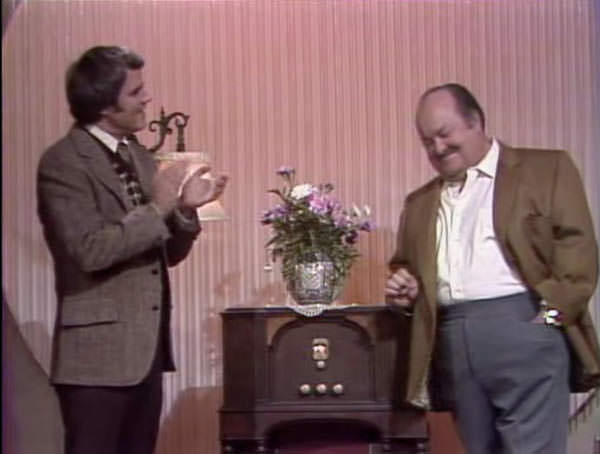 When Conrad was on the air, radios looked much more modern, but of course Old Timey Radio means the Cathedral sets, right? Right. Because it was Back Then. The idea that Gunsmoke might have come out of a set that looked like a Chevy BelAir wouldn't make sense, because those radios were only used for Chuck Berry. Right.
This led to something that may have brought a smile to the eyes of older viewers, and bored or mystified kids like me, convincing us - as if we really needed convincing - that all that old radio stuff was really lame. They did a seven-minute bit about old radio, so Rich Little could do George Burns (very well) and Jack Benny (again, very well) and Rochester (frankly, I do a better Rochester) and others. Conrad chipped in some imitations as well, but they were - well, you'll see.
William Conrad as Orson Welles. He says the tagline for anyone who remembers - "Obediently yours, Orson Welles," a line Welles used in other shows as well. And then he does Don Wilson, Jack Benny's announcer, which would have meant nothing to me as a kid seeing it.
Benny's more than the tics Little uses; he wasn't all pauses and slow delivery.
Anyway, here you go. I've trimmed it down for today's short attention spans.
Well, not a bad Bleat after all. We'll try to disappoint you tomorrow. ;) Have a grand day.