Concluding notes on the trip: the last night I didn't tape much, because I was having too much fun. I slid the recorder out now and then to get a story or two, but missed some prime tales because we were just enjoying ourselves over dinner. But I do remember this:
A man and a female associate showed up at a TV rehearsal; the woman had something to do with the show, can't remember what, exactly. Peg said she was standing on the stage, looking at the set, getting ready for the rehearsal, and there's a tap on her shoulder.
"You're going to have dinner with me tonight."
It helps if you say it in the classic John F. Kennedy voice, because that's who it was.
She ignored him. This was the workplace, you know.
He taps again.
"You're going to have dinner with me tonight," he repeated. She ignored him.
Really?
"Even then," Peg said, "he had a reputation as a grabby-hands."
She had a few tales of such fellows, this being the days when a single woman in the industry was an anomaly, fair game for the wolves. She had a blistering story about Don Ameche - not that he tried anything; he was just an utter pill to her in the limo on the way to the GM 1958 Anniversary Special. The experience was made better by the kindly ministrations of one Mr. Kirk Douglas, who went out of his way to be a gentleman. The '58 special hasn't been seen since it aired, I don't believe, but she had a copy - and what a donkey that thing was. The glitz. The pretense. The high-holy song of General Motors, here to make your life better - which, to be honest, I usually enjoy, and the opening sequence of the Bright Future into which you'd drive with these magnificent automobiles was corporate propaganda at its best. But once they got into the skits, brother, it was, well, pedestrian.
"Do you know how well that worked?" Peg said. "When they asked people about it they thought it was the General Electric Anniversary Special."
Earlier in the afternoon I was sitting at her desk ripping CDs of BBC interviews into iTunes. She came over, slowly, in her walker.
"Does anyone call you Jamie?" she asked.
"Nope. Never had a nickname. My mother said I was James, and not Jim or anything else, and I stuck to it. I had a friend who was a Jim, and he was an All-American baseball type, so I could never be Jim."
"But how about Jamie? You need a nickname."
I said she could call me Jamie, because she was the first one who'd ever asked if she could call me that. Oh, that smile. So I was Jamie from then on.
Supper was steak; Peg told tales; Astrid told English anecdotes, stories from her husband's musical career as a pre-Beatles boy band, and they chimed in on recollections of a trip to Soviet Russia. It got late and I had to go.
"When are you coming back?" she said.
"As soon as I can," I said. And I meant it.

The next morning my stomach had an argument with the home-fries served for breakfast. This argument began about ten miles down the road. There were no gas stations. I don't know where people get gas up there, except of course for the home fries. Drove for miles trying to get comfortable, which was complicated by the spear jabbing into my abdominal region. Oh Lord let there be a convenience store. I'll do anything. Oh please. Oh! There's one. Went inside, bought a soda - son of a gas station owner; you always buy something - only to be informed they had no restrooms.
REALLY? SO WHAT DO YOU DO? But no, couldn't say that.
"There's the State Patrol barracks up the road," she said cheerfully. "Or the Russell Inn." Russell it was.
To complete the Stephen King vibe I got a few nights earlier, there was a huge spider hanging in the corner of the bathroom.
Back on the road; as always seems to be the case, the drive back was half the time of the drive up. Dropped off the car, shuttled to the airport - still in pain, moving with halting steps, convinced I looked like I was bound for the boneyard. All was well by boarding time, and I settled into my seat, went through my bag -
No iPad.
I'd had it out in the gate area. I had. Quick: texted daughter, told her to text me back the following string: "please return this iPad to gate 9." Told the flight attendant I had to get off the plane, and she of course was happy about that. It was a small jet, and "swimming upstream," as she called going against the incoming traffic, would be hard. I said I understood and made my way out. Ran up the jetway, burst out the door, over to gate 9: do you have an iPad? They did not. Swept through the seats; nothing. The gate attendant told me to ask over there, at the furthest possible gate, and I ran over. "Do you have -" and the man picked it up and handed it over.
Ahhhh.
Back in the seat, buckle up, spool up, wheels up, and back in the clouds.
Everything had gone well. Everything had gone right.
Everything was something I'll never forget.



I'm amazed I have anything in the pipeline for this week; I've been busy. But lo, the PRODUCTS folder contains a few items I selected for some reason, so here we go.
WEEKLY BORDEN

No Elmer this week; he's probably sitting at home with gout. Elsie is putting on the airs here, showing she could really be a snoot if she wanted: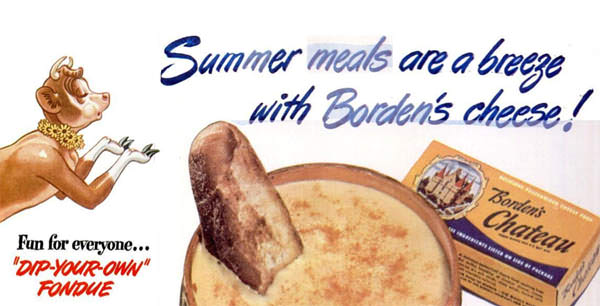 BYGONE CHICKEN
IQF! Everyone remember that and say it a lot because that's what the admen hope.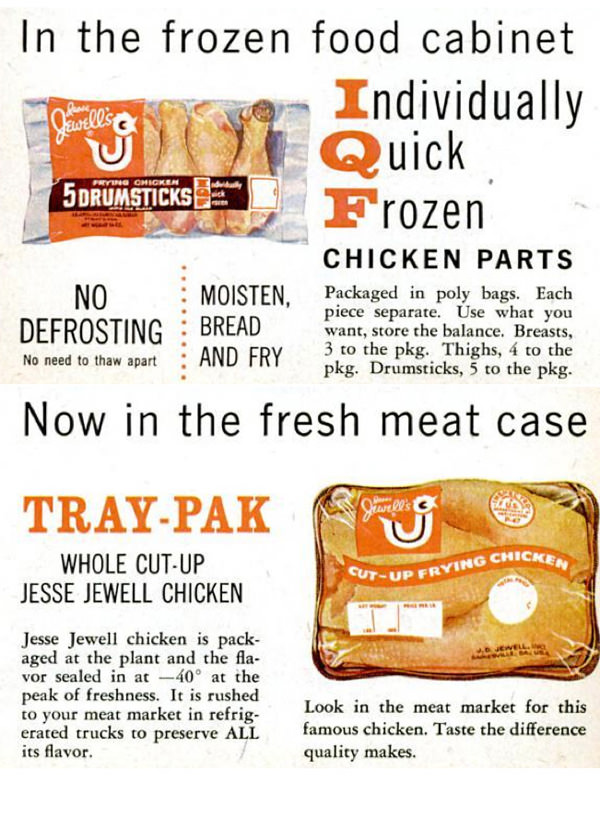 Jesse Jewell was a chicken magnate, and the first head of the Natonal Broiler Council. This page says: "He pioneered vertical integration—the combining of all phases of the business, such as raw materials, processing, and distribution, within a single company." What's the raw material for chicken? Chicken? Or did he control feed as well? No idea. Not high on my list of things to investigate. We continue:
One of five children, Jesse Dickson Jewell was born in Gainesville on March 13, 1902. His mother, Mary Tallulah Dickson, worked as an art teacher at Brenau College in Gainesville. Jewell's father, Edgar Herman Jewell, owned a feed, seed, and fertilizer business.
You know, I think my question may be answered. Honestly, I hadn't read ahead.
By 1954 Jewell added the final touches—his own feed mill and rendering plant. This vertically integrated corporation set the standard for poultry processors everywhere, as did Jewell's trademark frozen chicken. Jewell's hiring policies were also innovative: his processing plant was among the first factories in Gainesville to hire black workers.
Ah! Enlightened chicken. We read on:
In the early 1950s a majority of workers at J. D. Jewell voted to unionize under Amlagamated Meat Cutters and Butcher Workmen. However, violent attacks on union representatives by a mob, which reportedly included members of J. D. Jewell management, effectively ended the effort.
That'll do it. Management pitched in, eh?
He has a monument on Jesse Jewell Drive.
There is a chicken at the top of it. Specifically, a Rooster.
PENNIES A GLASS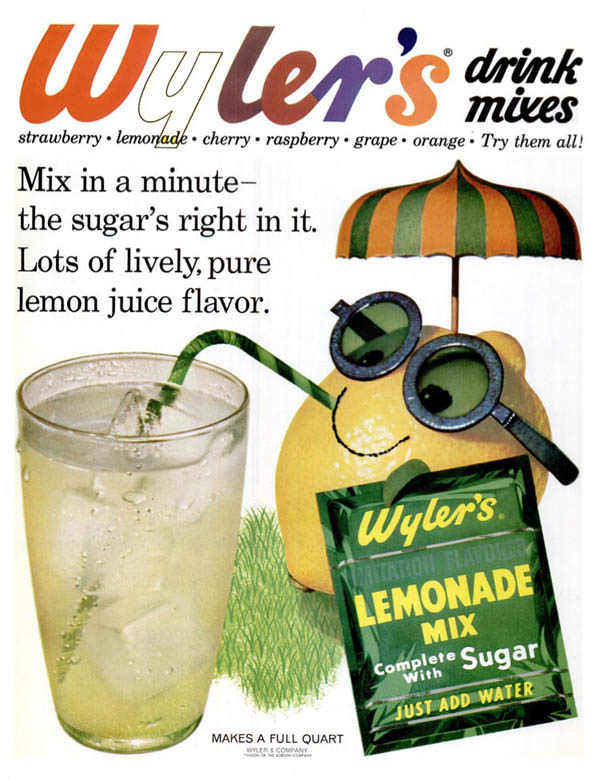 It's still around, and made by Jel-Sert. The name comes from their first product, which was a "a gelatin product made from a combination of jelly and dessert." It wasn't always a Jel-Sert product, though; Wyler's was an independent company until Borden hoovered it up in '61. I like this:
It traded the Wyler's drink business with Lipton for Pennsylvania Dutch noodles in 1986. Jel Sert bought Wyler's from Lipton parent Unilever in 1994.
You have an image of reps from the company meeting on a deserted country road, and swapping brands in a tense exchange. Heinz still uses the name for bouillon. Refreshing!
Boden's goes all Peter Max on us here:
And here. Apparently this is the Schoolhouse Rock singer, for those who worship the show.
The animator was Jan Svochak, and he was born in Czechoslovakia. This page credits him with creating Punchy for Hawaiian Punch. Really? I can't see it. This page says Punchy was created by Martin Mandelblatt.

Although there's some controversy about that, if you believe this site.
On a related note: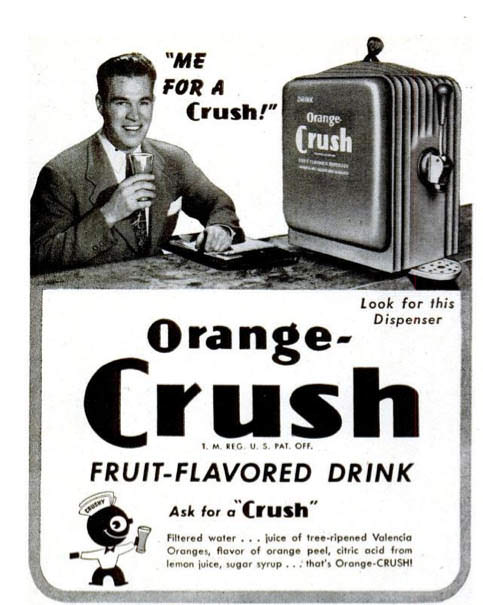 First of all, there's the old Crush dispenser; wonder if any survived. OH MUST I GOOGLE? Sigh. Yes, there is. But mostly I put it up for that phrase, now forgotten: ME FOR (object or project or person). At some point it became "that's for me." You know: boy, ice cream with caramel sauce? That's for me!" But even that's falling out of usage.
WHEAT IN WAR AND PEACE
Shredded Wheat during the war: two colors for grim war duty. We can't beat Hitler if we're constipated.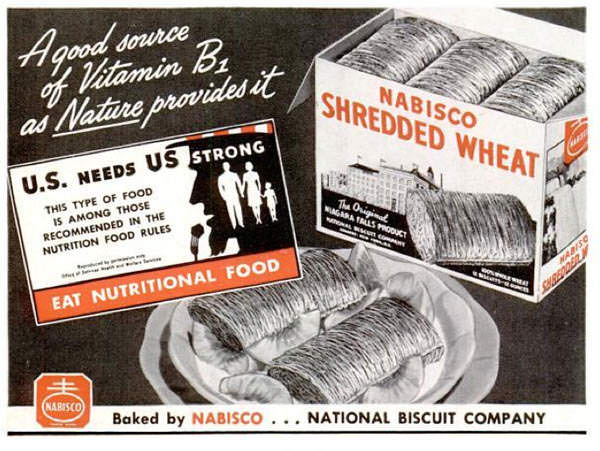 After the war: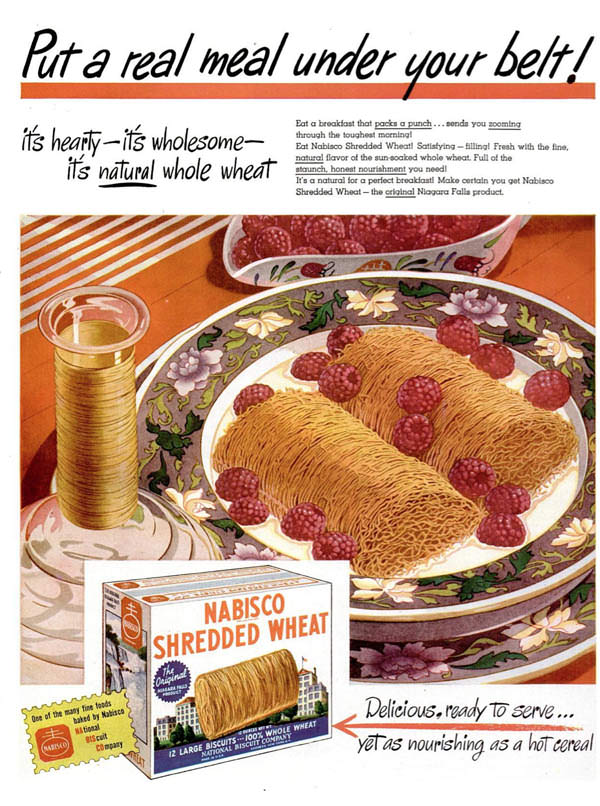 You can really understand the appeal of Mini Shredded Wheat, can't you.
====
New Comic Sins! See you around.