Walked around downtown today because it had been a while since I did so. Snuck into City Hall with my collar up because I think the Mayor is mad about something I wrote. Went up into the skyway, and headed towards the end of the system, taking pictures for the Mpls site, checking out some new construction. There are big, big luxury apartments going up in the long-abandoned Gateway area, and I'd just finished a scene in "Autumn Solitaire" where Harry - the reporter - lays out the big financial interests at play in post-war urban development.
Not an easy scene to make interesting, so I set it in Peter's Grill and dropped in a waitress I dated once. <joepiscipovoice> Once. </joepiscipovoice> Wonder what happened to her. Wonder what happened to all of them. I suppose if they matter they come back around, like a comet in an inscrutable orbit. My father-in-law told me the other day he was golfing in AZ, and ran into the guy who pulled him out of Yemen after he was shot down.
The Lord Works in Mysterious Ways saith the Good Book, but sometimes I think "mysterious" was mistranslated, and it was really "mischeivious."
Anyway. The City today: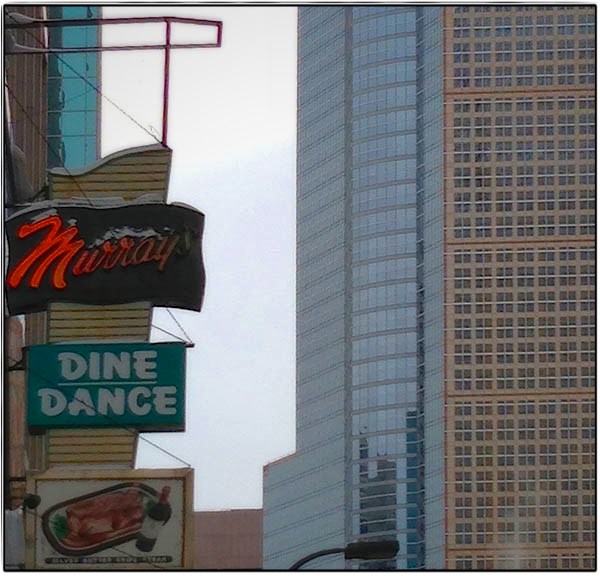 And outside the office, the glacier whose slow dirty death with be the yardstick for spring's conquest: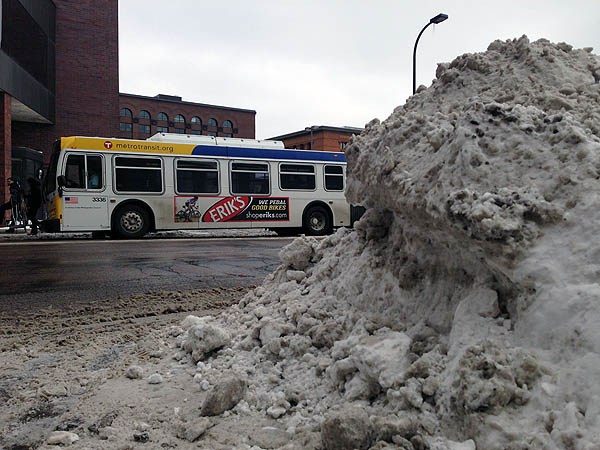 It was a good three-mile walk. I know the Skyway by heart, and love it; the people who rail against it as a leech that bleeds off the vitality of the street would have us walk around in the winter with the bitter wind excoriating our flesh, because, well, Vital Street Life. Eh. When it's clement people flee to the streets from the tall glass towers, and bask as they can. Otherwise, people like to leave the office for lunch without putting on mufflers and mittens, and stroll through stores, down transparent corridors that leap across the streets. It's one of the things that makes this place unique, and the new urbanists would have us give it up. Why? Because it's not as good as the theoretical alternative whose antecedents are based on 15th century European cities. We invented a new way of making cities livable and walkable, but now it's bad because it's on the second floor instead of the first.
Work, home, nap, dinner, drive child to confirmation. Said I'd be back and headed south, because - well, because there's an ale my wife likes. It's on sale this month in a suburban package store. I could get it on Saturday, but the garage door repairman is coming on Saturday, and because we have archaic laws that prohibit you from buying a car or a six pack of Strong Beer on Sunday, you'd best arrange your hooch aforehand. So off I go on Wednesday night -
RING it's the phone. It's the daughter. There's no one at Confirmation. No teacher no kids no signs of life. Either the Faith collapsed and was disbanded and no one sent an email alert, or something's amiss. Whatever: I go back and get her and we drive to the grocery store to while away some time.
Because there's really nothing I love more in life than just strolling around a grocery store in the evening with my daughter.
She has an objective: Arizona Tea. She finds it. Her shoulders slump. She hands me the can and points to the label.
The overused Papyrus font. That's my girl.
On the way out she tells me I could have saved money if I was an Extreme Couponer. (There's a show about that. She saw it on Hulu or something.) I explained:
Nay. For example. The store had 5 Lean Cuisines for 10$. I bought next week's lunches. Normally the price is between $2.80 to $3.49. There's no manufacturer's coupon in the world that drops them to two bucks. The Masters English Toasting Bread was $1.99, way below the usual non-sale floor price of $3.29, and below the usual discount that puts it in the low two-buck range. The reduced-sugar jelly never has a coupon, because they know that people who buy that stuff are not swayed by price. Remember, it was $3.29 for 16 ounces. We passed a display of regular grape jelly, same brand, $1.99 for 32 ounces. I didn't take advantage of it, because the sugar considerations trumped price considerations.
It's strategy. It's intrigue. As long as you don't kid yourself that you beat them somehow, you'll be happy.
We got the beer. She was intrigued by the graphics on the Stoli flavored vodka, and wanted to Instagram them. Had to explain: no. But it's just graphics! No. You are not instagramming liquor labels. It's. Just. Graphics. NO.
I remember trips to the grocery store with my dad; one of my favorite memories. Because he got all the fun stuff. I do not recall him telling me it was unacceptable to post interesting Russian graphics on a world-wide computer network because it was not age appropriate. But that is our world.
But dad, it's a conscious throwback to a graphical style that emerged in a non-consumer-oriented society, but nevertheless reflected the implicit visual imperatives of the very system its producers rejected!
If she'd said that, I would have let her take the picture.
Almost midnight. The dog just wandered over to the back door, wanting out. The day bores him. The day is for sleeping. He hopped sideways down the stairs and I thought he would wander out into the deep, deep snow. Two years ago every inch of the backyard had paw tracks. Last year, the farthest reaches remained pristine. This year, the tracks extend a yard or two beyond the gazebo. I see the evidence of diminishment, and sigh - then I look out the window and see paw-tracks to the end of the backyard, and wonder what compelled him to light out for the territories.
Almost midnight. Time to finish the column and make some popcorn and watch some TV. Catching up on last season's Office. James Spader is marvelous and there has to be some reason Andy doesn't marry Erin. I was outside having a ceegar with a friend who covers TV, and he was at a party with the woman who plays Erin. Just as adorable IRL and smart and funny, too. Give that woman a sitcom. Mary Tyler Moore + Molly Dodd, except she's well-adjusted. There must have been something wrong with Mary Richards.